This post contains affiliate links.
My family and I went to see Incredibles 2 this weekend. To say that Jack-Jack stole the show is probably an understatement. Don't get me wrong, we loved the whole movie. The plot is great, a little bit predictable but that is to be expected. We all loved seeing the movie pick right back up where it left off 14 years ago. My daughters loved the introductions of some new Supers, and we all thought the action was fantastic. But as a mom, well, I learned a few things about parenting I needed to from the Parr family.
Parenting Isn't Easy
This one is an obvious one. Every parent knows that it isn't easy. But I don't think every parent knows that it isn't easy FOR EVERY PARENT. We are not alone in this moms and dads. Kids can be unpredictable. Kids can be moody. And kids can be a total handful. In Incredibles 2 we see the family discovering Jack-Jack's new powers and trying to handle them, but we also see Dash having homework problems and Violet having teenager problems. Even Supers like Bob Parr have parenting problems. But he made it through and so can I.
Babysitters Are Necessary
This really plays off of what I said above. Sometimes it is necessary to take a break from your little ones. It doesn't mean you love them any less. It just means you might need to sleep for, was it 27 hours?, in order to feel yourself again. There is no shame in that. In order to care for your kids, you need to care for yourself. Bob needed a break and he went to a friend for help – which led to one of the funniest parts of the entire movie.
No More Mom Guilt
Well this one is a lot easier said than done. Much like Helen Parr, I have to leave my daughters with my husband for work sometimes. And just like Helen, it is for a pretty amazing experience and I do normally have fun while I am there. In the past I have done things like walk red carpets, interview amazingly talented celebrities, and see movies weeks before they hit theaters. Helen gets to do things like stop runaway trains.
Just because we are moms doesn't mean we can't enjoy our lives too. And if we are lucky enough that our work has us doing things we genuinely enjoy, we shouldn't feel guilty about it. The kids will be just fine (mostly) while we are gone. I am pretty sure it hurts us more than it hurts them to leave for a few days. Helen struggled with it just like any mom does, but everything worked out OK in the end. We deserve to do what we love too – it will only help the whole family out in the long wrong. Because a happy woman is a happy mom and a happy wife.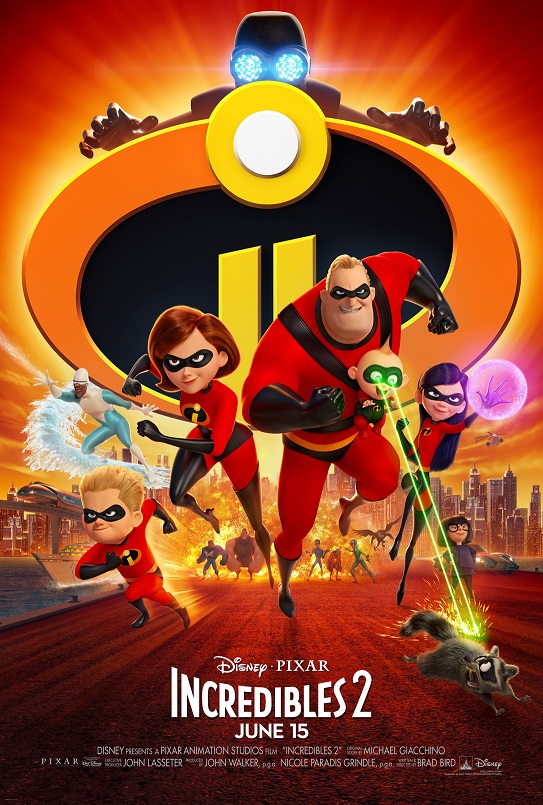 About Incredibles 2
In Incredibles 2, Helen is called on to lead a campaign to bring Supers back, while Bob navigates the day-to-day heroics of "normal" life at home with Violet, Dash, and baby Jack-Jack—whose super powers are about to be discovered. Their mission is derailed, however, when a new villain emerges with a brilliant and dangerous plot that threatens everything. But the Parrs don't shy away from a challenge, especially with Frozone by their side. That's what makes this family so Incredible.
More Coverage
Incredibles 2 is in theaters now!
Incredibles 2 made $182.6 million domestically opening weekend claiming the HIGHEST grossing weekend of all time for an animated film!
Like INCREDIBLES 2 on Facebook: https://www.facebook.com/PixarTheIncredibles/
Follow INCREDIBLES 2 on Twitter: https://twitter.com/TheIncredibles
Follow INCREDIBLES 2 on Instagram: https://www.instagram.com/theincredibles/
Visit the official INCREDIBLES 2 website here: http://disney.com/incredibles2