I love Jack-Jack Parr – who doesn't?! He is the cutest super hero baby with some pretty amazing powers. Speaking of his powers, we got a glimpse into them in the first Incredibles movie, and a little bit in the Incredibles 2 trailers. While at Pixar Studios in April, I got an in depth look at his new powers and how the animation team created them. So much work goes into creating things like this, you would have no idea. We must have watched twenty tests to see how his powers would come across on screen, and I am sure that was not all of them!
Getting the Fire Effect Right
Jason Johnston, who is the Effects Technical Assistant at Pixar, showed us all the steps that he took to create this new look of Jack-Jack's. Getting the fire power effect correct was really important. If done wrong, he could look like a devil baby – or worse – like he was on fire! When they first started working on this effect, they went back and looked at his fire power from the first Incredibles film. Jack-Jack's role while on fire is much bigger in Incredibles 2, so the team decided to re-imagine his look. Luckily, technology has changed so much since the first film they were able to really perfect it! They were able to do more and flush out the look, exactly like they had pictured.
Something that was really important to the team was being able to read Jack-Jack's performance and facial expressions WHILE he is on fire. Ralph Eggleston was very specific in the fact that Jack-Jack is the source of the fire, he is not on fire. The team decided that there would never be smoke or embers coming off of him, however, it could come off of the things he sets on fire. They wanted to stay away from scary, so they looked for references of objects that are fuel sources of fire, but do not look like they are on fire when they burn. Their main focus was on barbecue fire starter cubes, and they matched some of those looks – small scale flames were a major takeaway of this.
As soon as they introduced Jack-Jack's glowing eyes, they knew they wanted to stick with them. These eyes were from an idea that his core is extremely hot. I don't know about you, but I thought that really worked in the film. The team also introduced a change of color to his skin and placing the flames over his body. After adding in little flourishes for when Jack-Jack gets angry, they had the final approved fire effect!
Goo Baby!
One of my favorite powers that Jack-Jack has is his ability to go goo. We were all shocked seeing this for the first time during his battle with the raccoon. Trust me, I wanted to shout how awesome it was from the rooftops, but it is technically a spoiler, and so I waited until now, after the film's release. During our talk with Jason at Pixar, we also learned a little bit about how they created this goo power.
This effect is something that they wanted in the first film, but because of technical limitations, it was scrapped. Jason describes the goo look as a honey-type texture. A few tests were done to make sure the effect was done right. Done wrong, it could have been really creepy and disgusting. Unfortunately, everything he came up with was not working, so he passed along the goo effect to the animation department – who hit the look.
Jack-Jack's Other Powers
If you have seen Incredibles 2 already then you know Jack-Jack has a pretty awesome power set. Besides the fire and goo effects, he can also teleport and phase through walls. One of my favorite powers of his are the laser eyes – and of course, you can't forget his multiplying. Not to mentions so so many more (but I want you to be surprised if you have not seen the movie yet!) Lots of his powers are showcased in that amazing fight with the raccoon – one of my favorite scenes of the film! What a perfect way to show what little baby Jack-Jack is capable of! But then, he just gets more and more. In fact, at one point Elastigirl mentions she missed Jack-Jack's first power, but Mr. Incredibles corrects her, she missed his first 17!
In The Incredibles, we saw Jack-Jack turn into metal, but that is something that was not featured in Incredibles 2. Something kind of fun that you may have noticed about baby Parr is that he had two teeth pop through since the first film. He really is growing up before our eyes! Imagine what he might look like in Incredibles 3 (fingers crossed!).
How stinking adorable is this baby Jack-Jack from Just Play Toys?? Lorie has already claimed him as her own! #Incredibles2Event #JackJack #Incredibles2 pic.twitter.com/Xe9kOsSe0E

— Mama's Geeky – Tessa Smith (@MamasGeeky) May 2, 2018
Get Your Own Jack-Jack!
Who doesn't want their very own Jack-Jack? I know I sure did, and was thrilled when I was sent this adorable super baby plush! The Disney/Pixar Incredibles 2 Fightin' Fun Jack-Jack Plush comes dressed in his signature hero outfit from the film and features fun sounds, lights and movement. He really is super cool guys (no pun intended!). Press Jack-Jack's hand and his eyes will light up at random as he walks and waves his arms up and down. Jack-Jack baby sound effects from the movie can also be heard as he walks. He truly is the perfect gift for every Incredibles 2 fan!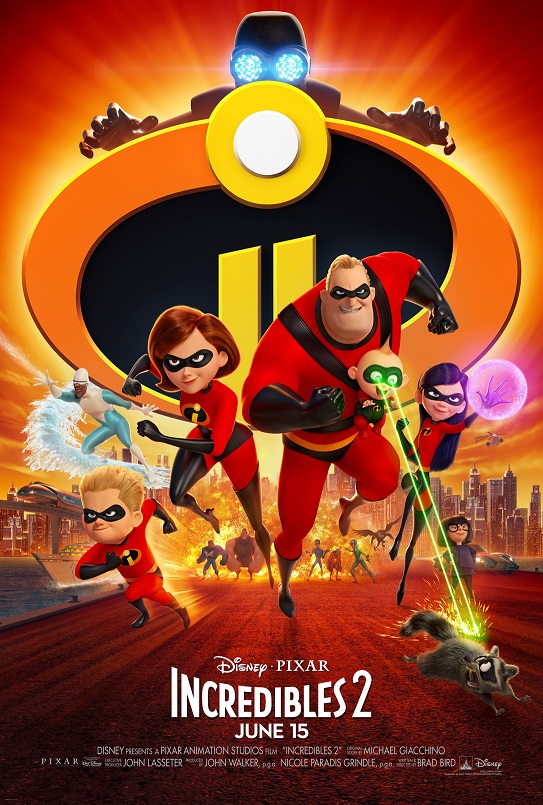 About Incredibles 2
In Incredibles 2, Helen is called on to lead a campaign to bring Supers back, while Bob navigates the day-to-day heroics of "normal" life at home with Violet, Dash, and baby Jack-Jack—whose super powers are about to be discovered. Their mission is derailed, however, when a new villain emerges with a brilliant and dangerous plot that threatens everything. But the Parrs don't shy away from a challenge, especially with Frozone by their side. That's what makes this family so Incredible.
Incredibles 2 hits theaters June 15th!
Like INCREDIBLES 2 on Facebook: https://www.facebook.com/PixarTheIncredibles/
Follow INCREDIBLES 2 on Twitter: https://twitter.com/TheIncredibles
Follow INCREDIBLES 2 on Instagram: https://www.instagram.com/theincredibles/
Visit the official INCREDIBLES 2 website here: http://disney.com/incredibles2