Entertainment
I love the Toy Story series. I have watched it more times than I can count and I totally cry whenever I do (no shocker there because everything makes me cry). So when I woke up this morning to see a teaser trailer for Toy Story 4 dropped, I was thrilled! This movie is in the top 5 movies of 2019 I am excited for. And that says a lot because there are some AMAZING movies coming out next year. This teaser introduces us to who is clearly my new favorite Toy Story character, Forky!
Travel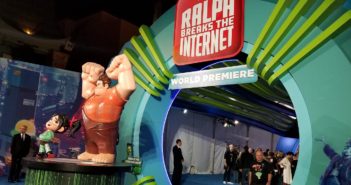 I hope you were following along this week as I attended the #RalphBreaksTheInternetEvent! It was so much fun! Not only did I learn a lot about the movie and do some really cool things (be sure to stay tuned for all the coverage!), I walked the red (although technically it was blue) carpet at the world premiere – and then hit up the after party! As you probably know, there is a Disney Princess scene in this movie. Which means I was rubbing elbows with the princesses, and many more celebs, at the after party!
I have been more or less living the keto lifestyle since January 2018. Even while on vacation I try to stay as much on the "keto diet" as I can. Of course I allow myself cheats here and there. I wrote an article about eating keto at Disney World, but now I want to share with you my five favorite keto meals there. I never miss out on these when I visit, because they are super delicious and approved for my way of eating. A win win!
If you have been following #ToyStoryLand on Instagram than you probably know there are several Toy Story Land Instagram walls at the latest addition to Walt Disney World that are becoming quite popular. My friend Joyce over at Women and their Pretties posted about all of the places you need to take photos at Toy Story Land.  So if you are looking for more awesome photo opps than just just these walls, head to her site.
---
Movies
The Grinch is a timeless holiday classic, and now there is a new twist on it coming to theaters. You cannot go wrong with Benedict Cumberbatch, and I am THRILLED he will be voicing one of my favorite "villians". This movie looks hilarious and I can't wait to see the new take on it. To help celebrate the release, The Hopping Bloggers have come together to bring our readers a The Grinch prize pack worth $50!
Gaming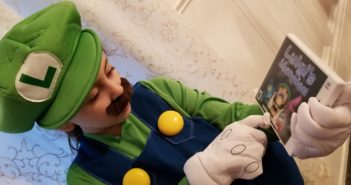 One of my favorite video games is Luigi's Mansion, so I was super excited to find out they were making a Nintendo 3DS version. I just couldn't wait to share it with my daughters – and when Nintendo offered to send me a copy, I jumped at the chance. To help celebrate the release of this awesome game, they also sent us a special Poltergust 3000 flashlight (just like Luigi's) and a Luigi costume! 
One of my favorite things about the holidays is all of the delicious food. And just because I am eating keto now doesn't mean I have to miss out. This stuffing recipe is totally low carb and keto approved, and makes the PERFECT holiday side dish. It is so good that I don't even miss my cornbread stuffing! I promise, even your family and friends that don't eat keto will love it!