This post contains affiliate links.
Incredibles 2 hits theaters in June and after heading to Pixar Animation Studios to learn all about it, I can pretty much guarantee it is going to be the movie of the summer. I was totally blown away by all the work that goes into creating an animated feature film. Stay tuned for all the details on that later, but right now I want to tell you guys all about my experience at Pixar Animation Studios. This place is amazing. I knew it would be surreal to step on to the campus, but I wasn't prepared for all the emotions I would feel. And all the awesome things I would see.
The Steve Jobs Building
Walking in to The Steve Jobs building was a pretty incredible feeling. I immediately saw statues of characters from all my favorite Pixar films. From Cars 3, to Inside Out, to The Incredibles – they were basically everywhere I looked. Between them and the amazing artwork, I was a tad overwhelmed. I mean, this is the building where Pixar movies are created – from start to finish. To just be inside it, was a pretty incredible (no pun intended) feeling.
We were lucky enough to take a tour of the building as well, which featured two art gallery hallways from the making of Coco and Incredibles 2. Most of what I saw is currently under embargo so I cannot talk about it – but I will show you everything I can. I could have spent hours upon hours staring at all of the art that we were shown – picking out little details here and there.
My FAVORITE thing that we learned about is a secret hidden in Evelyn Deavor's office. In the photo above (top right photo) you see her office. There is a chess set that took quite a while to perfect in there because it is modeled off of the Bobby Fischer vs. Donald Byrne match. In this match, Bobby sacrificed his queen to win. Hmmm…..could that be a hint at the plot of Incredibles 2?!?
To see all of the components that go in to a film up close and personal is pretty cool. We learned a little bit about the villain of Incredibles 2, and I came up with some theories of my own. We only saw 35 minutes of the movie, but I was able to piece some things from the footage we saw together with artwork we saw.
Archive Tour
Probably the coolest thing to happen at Pixar Studios (and that says a lot) was the tour of the archives. We went to a super secret location and got to see so many amazing things. Thing I could have never imagined seeing in person. There were hundreds, maybe even thousands, of marquettes (which are kind of like statues) of different characters. It was so cool to learn the process of making these and how they are fired in a kiln. We even got to see some of the different expressions of Mr. Incredible, which were pretty awesome. I would love to have one of these in my office for my desk, but of course that would never be possible. They were all archived by movie and character. Rows upon rows of them.
We also got to see some preliminary sketches of the Incredibles characters. One of the things we were shown were several different versions of Edna "E" Mode. Seeing what she could have looked like, who she could have been, was strange. Each version that I looked like, I immediately thought "nope, no way!". One of those versions could easily have been chosen and we would be none the wiser. Did you know Toy Story was just a place holder and many other names were suggested? Can you imagine a different name for that franchise? I sure can't! In one of the display cases was a list of possible names for Toy Story, which included
Creating My Own "Super"
Before heading to Pixar, we were told we would be creating our own Super – so of course I asked my daughters what they thought my Super should be like. They came up with someone named "Sonic Scream" because my youngest has, well, quite the scream if she puts her mind to it. The girls wanted Sonic Scream to look kind of like a bird and be able to fly. In order to inspire us, we were told about how the Incredibles are made from shapes, and were even shown some concept art. I think I did pretty good creating my Super, don't you?
About Incredibles 2
In Incredibles 2, Helen is called on to lead a campaign to bring Supers back, while Bob navigates the day-to-day heroics of "normal" life at home with Violet, Dash and baby Jack-Jack—whose super powers are about to be discovered. Their mission is derailed, however, when a new villain emerges with a brilliant and dangerous plot that threatens everything. But the Parrs don't shy away from a challenge, especially with Frozone by their side. That's what makes this family so Incredible.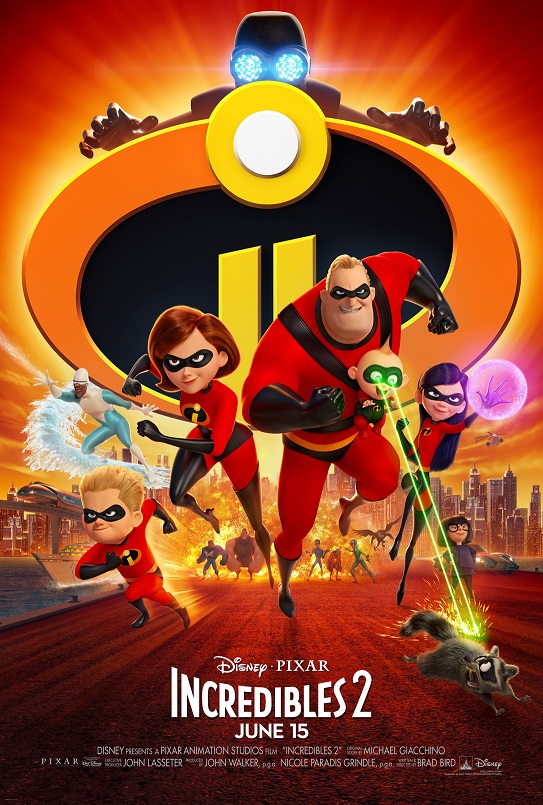 Incredibles 2 hits theaters June 15th!
Like INCREDIBLES 2 on Facebook: https://www.facebook.com/PixarTheIncredibles/
Follow INCREDIBLES 2 on Twitter: https://twitter.com/TheIncredibles
Follow INCREDIBLES 2 on Instagram: https://www.instagram.com/theincredibles/
Visit the official INCREDIBLES 2 website here: http://disney.com/incredibles2