Disclosure: I was provided with this experience from Disney Cruise Lines. All opinions expressed are 100% my own.
The Oceaneer Club and Lab are the "kids only" parts of the boat on the Disney Cruise Line ships. They are for ages 3 to 12 (must be fully toilet trained) and are full of excitement! Parents can sign their kids in and out as they please so that they can enjoy some adult time on the cruise. My girls loved these areas and were quite upset when I would go and pick them up. I had to practically beg them to come to dinner with me the first night. Our next cruise will be a 7 day, and I wouldn't be surprised if my husband and I end up going to dinner once or twice without them.
You can preregister your child(ren) online, making it really easy to get the kids their magic bands the first night of the cruise. You can also register the first night of the cruise at the Oceaneers Club or Lab entrance. Before entering the Oceaneer Club and Lab, kids are required to wash their hands. There are actually hand washing machines in the front entrances – all kids have to do is stick their hands in and they spray soap and water on them. They even stop automatically!
Character Experiences
We all know that you have the chance to meet character like Mickey Mouse, Goofy, Cinderella, Tinkerbell, and so many more at the Disney parks. But on a Disney Cruise, it is the only place where kids (and families) get to PLAY with their favorite characters. Yes, you read that right. Our first morning aboard the Disney Dream was one of our most memorable. The Oceaneer Club had an open house – meaning parents could come check it out with their kids. During this time, they hosted Puzzle Playtime with Mickey and Friends and WOW was I impressed! Toodles showed up and gave clues to certain Mickey Characters and guess what? Those characters showed up to dance and play games with the kids! My girls were able to toss beanbags with Goofy, learn some new doggy dance moves from Pluto, and dance to the Hokey Pokey with Mickey Mouse! Right after this, kids were invited to learn to use the force from a Jedi and even had to battle Stormtroopers! Talk about amazing! These are things that I know they will remember for a lifetime (and I will too!).
Activities
My jaw dropped when I saw the list of activities that would be available at the Oceaneer Club and Lab over the 3 days we would be on the Disney Dream. Not only are there numerous play areas that the kids can explore, but there is structured play as well. I asked my girls their favorite part about their time on board and it was cooking with a real chef! Yup, a chef came by and taught the kids how to make cookies one day, and the next day they got to decorate cupcakes!
There were many other activities the kids could participate in including Get the Hook (helping a certain Captain look for his favorite dress hook – this 3-day search for clues to catch the culprit will take them all over the ship, culminating in a reward from the Captain himself), Super Sloppy Science,, Jedi Training: Experience the Force, Pluto's Pajama Party, Stitch's Adventure Squad – and the list goes on and on. I can honestly say that kids could stay at the Club and/or Lab the entire day (they close at 1am sometimes!) and have the most fun they have ever had. There is always something going on there.
Plenty of options
No matter what your child likes to do, they will find something they will love in the Oceaneer Club and Lab. From video games, to interactive games, to crafts, to coloring – there is something for everyone. I had the chance to tour all of these areas before they opened for the day and I was blown away!
Oceaneer Club
When you first step in to the Oceaneer Club, you see an open room – this is where the Puzzle Playtime with Mickey and Friends took place. But off the center room there are 4 other areas – each themed around something Disney.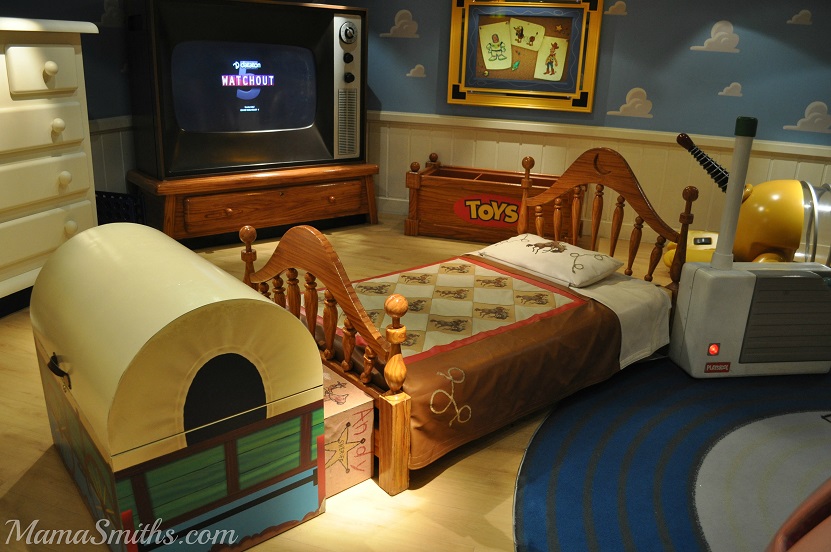 Andy's Room: This room is amazing. It is set up just like Andy's room (from the Toy Story series) and was one of my daughters' favorite rooms. Kids can play with larger-than-life characters from the animated film, including Rex the dinosaur, Hamm the piggy bank and Mr. Potato Head. They can even crawl through a supersized Slinky Dog structure! I could often find my youngest laying in Andy's bed watching a movie playing on his TV – it was adorable. She told me that she also loved to crawl through Slink Dog and of course, take a ride on Rex. If your child likes Toy Story, they will love this play area!
Disney Infinity: Children can interact with a complete set of Disney Infinity characters – and with each other – at this high-tech play area inspired by the popular video game. I am a HUGE Disney Infinity fan so I was fighting back the urge to start playing myself! Bringing virtual gaming into the real world, Disney Infinity Toy Box invites kids to take the place of their favorite character figures by standing atop a life-size Disney Infinity Base during gameplay. Children can even unlock exclusive Disney Cruise Line content to enjoy when playing Disney Infinity at home. How cool is that? Read my Disney Infinity reviews here.
Millennium Falcon: Join the Rebel Alliance! Kids can step inside the cockpit of Han Solo's beloved starship and pilot the "fastest hunk of junk in the galaxy" throughout the Star Wars universe. Capturing the excitement of the iconic film saga, this intergalactic play area also features arts and crafts, a large-screen TV that broadcasts Star Wars Rebel, and computer stations loaded with games from the Disney XD series. R2D2 was even there! My 5 year old loved playing here, and told me that she was secretly wishing Rey would stop by – maybe next time!
Pixie Hollow: Inspired by the popular film series, this whimsical space transports children to the magical world inhabited by Tinker Bell and her fairy friends. In this fanciful forest setting, play dress-up, work on individual craft projects, use kid-friendly computers and listen to stories. This room really felt like Pizie Hollow to me. I am a Tinker Bell fan, so I loved this room. If I was a kid, most of my time would be spent in here.
The Oceaneer Club and Lab are connected by a large room called the media room. Here, kids can kick back in beanbag chairs and watch movies, play video games or even read a book. This expansive play area is also where food is served and fun-filled activities take place throughout the day (like cookie making!).
Oceaneer Lab
Animator's Studio: Designed as a working animation studio, this room allows children to create original hand-drawn art or learn how to sketch their favorite Disney characters. Kids can even design and bring to life computer-animated characters! Sometimes animators will visit them and teach them how to draw characters and let them know a little bit about their job.
The Wheelhouse: Featuring numerous computers and large, high-definition LCD screens, this space gives young rapscallions the chance to hunt for lost treasure in Tides of Fortune, a Pirates of the Caribbean multiplayer game exclusive to Disney Cruise Line. Navigator simulators even let young buccaneers steer a ship through the mysterious waters of the Caribbean!
Craft Studio: Youngsters seeking a more tactile experience can unplug from technology and head to this studio to create hands-on arts and crafts.
Playmation: Young superheroes-in-training can gear up at this state-of-the-art play space and experience the new Playmation game system that lets them team up with Marvel's The Avengers! Thanks to wearable gear that interacts with movement and the environment, kids are invited to complete missions, battle villains and save mankind—all while out at sea! We own Playmation and my girls love playing it at home – so they were thrilled to see it on the ship as well! Read my Playmation review here.
It's A Small World Nursery
If you have kids under 3 (or a 3 year old that is not yet fully toilet trained), Disney had an area for them as well – the It's A Small World Nursery. This place is super cute! I was told that the characters and princesses love to hang out in the nursery. The cast members will even take photos of your child(ren) interacting with them and give them to you on your last day!
These are the rooms that were on the Disney Dream, they do vary per boat. Visit the Disney Cruise Line website for details.
Dinner Is Served
For children ages 3-12, dinner is served from 5:00pm-6:30pm in the Oceaneer Club and Lab. They include kid's favorites such as macaroni and cheese, pizza, chicken fingers, french fries, vegetables, fruit, etc. I love that they serve dinner (and lunch from 12:00pm-1:00pm too!) to the kids because that way you know if they are hungry, they will have the chance to eat. Natalie, the Youth Activities Manager, told us that kids will not be forced to eat – which I think is great – but the option will be there. My mom and I had reservations at Palo, the adult only restaurant, and so we were able to let the girls get something to eat while at the Oceaneer Club.
Safety
Disney always cares about the safety of their guests – especially kids. So there is no need to worry about your children while they are in the hands of the cast members at the Oceaneer Club and Lab. I spoke to you a little bit about the wave phones when I gave you tips on cruising with preschoolers – they are a great way for the Club and Lab to get in touch with you if there is an emergency or if your child wants to leave. As I briefly mentioned, they are given magic bands during registration. These are used to keep track of the kids as well as inform cast members of any allergies or medical conditions. When I would pick up the girls, they would be able to tell me exactly what room they were playing in thanks to the magic bands. Kids can keep these bands as souvenir and to use on future cruises for $12.95 – or simply return them the last day of the cruise at no cost. These areas have loud alarms on all of the doors to make sure that no child is trying to leave. In order to pick up your child, you need to tell the cast member a secret password that you set up during registration. You will also need to present your Key to the Wold card to confirm you are connected with that child.
Kids size everything
From the chairs and tables to the bathrooms – Disney has thought of it all. I was really impressed by the bathrooms in the Oceaneer Club – they were so cute and kid sized! My 3 year old who just became toilet trained, was comfortable enough to go to the bathroom all by herself here (and that made me a happy mom!). On the 5th deck, where the Club and Lab are, the ceilings are lower than any of the other decks. This helps the kids feel more safe.
The Oceaneer Club and Lab are the perfect place to the let the kids run around have fun – while you unwind and get in some adult relaxation (or have a few drinks at one of the clubs on board!). This is just part 2 in an 8 part series – a guide to the adult activities on board is coming up soon, so watch for that one so you can plan your kid-free time on the Disney Cruise Line!