Disclosure: I was provided with this experience from Disney Cruise Lines. All opinions expressed are 100% my own.
I recently went on a Disney Cruise and had the time of my life! It was just a three day cruise but it was a blast. My family and I have since planned a second one for this coming February and I cannot wait to experience it with my husband. He has been in class for work and was unable to attend the last one, so I took my mom. I was sure to take lots of mental notes on what adult activities there were that my husband and I could enjoy while our daughters are at the Oceaneer Club and Lab. There were actually lots of things – but my top three MUST DO activities that I recommend for adults on a Disney cruise are hitting the spa, eating at Palo (or Remy), and lounging in the 18+ deck area.
Senses Spa & Salon
The Senses Spa & Salon provides tranquility, pampering and relaxation with a multitude of spa and beauty treatments. Dive into pure bliss, indulgent luxuries and inner contentment in an environment designed to soothe the senses. This pristine setting features rainforest-themed aromatherapy steam rooms, a dry sauna fashioned after a Roman bath, private luxury villas and so much more. Enjoy this impressive retreat at sea, offering the following therapeutic and beautifying personal care services for both men and women:
Spa Treatments – massages, body wraps, facials, aromatherapy, teeth whitening and much more
Salon Services – manicures, pedicures, hairstyling and traditional men's grooming services
Luxurious Spa Villas – private rejuvenation destination for individuals, couples and families
Chill Spa – an oasis for teens ages 13 to 17
The Rejuvenation Spa – a haven of vitality, offering a complimentary 30-minute consultation to determine which of the 4 groundbreaking, nonsurgical treatments are right for you
My mom and I were able to visit the Rainforest Room while on board the Disney Dream – and it was so relaxing! I know that is something my husband would really enjoy, so we are planning on booking a trip there on our upcoming cruise as well. When you walk in to the spa, you are given the choice from a few different scrubs (I went with lavendar). You then go between saunas, steam rooms, and showers. It was the most incredible experience of my life. After the last shower, my mom and I got a cold glass of lemon water and relaxed. It was so nice to have some adult time and just have normal conversation without kids needing me, or pulling on me. We were given sandals and robes to use while in the spa and the best part – you can come back the entire day! There are even multiple day passes you can purchase so that you can stop by more than once – my husband and I might be doing this!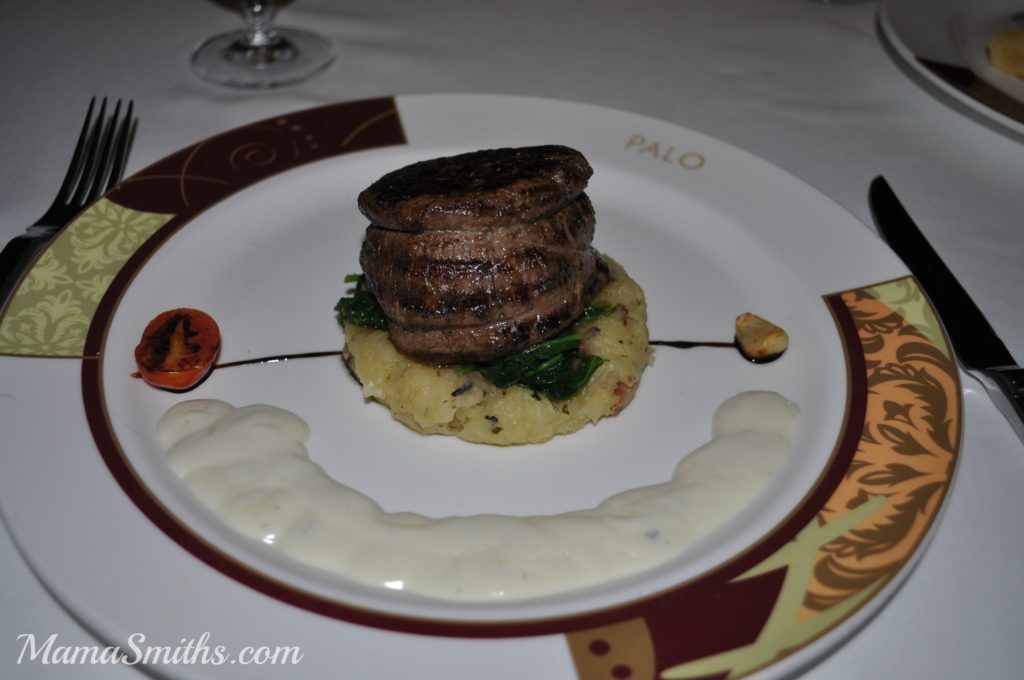 Palo
Named after the signature long poles used by gondoliers in Venice, Palo serves Italian fare in an intimate setting. Fine Italian cookery begins with artfully prepared antipasti, soft potato gnocchi piennolo in tomato sauce with kale, fritto di calamari e gamba marinara or sip on a steaming stew of seafood favorites scented with basil and garlic. Continue with a plate of classic pasta such as penne arrabbiata. For your main course, be transported to the heart of Italy as you pamper your palate with freshly prepared specialties that include butternut agnolotti, seared sea scallops on celery root puree – or entice your taste buds with a house favorite: piquant dover sole (fileted table side), garnished with nut brown butter garnished with chopped capers.
At Palo, incomparable Italian dining and impeccable service sure to exceed your expectations are always on the menu. True to form, there's an abundance of fine European wines and Italian-American-inspired cocktails like the Bellini and the Italian surfer—and cappuccino, espresso, lattes and café mochas. For a sweet ending, discover a culinary confection of freshly made desserts including homemade tiramisù, panna cotta or our house favorite: chocolate soufflé with vanilla bean and chocolate sauce.
My mom and I were blown away by the food here! I knew immediately that my husband and I would be having dinner here on our family cruise. The steak that I ordered was perfect. We got so much food and I was full the entire next day, but it was so worth it. I have never had food this good before! I am used to eating with my children so it was a breath of fresh air to have an entire dinner without children at all. Since this is an adult only restaurant, there are no kids at all – making it nice and quiet. We took full advantage of it and spent almost tow hours at Palo enjoying dinner. I highly recommend factoring in a trip to Palo during your cruise – you will not regret it!
18+ Deck Area
Escape to this onboard oasis exclusively for adults and enjoy a serene atmosphere and cocktails. This quiet pool area invites adults to unwind in a tranquil kid-free setting. A main pool and nearby whirlpool spas allow Guests 18 years of age and older to relax, recharge and soak up the sun. Within these subdued surroundings, sip on cocktails and specialty coffees, read books and magazines, or watch TV at nearby Cove Café.
A main pool with a sleek 3-circle design is the centerpiece of this upscale retreat. Open from 6:00 AM to midnight daily, Quiet Cove Pool features varying depths, including a plunge pool and a shallow sunbathing pool. Plush lounge chairs available on a first-come, first-served basis beckon sunbathers, while built-in lounge chairs in the ankle-deep section of the pool let you enjoy the best of both worlds. Nearby, Guests can soak in a whirlpool spa while admiring sweeping ocean views.
At various times during the day, a live duo performs soothing music poolside and Cast Members host games and activities. For the ultimate indulgence, massages by experienced therapists from Senses Spa & Salon can also be booked. In the evening, mood lighting heightens the area's ambience while alcoholic libations, gourmet tea and coffee, and complimentary snacks are available throughout the day, just steps away at Cove Café.
My mother and I spent about two hours in this area – and it was heaven! My girls were off having the time of their lives in the Oceaneer Club and we relaxed and soaked up the sun with a cocktail.
There are other adult only activities such as bars and events on board – but these are my 3 must dos for adults! If you are traveling with your kids, I know you will be picking and choosing what to do without them – these are the three that you HAVE to do! You deserve some rest and relaxation – enjoy it!