Disclosure: I was provided with this experience from Disney Cruise Lines. All opinions expressed are 100% my own.
If you are thinking about going on a cruise and are a Disney fan, there is really no other option than a Disney Cruise! Everything has a touch of magic in it and guests of all ages are sure to have a blast. If you aren't 100% certain yet, take a look at these reasons why I think you need to book your Disney Cruise now!
Disney exclusive port adventures
One thing that I love about Disney Cruise Lines is that they have Disney Exclusive Port Adventures. For example, if you are on the Norwegian Fjords Cruise and stop in Norway, you can meet some of your favorite Frozen characters (Anna, Elsa, & Kristoff) while you are in port! How amazing is that? We might plan one of these cruises for the future solely for this port adventure! WOW!
If you are on the Disney Dream or Disney Fantasy, you are going to get the chance to stop at Castaway Cay, Disney's Private Island. We love this island because it is filled with all things Disney! Where else can you get off your cruise ship and run right into Captain Jack Sparrow? Later we had a beach dance party with Goofy and Minnie Mouse. Things like this really made our trip special – and myself and my daughters loved it!
On Board Disney Themed Fun
On a Disney Cruise, you can find a bit of Disney everywhere. One of my daughters' favorite activities on board was becoming a detective in Mickeys Detective Agency. We only had a 3 day cruise and we found the time to complete two of the three mysteries that were offered. Kids get a special badge and a map, then they run around the ship from deck to deck finding clues behind interactive paintings. They simply hold up their badge while standing on an emblem on the floor to activate them. They have to use the clues to narrow down the suspects and help find the missing items (puppies and paintings in the two mysteries we solved). I think this is totally brilliant and a great idea by Disney (I don't think they know how to have a bad idea, honestly). When you bring your whole family with you on a cruise (especially a Disney cruise), everyone's going to want to roam around and do their own thing. You hope everyone meets up on time or at least in the designated spot, but that's not always the case. So, I know for next time that there are different kind of walkie talkies used on cruise ships, so I think this would be the best method in communicated to everyone, even if they are on the other side of the cruise ship.
I already told you a little bit about the Disney Shows on board (that you really can't miss) like Villians Tonight! and Disney's Believe in my Tips for Cruising with Preschoolers post, but I have to reiterate that these are the things that truly special about a Disney Cruise. Kids of all ages are sure to love interactive shows as well, like the Disney Junior Pirate & Princess Dance Party – where they get to dance with Jake and Sophia!
One of my favorite things about a Disney Cruise – you get to see new Disney, Lucasarts, and Marvel movies the day they come out! Yup, if they are out in theaters, they are playing on board the ship. I was shocked that the lineup while I was on board included Pete's Dragon (which had just come out that day!), Finding Dory, and Captain America: Civil War – all really new movies. Old favorites were being played as well, such as Hercules, The Little Mermaid, and Snow White and the Seven Dwarfs. There are several movie theaters around the boat – including a big screen on the main deck (called Funnel Vision) where you can watch movies while taking a swim in the pool or waiting in line for the AquaDuck!
I loved walking around the ship looking for hidden Mickeys. My mom, my daughters, and I would yell out HIDDEN MICKEY! whenever we would find one and would point them out to each other. I refuse to give any away – you will have to sail with Disney Cruise Line and see which ones you can discover!
One of our favorite stops at Disney World is the Bippidi Boppidi Boutique. My daughters love to be turned into princesses so I was thrilled to find out that there was a Bippidi Boppidi Boutique aboard our Disney Cruise Ship (on all this DCL ships)! I knew right away that we would be booking a make over for both of the girls (your child needs to be at least 3 years old). While booking, I noticed that for Pirate Night, the BBB would turn into the Pirate League and my girls could be made into Pirate Princesses! Well, that was a done deal, I signed them right up. They had so much fun becoming pirates! They were given new pirate names and even got to recite the Pirate Oath (see the video above). If you are bringing kids with you on your Disney Cruise, work BBB into the budget, it is beyond worth it!
Character Meet and Greets
One of my favorite parts about Disney World is meeting the characters, and I had no idea I would be able to meet so many on my Disney Cruise as well! There were princesses, Disney Junior Characters, Star Wars Characters, and more! I was totally shocked (and impressed) with the amount of characters on board and how many opportunities we had to meet them. TIP: Bring an autograph book with you – you will start meeting characters starting with check-in (yup, before you even get on the boat!). In the daily Personal Navigator that is left in your stateroom each night, there will be a schedule of where to find them all. In the Oceaneer's Club and Lab, kids (and parents) will get the chance to even play with some of their favorite characters.
Fun for All Ages
On board our Disney Cruise there were endless activities for guests of all ages. There was so much to do, in fact, that I felt like we barely scratched the surface of all the fun! I cannot wait to go back in February and spend 7 days with Disney Cruise Lines on the Disney Fantasy (get ready for more tips and tricks then too!) and take it all in! If you have preteens or teens traveling with you, they are sure to have a blast in the underage nightclubs and lounges. I have been told that on the 4 day cruise aboard the Disney Dream, they even get to make a zombie movie and then air it for the whole ship the last night at sea! Read about all the fun Candypolooza and her family had on their cruise here!
Edge
Guests ages 11 to 14 with their own special hangout where they can connect with other tweens from around the world. Equipped with high-tech entertainment including flat-screen TVs, computers and video games and featuring daily guided activities, this interactive play space is bound to become your tween's favorite on-ship destination!
Vibe
Vibe provides Guests ages 14 to 17 with their own special place where they can break off from the family and connect with other teens. Designed with their interests in mind, each lounge is laden with amenities and activities that will keep them engaged and entertained while encouraging them to mingle. With so much to do, Vibe is bound to become your teen's favorite on-ship destination!
They also have games and fun for the whole family like karaoke, Disney Trivia, and So You Think You Know Your Family? On Goofy's Sports Deck they offer miniature golf and a basketball hoop! There is no way that you will be bored on this cruise! Even if you don't have kids, Disney Cruise Lines has plenty for you to do. Disney is known as a family entertainment brand, and that doesn't just mean kid friendly activities, it means something for everyone. As a matter of fact, the record holders for most Disney cruises is a couple that just went on their 105th Disney cruise (and guess what, they have no kids!). Keep checking back because one of my upcoming articles in this series will be about the activities adults can do on board a Disney Cruise.
The Food (and Restaurants)
I have been to Walt Disney World more times than I can count, and the food is always something that impresses me. Well, it is no different aboard the Disney Cruise Line! While on the Disney Dream, there are many restaurants to choose from – and I was a fan of all the ones I tried out!
The really cool thing about the Disney Cruise is that you select a dinner time while booking (either 5:45pm or 8:30pm) and you told by Disney which restaurants you will be going to each night while on board. I love that your wait staff follows you – so you will have the same server every night. By the second night, our waiter knew what my daughters liked to drink and how we liked our food cooked. The main places to eat on the Disney Dream are Animators Palate, Royal Palace, and Enchanted Garden. All of the food was delicious – we did not have one complaint. The cost of food is included in your cruise cost, so there is no worries about checking the cost of food while on board. I was happy to hear that kids can order pretty much whatever they want even if it is not on the menu – pizza, chicken fingers, mac and cheese.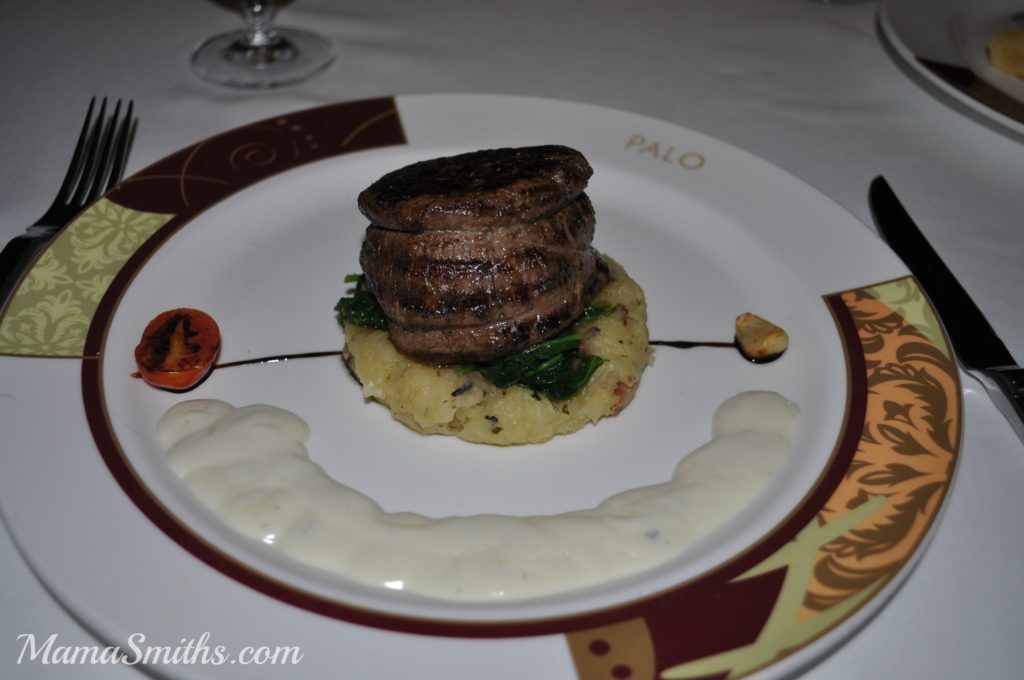 Palo and Remy are adult-exclusive restaurants and a meal I highly recommend. My mom and I were sure to eat here while on board (and the kids were having a blast at the Oceaneer's Club) and my husband and I plan to book one night here as well. Remy is French fare and Palo is Italian fare (we ate at Palo) and they are not to be missed. Additional fees do apply, but they are well worth it. TIP: Eat a small lunch the afternoon that you are going, there is so much delicious food to eat!
For breakfast, lunch, and even a second dinner there are other restaurants that are open what seems like all day. We loved the buffet at Cabanas – it was filled with options and everything was delicious! We grabbed burgers one afternoon at Flo's Cafe and the girls even went back for seconds!
Don't worry, Disney has you covered when it comes to desserts and treats too! Eye Scream Treats and Frozone Treats are a great place to grab an ice cream cone while relaxing in the sun on deck. But if you are on the Disney Dream, the place to check out is Vanellope's Sweets and Treats! Disney Dream is currently the only ship that has this candy and ice cream shop that is themed after Wreck It Ralph (one of my personal favorite Disney films). Race on down to this decadent dessert shop inspired by the super-sweet arcade game from Disney's Wreck-It Ralph. Enjoy a "Sugar Rush" with hand-scooped gelato, fresh waffle cones, baked treats and candy in a wide variety of delicious flavors.
We loved our trip so much, that we booked our next cruise while on board! I even saved some money by doing this – so if you are on your cruise and just loving it, book your next one right there on the boat to get a discount and even onboard credit for the cruise you book! (TIP: Use your Disney Rewards Visa Card when booking and get a card member "gift" – for example, I secured a $50 drink credit on board the ship). We had a blast on our 3 day, but opted to try out the 7 day next (complete with Star Wars Day at Sea!) and we cannot wait. A whole week on the seas with Disney, what can be better than that?