While at Pixar Studios to learn more about Onward, I sat down with Kori Rae (Producer) and Dan Scanlon (Director). Here are some fun facts I learned about Onward during our discussion.
If you know me, then you know what a big fan of Pixar and Disney I am. You might even know that I was lucky enough to tour the Pixar Animation campus and learn about Incredibles 2 before it came out. Well guess what? I did the same for the new original story, Onward — and I was beyond impressed. To say I cannot wait for this movie to be released is a massive understatement.
During a very quick one and a half day trip, I saw a ton of behind the scenes information, and even watched 30+ minutes of the movie. From the moment I watched the first teaser trailer, I was intrigued and excited. I mean, Chris Pratt AND Tom Holland? You can't go wrong with that duo! But trust me when I say this movie is so much more than you can imagine — and I cannot wait to fined out how it ends.
Dan & Kori: The Brilliant Minds Behind Onward
As part of the press day, I sat down with two ridiculously brilliant people — Dan Scanlon and Kori Rae. They are the Producer and Director team behind Onward, but you might also know them from Monsters University. Monsters University is one of my favorite Pixar films, so as soon as I knew they were behind Onward, I knew it was going to be great.
They always say don't meet your heroes, but Dan and Kori were an absolute pleasure to talk with. They let us in on some of the behind the scenes, and I loved every second of it.
Only once is all we get. Grant me this rebirth. Till tomorrow's sun is set – one day to walk the Earth. – Excerpt from an ancient magical spell
Dan's Own Story Inspired Onward
Of course I knew that Onward was an original movie from Pixar, but I had no clue it was inspired by Dan Scanlon's actual story. He told us a little bit about it, and after having seen part of the film, my heart really ached for him. It was like it all clicked in my head, and made Onward that much more special to me.
"The story is inspired by my own relationship with my brother and our connection with our dad who passed away when I was about a year old. He's always been a mystery to us. A family member sent us a tape recording of him saying just two words: 'hello' and 'goodbye.' Two words. But to my brother and me – it was magic." – Dan Scanlon
When you go see Onward in theaters — because of course you will — really think about someone you might have lost, that you didn't know much about. Think about the pain that causes, and how you would do anything, ANYTHING, to spend just one day with them and get to know them. That is the story of Onward.
"We've all lost someone, and if we could spend one more day with them – what an exciting opportunity that would be. We knew that if we wanted to tell that story that we'd have to set the movie in a world where you could have that incredible opportunity." – Dan Scanlon
In Onward, Dad leaves a letter behind for the boys to read when they are both 16 years old. He was sick when their mother was pregnant with Ian, and prepared for the worst. He wanted to find a way to see his sons all grown up. Such a beautiful story.
Casting Tom Holland
To have Spider-Man and Star-Lord voice brothers in a movie is something special. Like I said, I have seen part of this movie already and they were perfectly cast. Surprisingly, Dan and Kori didn't think about it as hiring two Marvel heroes on to their film, they just cast for Barley and Ian Lightfoot — and that happened to be Chris Pratt and Tom Holland.
Kori told us that Onward was actually a really tough film to cast. The main reason for that? They are casting a 16 year old and a 19 year old. So what age actor should you be looking at for that? "You want someone with solid acting chops, but someone who still sounds 16." Tom Holland is one of the few people I can think of that fit both of those criteria.
Kori said Tom had "the right amount of nervousness and shyness, and yet is such a great actor that he can really do the emotional scenes."
Casting Chris Pratt
For the roles of these brothers, Dan and Kori needed to cast actors who can do comedy and emotion. There is a lot of emotional moments in Onward, which I can say even after only having seen 30 minutes of it. It is Pixar after all — they always try to make everyone cry.
"Chris embodied the wild chaotic part of Barley. He also has the charm that allows him to get away with being a little annoying, which he has to be at times. And he has that big brother quality. It does help that they do know each other and Chris is a little bit like a big brother to Tom in their relationship." – Dan Scanlon
For the record, even though Chris and Tom look very much like Barley and Ian, the characters are designed first. The voice cast doesn't start recording until production starts. So the fact that they resemble them is something that just sort of happened — and perhaps is a testament to the actors and the animation team.
Deleted Scenes and Bonus Features?
It might seem a little bit strange to be discussing the home release bonus features for a movie that hasn't even hit theaters yet, but it isn't. Kori has a lot of favorite moments and characters that had to cut from the final story, but she has plans for them. Don't worry!
"We've done a whole ton of work on a bunch of things that didn't make it into the final story. There's so many good scenes that we miss, that we wish could have worked in this version. Throughout the whole process, you have to think about what's right for the movie in the end. A lot of scenes, a lot of characters have to go." – Kori Rae
Dan added in that it feels like they have many whole movies' worth of scenes and characters that Pixar can use in the future! Sign me up! Sounds super exciting to me!
Easter Eggs To Look For
Everyone loves Easter Eggs, so you know when I was given the chance I just HAD to ask Dan and Kori about what we might find in Pixar's Onward! Dan said he doesn't even know how many Easter Eggs are in the movie. Part of the movie team is the "fellowship" who are total geeks and my kind of people (more on them later), but Dan admitted they helped add in things like that throughout the entire film. As for the fantasy related ones? He joked he probably wouldn't even know them if he saw them.
You probably know this already, but every Pixar movie has an Easter Egg from the next Pixar movie that is set to release. Which means Toy Story 4 has an Onward Easter Egg. Dan admitted that he actually googled it that morning, because he hadn't seen it yet. Have you? Want me to tell you? Do you? Do you? OK, I will — the Pegasus from Barley Lightfoot's fan is on the bouncy castle at the carnival in Toy Story 4!
Kori let us all know that her favorite is the nod to Soul, which is Pixar's upcoming film after Onward. I cannot wait to see it!
FUN FACT: Dan specifically asked for an Easter Egg to be put in Onward. Just one. He only requested one (that was fantasy related — because he asked for "all kinds of personal" stuff — he even put his dog in there). And he doesn't think anyone is going to find it. That sounds like a challenge to me.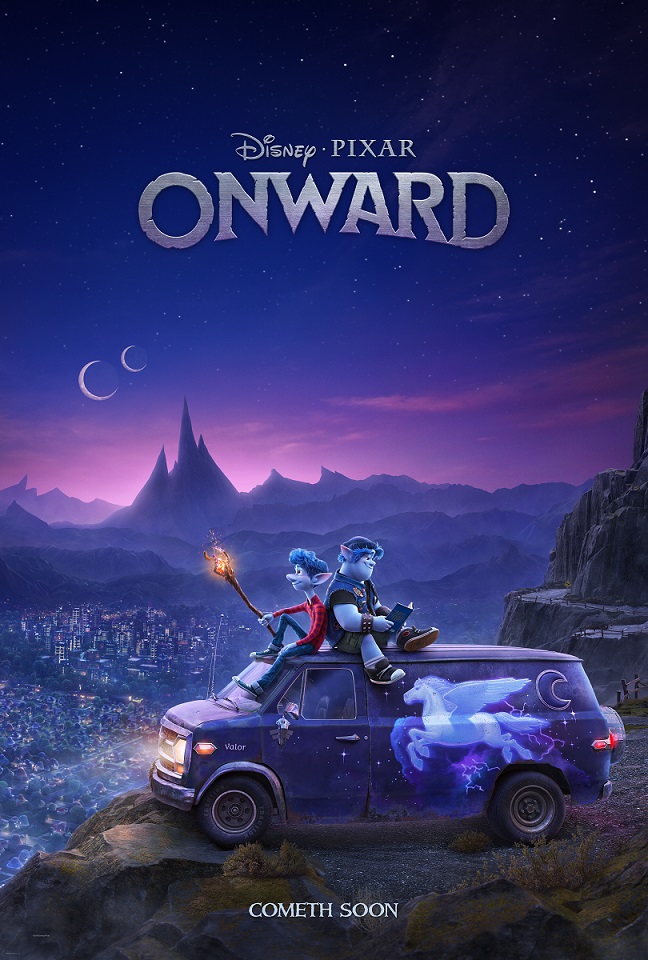 About Onward
Set in a suburban fantasy world, Disney and Pixar's "Onward" introduces two teenage elf brothers (voices of Chris Pratt and Tom Holland) who embark on an extraordinary quest to discover if there is still a little magic left out there. Pixar Animation Studios' all-new original feature film is directed by Dan Scanlon and produced by Kori Rae – the team behind "Monsters University."
"Onward" releases in theaters on March 6, 2020.
Facebook: http://facebook.com/pixaronward/
Twitter: https://twitter.com/pixaronward
Instagram: https://www.instagram.com/pixaronward/
#PixarOnward