Just what is Onward about — and how did Pixar bring it to life? I dove into this with the Onward story team and can't wait to tell you everything!
Have you ever wondered how an animated movie ends up on the big screen, after starting as just a script? I know I have! Now, thanks to my time learning about Onward at Pixar Animation Studio, I know the answer. While visiting last year, I sat in on a story session and got the behind the scenes information on how to pitch a scene with Kelsey Mann (Onward Head of Story) and Madeline Sharafian (Onward Story Lead). This was easily one of the coolest experiences of my life.
In this session, I watched them take the script of a scene, and draw it in real time. But not only that, they also made edits for us, based on suggestions. In a twenty minute period! Talk about pressure! It was so fascinating to watch. The story team even showed a video of a pitch meeting they had with Dan Scanlon, the Director. That was really cool to see because you could tell just how much fun they have, even while working.
How They Help With The Script
A small group from the story team helps with the script from the very beginning of the process – that is something I never thought about. I guess I always assumed one person wrote the script and that was that. But it is a little more complicated than you might expect. Sure, Dan writes the script, but he has help. This small story team of about 7 people (for Onward), takes a scene and reads it to themselves. Each person marks it up with their thoughts, before unloading all their thoughts on Dan.
Kelsey let us know that they "literally go page by page throughout the whole thing." It is their job to tell Dan their thoughts, from small things, to big things — which could even be saying that an entire scene doesn't work.
The Next Step: Story Boarding
So after the script is finalized and everyone is happy with it, the next step is to story board it. So scenes are split up among the artists, and they pitch their ideas to Dan. A story board is a very rough sketch of the scene, and it might even be done right then and there — in front of Dan! Of course, the pressure is on and the artists could possibly forget Dan's notes but don't worry, they plan for that and record the sessions so they can use them as reference if needed.
After showing us some videos, and discussing what they do, Kelsey did something really cool for us. He went through the Trust Bridge scene, step by step. He even sketched it all out, and showed us how the program they use works. That's right, he made changes right then and there — talk about talented!
What I really loved about this was we could see how just a simple change, can help a scene so much. For example, he changed a scene from a "drone" shot to a first person shot, and it really brought me more into the scene.
The Trust Bridge Scene
The scene in Onward that we took a close up look at is called "trust bridge" and it is SUCH a great part of the story. You will know it when you see it, trust me (get it?). "This scene is really the moment when we move from the familiar into the full fantasy world," was said by production designer Noah Klocek. And he is so right.
I don't want to give too much away for you, but in this moment, Ian and Barley come across a large bottomless pit. Across from them, on the other side, is an old drawbridge. Ian is charged with pulling off his biggest spell yet to cross the massive crevasse with nothing but his own faith beneath his feet.
"It comes at a crucial point in the film," says producer Kori Rae. "Ian is put to the test – not only to face his fears, summon courage he's not sure he has and step out over a bottomless pit – but to trust his brother like never before. It's a terrifying scene to watch – especially if you're afraid of heights, and honestly, even if you're not."
Adding the Voices
Pixar does scratch recording with employees so that they can get the timing right and tie up any loose ends in the scene. Employees are used when they don't have the voice cast, and also to save time and money — why have the cast record if it is going to be edited and they will have to do more takes?
This whole process is done for every single scene in the movie. They look at the film every 3 months and even have people that aren't on the crew watch it. I am sure you can guess why they would do this — for a fresh perspective. Smart!
An Art Lesson: How To Draw Barley
At the very end of this amazing presentation, Pixar had a surprise for us. We were going to learn how to draw Barley Lightfoot (voiced by Chris Pratt). Trust me when I tell you that I do not have an artistic bone in my body. Seriously. So the fact that you can probably tell this is Barley IMMEDIATELY, means Pixar has some really good teachers.
In all honesty though, it was a lot of fun to learn how to draw Barley. It is something I am keeping in my back pocket to teach my daughters after we see Pixar's Onward in theaters. And I can pretty much guarantee theirs will look better than mine.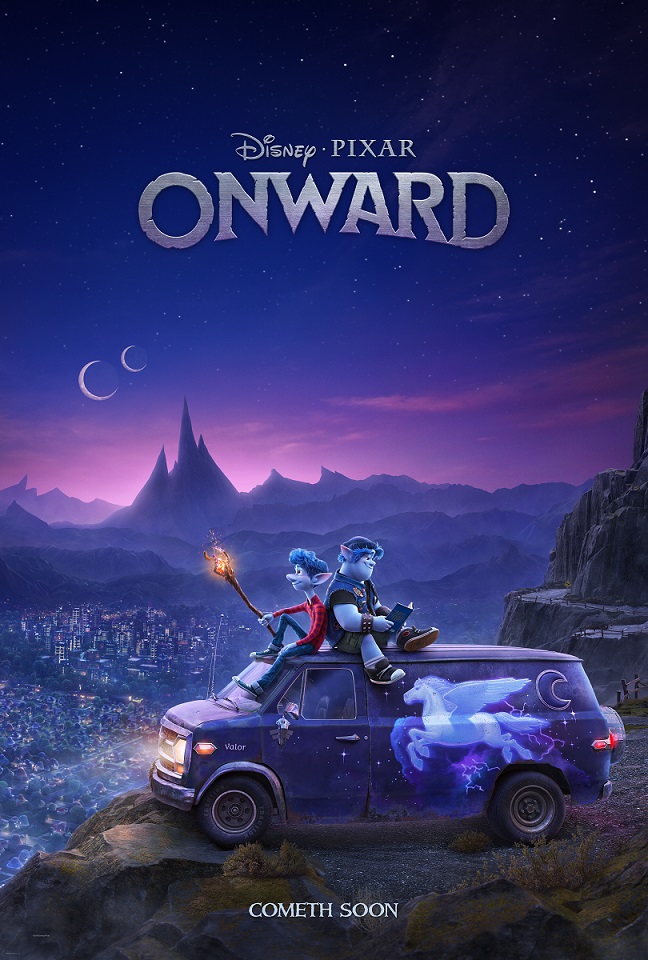 About Onward
Set in a suburban fantasy world, Disney and Pixar's "Onward" introduces two teenage elf brothers (voices of Chris Pratt and Tom Holland) who embark on an extraordinary quest to discover if there is still a little magic left out there. Pixar Animation Studios' all-new original feature film is directed by Dan Scanlon and produced by Kori Rae – the team behind "Monsters University."
"Onward" releases in theaters on March 6, 2020.
Facebook: http://facebook.com/pixaronward/
Twitter: https://twitter.com/pixaronward
Instagram: https://www.instagram.com/pixaronward/
#PixarOnward