I spent a day at Pixar Animation Studios learning all about Onward. One of my favorite things to learn was how they blended the fantastic & the familiar to make this movie work.
Making a movie like Onward seem like it all makes sense is hard work. There has to be a calculated combination of fantasy and familiar or the audience will have a hard time connect to the movie — believing in it. That was one of the major takeaways for me after spending the day at Pixar Animation Studios last year.
Of course, Onward is an animated film about magic, fantasy creatures, and a bringing a dad back to life for a day — but the audience still needs to believe it. It needs to make sense to them so that they are not questioning things they see and distracting themselves from the plot. This movie needed to have the perfect combination of fantasy and familiar.
Ian needs to go to a school that feels like a real school. In the background of shots like the convenience store, it needs to feel like a real store, with real products. The end results? Pixar's Onward is 30% fantasy, 70% familiar. It does take place in a world that has lost magic, after all. Speaking on magic, my friend Tania discusses the magic of Pixar Onward, and you don't want to miss that article.
Creating A Whole New (Believable) World
The animators working on Pixar's Onward created a whole new world for this film. Because it is a combination of fantasy and familiar, the items that we see in the movie were created from scratch. Noah Klocek, the production designer, told us that because Onward relies heavily on Fantasy, the animators have a hard task ahead of them. They have to explain more and build a visual language for the audience to help them accept what is going on.
In order to do this, the animators study and discuss how to bring two different worlds together. Of course they need magic to bring back Dad. But only half of him. This causes the boys to go on a journey, and we get the story and plot of Pixar's Onward. They are on an adventure to find and use magic, in a world that has no magic anymore.
Barley Vs. Ian
A major hint at the fantastic versus the familiar is taking into consideration Barley and Ian. Without me even telling you, I am sure you can guess which brother represents which aspect of the film. Barley is the fantastic. He enjoys playing a role playing game — but whole heartedly believes it is based off reality and how the world used to work. Just take a look at his van – Guineviere – and you will see a unicorn painted across it. He is fun loving, and a little bit wild.
Ian is the familiar. He is a normal 16 year old boy who is nervous and shy. Ian doesn't really have any friends and he is a bit of a loner at school — and definitely awkward. He dresses normal in a plaid shirt and jeans. He doesn't believe in the Quests of Yore like Barley does. And he certainly doesn't care to learn about magic. Even though it turns out he is the one that can actually do magic.
"Fantasy touches are everywhere – if you look close enough." – Ana Lacaze, Character Shading Art Director
Creating Background Characters That Fit The Story
Something that most people don't think about is that there are "extras" in an animated film as well. The main characters are not going to be the only characters in the movie, so the animation team needs to come up with a collection of background characters as well. These characters cannot stand out too much or they might distract the audience from the story. They need to fit in the world — so in this case, they need to be a combination of familiar and fantasy, just like the rest of Pixar's Onward.
In this movie there are 13 species and 240 characters (with 100 variants), and they all balance the familiar and the fantastic. Just look at the photo above and you will see some great examples. I bet you can easily pick out which ones are the athletes, which ones are school kids, and which ones are adults. That is because the character creators did a fantastic job of making them familiar enough, while still including fantasy aspects.
Don't miss my interview with Onward Director Dan Scanlon and Kori Rae!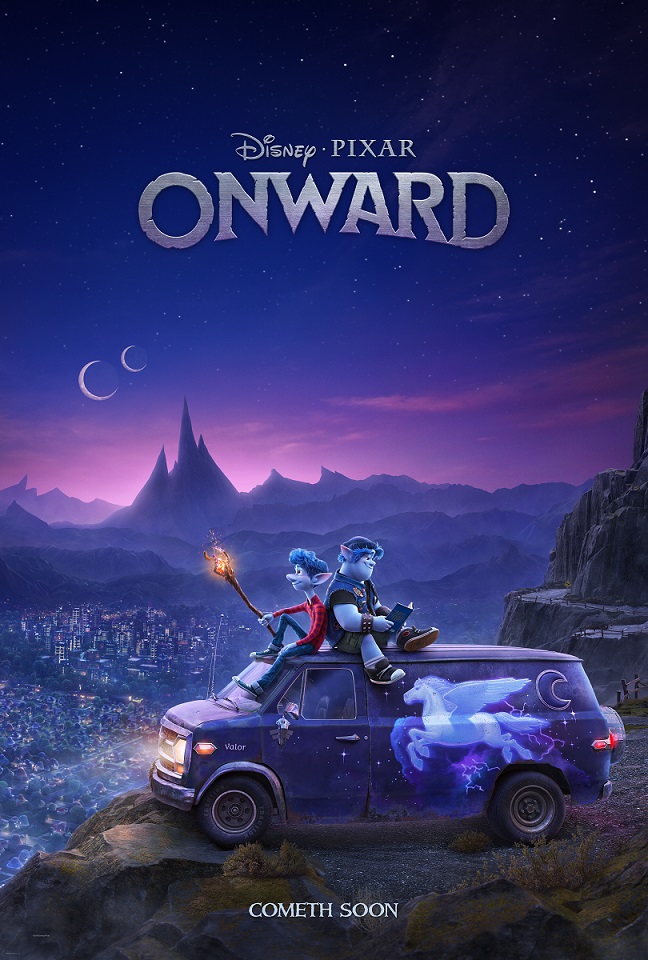 About Onward
Set in a suburban fantasy world, Disney and Pixar's "Onward" introduces two teenage elf brothers (voices of Chris Pratt and Tom Holland) who embark on an extraordinary quest to discover if there is still a little magic left out there. Pixar Animation Studios' all-new original feature film is directed by Dan Scanlon and produced by Kori Rae – the team behind "Monsters University."
Tickets for Onward are on sale now!
Sweet Surprise! Get 15% Off Gift Card Orders $50+ for the month of February with code: TREAT2020
"Onward" releases in theaters on March 6, 2020.
Facebook: http://facebook.com/pixaronward/
Twitter: https://twitter.com/pixaronward
Instagram: https://www.instagram.com/pixaronward/
#PixarOnward