Avengers: Endgame is finally available to take home on Blu-ray, DVD, and 4K — and that means it is the perfect time to plan a Marvel Movie Night! You will needs snacks, comic books, and of course the movie. And if you are my daughters, you need all your Marvel action figures with you as well.
Catch Up On The Comics
If you know anything about me, you know that I love me some comic books! If you are looking for some kind of background on the story that we see in Avengers: Endgame, I have a list of 5 comics to read before watching Endgame.
Of course the movie is filled with Easter Eggs and nods toward the comics, so that is one major reason why you should get caught up. Also, any excuse to take time to read a comic books, am I right?
Prepare Your Snacks
Avengers: Endgame is a three hour movie so you know you are going to need some awesome snacks! I have a super delicious (and easy) popcorn ball recipe, that can easily be themed for Avengers. Or, if you are feeling really creative, make these Infinity Stone Macarons (Click the photo for the recipe). We love them!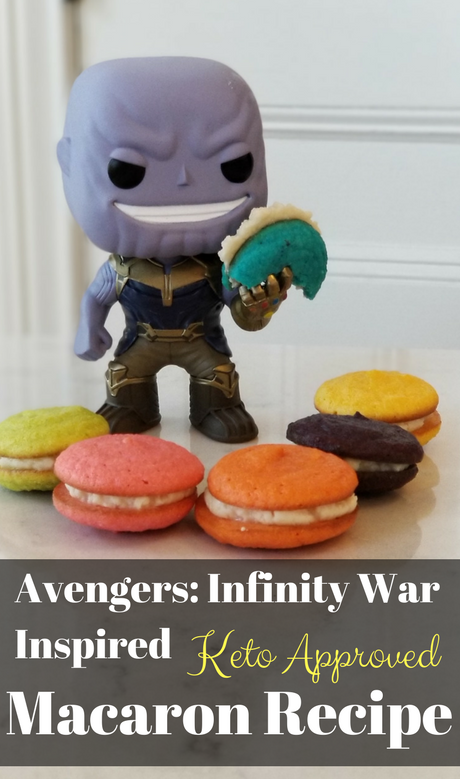 I was excited that Marvel sent me some Captain America cookies! They also sent over an amazing Hulk popcorn bowl, and Hawkeye and Black Widow (awwwww) cups. Thank you Marvel!
Buy the Movie
Of course you will also need to buy your copy of Avengers: Endgame. Personally, I recommend the Avengers Assembled set. Not only does it come with all four Avengers films on 4K, Blu-ray, and Digital — it also has a heartwarming note from Kevin Feige. That may or may not have made me cry.
About Avengers: Endgame
Adrift in space with no food or water, Tony Stark sends a message to Pepper Potts as his oxygen supply starts to dwindle. Meanwhile, the remaining Avengers — Thor, Black Widow, Captain America and Bruce Banner — must figure out a way to bring back their vanquished allies for an epic showdown with Thanos — the evil demigod who decimated the planet and the universe.
Avengers: Endgame is available in stores now!