Halloween is our favorite time of year in our family — and here is a list of must watch Halloween movies for kids!
We love Halloween in our house, so during the whole month of October (and most of September) we watch Halloween movies and television shows. Thanks to NCircle we now have a new stack of these that are prefect for kids – and my girls could not be more excited! This is our list of must have Halloween DVDs for kids!
Pocoyo Boo!
Join Pocoyo and his friends on seven playful adventures. Whether it's playing a new game called Boo!, enjoying a monster mash party or pretending to be Godzilla & King Kong. Every day is fun and engaging with Pocoyo and hid friends!
Little Wolf's Book of Badness
All Little Wolf wants to do is stay at home with Mum, Dad and his brother, Smellybreff. However, Mum and Dad are worried that their precious son, Little Wolf, is not as bad as a small wolf should be. So they decide to send him off to Cunning College in Frettnin Forest to learn the 'Nine Rules of Badness' from his Uncle Bigbad. Based on a world famous series of best-selling Little Wolf story books, this one-off is a treat for the whole family!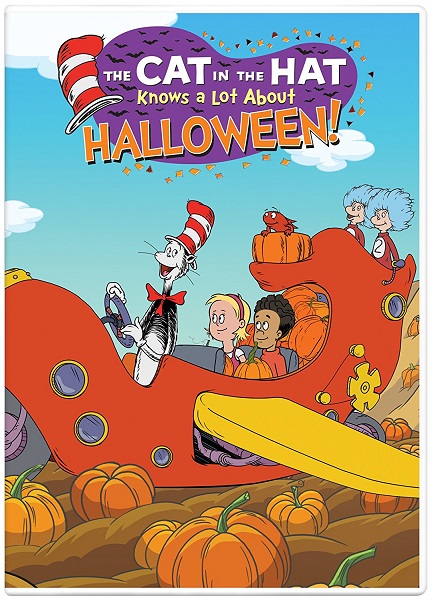 The Cat in the Hat Halloween
The Cat in the Hat takes Nick and Sally on a Halloween ride filled with howlers and shockers and scary fandangles, big laughs and music and fun from all angles! Their fright-filled adventure takes them deep into the Oooky-ma-kooky Closet where Nick and Sally discover the very best Halloween costumes ever.
Sid the Science Kid Sid's Spooky Halloween
It's Halloween! Join Sid and his friends as they discover how bats catch mosquitoes, why spiders are expert engineer web builders, and how skeletons make up the foundation of our bodies. The kids dress up to celebrate Halloween at school, and Teacher Suzie leads them in a special Halloween parade song to show off their costumes! With Sid the Science Kid, Halloween can be spooky and scientific!
Bonus DVD Sets!
These are not Halloween themed, but they are awesome! Be sure to check them out!
Octonauts Season Two Gift Set
Based on the richly imaginative books by Meomi, this series combines immersive visuals and "submersive" humor to transport young children into a world that is both real and fantastic, full of mysteries to unravel and surprises around every corner. In this season set, encounter all types of creatures from the Great White Shark to Lionfish and more! The adventures don't end there! Embark on an Amazon adventure with the Octonauts as they travel down the Amazon River in search of a lost city and Kwazii's long lost grandfather, Calico Jack! So come aboard the Octopod for 24 exciting missions!
Gumby – 1980's Series Vol. 1
Welcome back Gumby and Pokey in this wild, wacky and inventive collection of 80's episodes! Featuring 50 clay-animated episodes, fully re-mastered from their original camera rolls and soundtracks. Also making appearances are Prickle, Goo, the Blockheads, Professor Kapp, Dr. Zveegee, the Moon Boggles, and Gumby's parents Gumbo and Gumba. New characters include Gumby's sister Minga, Denali the Mastodon and Tilly the chicken! The gift set includes 2 exclusive bendable toys!
That's not all! You can enter to win ALL of the DVDs I mentioned here using the Gleam form below. Be sure to check out my other giveaways while you are here and GOOD LUCK!