This post is in no way sponsored. All opinions expressed are 100% my own.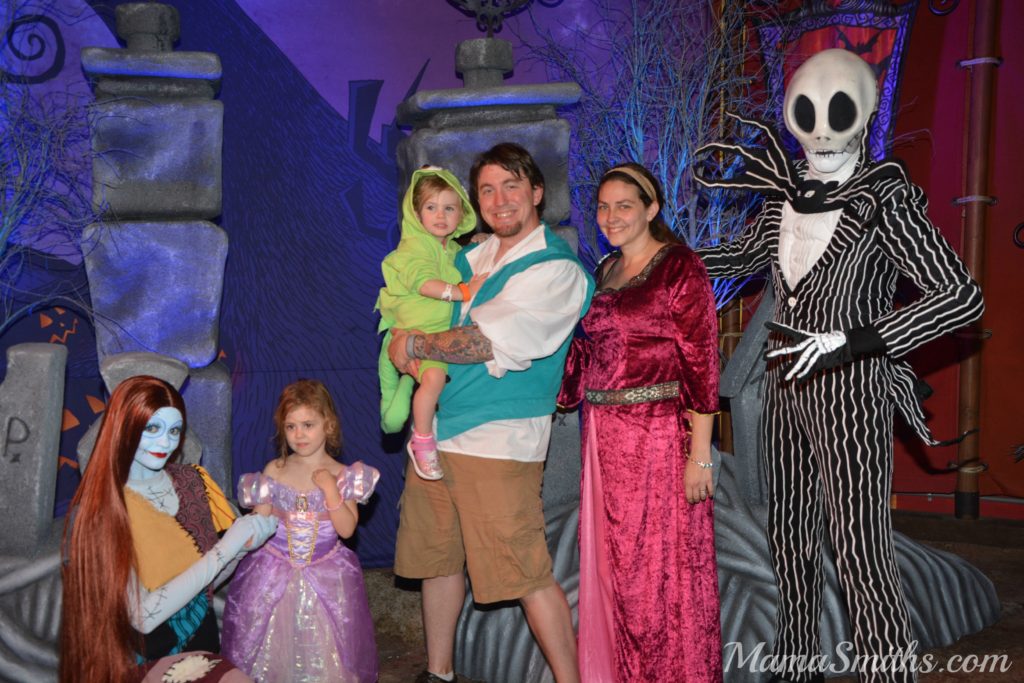 As you probably know, my family and I are Disney Vacation Club members. We visit Walt Disney World at least twice a year, and one thing we are always planning our trips around is Mickey's Not So Scary Halloween Party. This is something that I recommend every one attend at least once. One of my biggest tips for going is to dress up! Trust me, you will regret it if you don't. We went as Tangled characters one year, which was a hit with all the characters – especially Rapunzel and Flynn Ryder (yup, you can meet the Princes during the party!). This year's party is fast approaching and we ran out of time to create our own looks, so Amazon it is. In case you are a last minute planner like me, here are some quick and easy MNSSHP costumes ideas!
The Incredibles
Everyone loves the best superhero family out there – The Incredibles! This is a costume that you will see a lot of walking around Mickey's Not So Scary Halloween Party, because it is a really easy one. All you need are some Incredibles shirts and maybe some masks, if you are feeling adventurous.
Zombies
I don't know what it is like in your house, but ever since the release of The Disney Channel's Zombies, my girls have been running around singing the songs. "What could go wrong with a girl and a zombie…" is basically always stuck in my head. Grab some ratty clothes and green hairspray and ta da! You are now a zombie from that movie. If you want to be Addison, the cheerleader, just grab some pink pants, pink top, and a pink jeans jacket.
Monsters Inc.
Who doesn't love the monsters from Monsters Inc. and Monsters University? They are so popular that there are tons of costumes available online. And you know there are enough characters for the whole family to join in the fun! Just consider the time of year you are going to the party. If it is in August, or even September, you might want to consider not wearing such a heavy costume. Florida is hot after all.
Toy Story
Another popular movie with a wide variety of characters – Toy Story! Woody and Jessie are easy enough without costumes – just dress like a cowboy or cowgirl!
The Muppets
I love that the Muppets are a part of Disney. I grew up watching them and they are still some of my favorite characters – to this day. Animal, Grover, Fozzie… all of these have costumes available for purchase.
Winnie The Pooh
Silly old bear! With Disney's Christopher Robin in theaters this summer, Pooh and friends are sure to be a popular choice at Halloween this year.
Star Wars
Star Wars has so many different shows, and movies, making it a great idea for a family costume theme. Go with old school, new school, or some where in between, there are plenty of options out there. You can even be BB-8!
Finding Nemo
One of my all time favorite movies is Finding Nemo. I remember going to see it in theaters in college and just falling in love with it. With the success of Finding Dory recently, these characters are popular again. Choose from costumes like Nemo, Marlin, Dory, Hank, and more!
Disney Princesses & Princes
If you are stumped, just go with Disney Princesses & Princes! Disney Princess dresses are easy to find and bonus – they can be used for dress up all year long!
Marvel Superheroes
If you know anything about me, you know I am a bit of a Marvel fan. With Marvel being a part of Disney, that opens up a world of new costume ideas. Thor, Black Widow, Hulk, even the Guardians of the Galaxy are fair game for group costumes!
Or, if you want a challenge, you can always create your Halloween costumes from scratch – we did just that last year! Tickets are already on sale for this year's Mickey's Not So Scary Halloween Party at Walt Disney World, which runs from August 17th to October 31st (select nights only).
Do you have an easy MNSSHP costume idea?