This post contains affiliate links.
We are a Disney family. There is no denying that. My husband and I honeymooned at Disney World, and we have been back almost every year since. Our daughters are 3 and 5 and will be going to Disney World for the 3rd time this coming fall. Last year, after several years of attempting to find the time, we were able to attend Mickey's Not So Scary Halloween Party (MNSSHP). We immediately started to research and plan our visit. Here are 5 tips that will help you plan your MNSSHP experience to the fullest!
Arrive Early & Use Those Fastpasses
MNSSHP officially starts at 7pm, however, party guests can enter the park at 4pm – but that's not all. If you have not been to another park that day (and used fast passes), you can schedule 3 fastpasses (for times between 4pm and 6pm)! The same holds true for Mickey's Very Merry Christmas. This is a great way to get a popular meet and greet in or get on some popular rides. Keep in mind that the lines for rides will be much shorter during party hours because of two reasons. 1) There will be less people in the park and 2) many people will be attending party events. If you are staying at Disney World for several days, I recommend planning your party night for a day off from the parks or the first night – and get a bonus day in the parks (because you will not need a regular park ticket to attend.)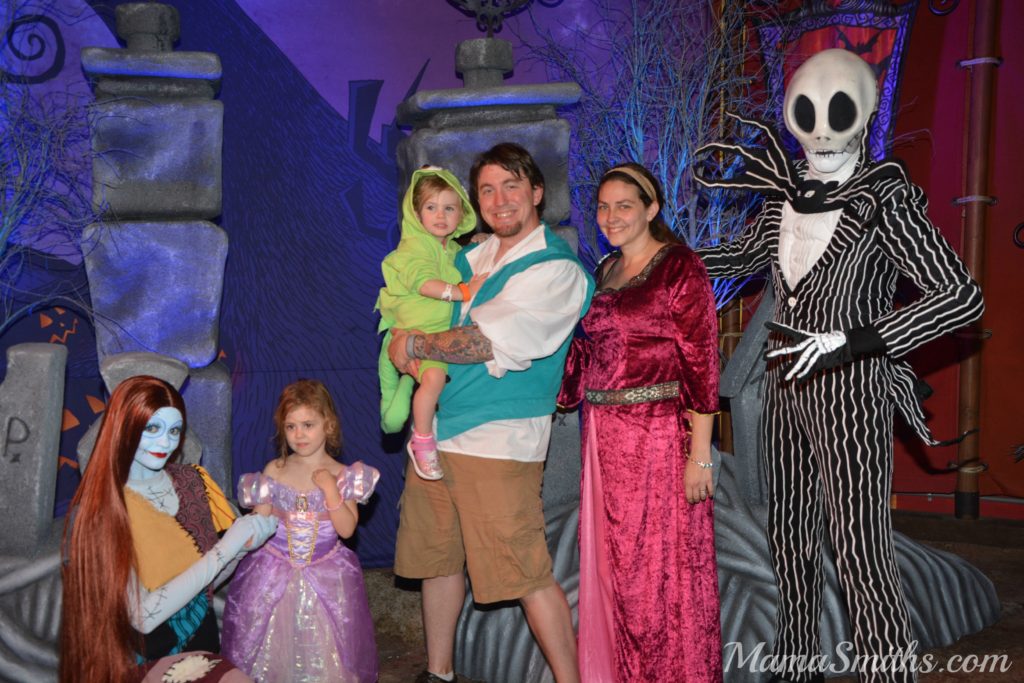 Jack & Sally OR The Seven Dwarfs
Jack Skellington and Sally (from The Nightmare Before Christmas) are one of the most popular meet and greets at MNSSHP. The Seven Dwarfs are right up there with them. These characters are not normally in the park and so everyone at the special event will try to get to meet them. We had our heart set on getting to see both and it didn't work out. I suggest planning to go to one of the lines right at 4:30 since the characters usually arrive around 5 (the party starts at 7, however the characters often come out early – no worries, only those with event wristbands will be allowed to line up). If you are able to meet both sets of characters, great, just try not to get your hopes up.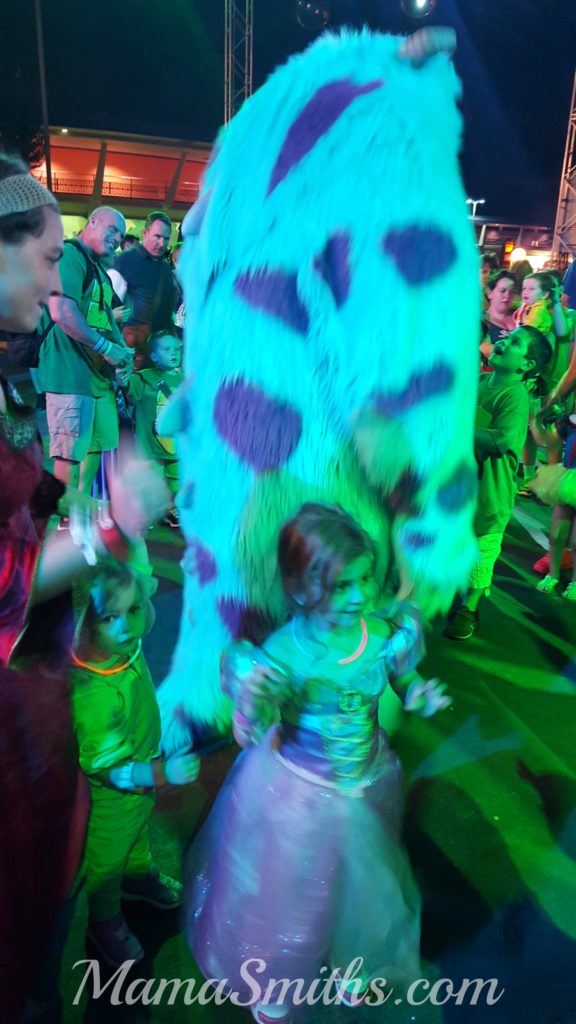 Shake Your Stuff at the Dance Party
At MNSSHP there is a Monsters U dance party – and it worth spending at least 15 minutes there. Here guests can dance around with their favorite characters in between trick or treating stops. It is so much fun and we got some great photos with Boo, Sully, and Mike! It is a great experience for the kids – and fans of the movie series alike!
See the Second Parade & Show
There really is so much to do at MNSSHP – from Trick or Treating to special meet and greets. The parade and the show happen twice each party night and I highly recommend seeing the second one of each. There will be less people there and this way you can utilize your time early in the night for other party exclusives (you will be able to meet a lot of villains like Lotso and Jafar). Both the parade and show are worth seeing – don't get me wrong – just opt for the second showing of each.
Dress Up
The best part about attending MNSSHP is getting the chance to dress up. During normal hours, adults cannot dress up in the park at all and even children's costumes are limited. From the second we knew we were going, my family started planning a group costume. Tangled is one of our favorite Disney movies so we settled on Rapunzel, Pascal, Mother Gothel, and Flynn Ryder. There is something truly magical about walking around Disney World in costume and trick or treating. We bought most of our stuff on Amazon for fairly cheap! Here are some fun family costume ideas to get the ball rolling on your planning.
If you are a Disney Vacation Club Member, you can save $5 per ticket on special events!
Have you ever been to Mickey's Not So Scary Halloween Party at Walt Disney World? If so, do you have any tips to share? Please do so in the comments!