This post contains affiliate links.
When we found out that we were going to be at Walt Disney World during Mickey's Not So Scary Halloween Party, we were thrilled! We went a few years ago and have been dying to go back. When we booked our first trip as DVC members for the end of August, we thought for sure we were going to miss the 2017 party. But luck was on our side and it turns out we will be able to attend MNSSHP! Right away, we started planning our costumes. It took some debating, but we finally settled on one of favorite Disney XD shows – Star Vs. The Forces of Evil!
About Star Vs. The Forces of Evil
The main character is a girl named Star Butterfly. She is pretty amazing. Star is 14 years old and from a dimension/planet called Mewni. She is also a princess. My oldest daughter LOVES her. Well actually, our entire family adores this show. One of the reccuring villains on Star Vs. The Forces of Evil is Ludo, voiced by the amazing Alan Tudyk. He is tiny, but sometimes is actually quite a threat. He is after Star's wand, and at one point, gets his hands on part of it – and creates his own wand.
Having two girls that sometimes are at each other's throats and fight over things – much like Ludo and Star – we knew which characters they would be. Our 6 year old would be Star, and our little Lorie who is 4, would be Ludo. We looked around online and though we could have created some costumes through things purchased on Amazon (see below), we decided to create our own. My husband is ridiculously talented when it comes to sewing and crafting, so I had a lot of confidence in this task. But honestly, I had no clue these costumes would come out as amazing as they did.
Star Butterfly Costume
In order to create Star's dress, we picked up a Simplicity 1211 pattern. After looking at all of the dresses carefully, we decided Star's dress is most like E with the sleeves of C. When we created the skirt, we made sure it was not pleated, which the pattern called for. That was actually really easy – we just cut it straight and sewed it on to the top part. For the octopus, my husband free handed the shape on to a piece of cardboard, which we then traced on to pink fabric. We made four of them and sewed them together so that they were not see-through. My husband sewed the eyes and mouth just using thread, and then hand sewed it on the dress.
On Amazon, we purchased some tights that match Star's tights and a headband with horns. My daughter already had pink rain boots. To create Star's, all we did was paint teeth and eyes on them and use foam to make horns that we glued on them. My daughter has the long blond hair already, but if you need to create this look, you can just purchase a wig.
Ludo Costume
Ludo's costume was a lot less complicated than Star's. The dress we would use for him is basically just a long green dress with a ragged color. We used the same pattern, but when laying it out, pinned the top and the skirt together, so that it would be one long flowing dress. At first we were going to make it longer, since Ludo's drags on the ground. After thinking about it, we thought that might be asking for an accident, and made it stop above her ankles. My husband free-handed the ragged collar and we sewed it around the neck of the dress. Using foam and a black sharpie, he created the two skulls for Ludo's color and hot glued them to the dress.
The hardest part about Ludo's costume was definitely his skull hat. My husband had the idea to use an old baseball hat of my daughter's and cover that with foam to create a skull. That way we knew it would fit her head nicely and the brim would help the mouth stay sturdy. He covered the hat with pieces of the foam that he shaped to create a skull. He hot glue gunned them together and on to the hat, and painted them white.
Star Butterfly Wand
We knew the wands would be one of the most complicated parts of the entire costume. My husband watched a wand tutorial video online to get some ideas and then we headed to the craft store. The components that we purchased were: a styrofoam ball, foam, ribbon, paints, styrofoam block, and a round piece of wood.
The first thing my husband did was carve the broken star piece out of the stryofoam ball after cutting it in half. Using the foam, he created the crown, butterfly and wings for the embellishments. He put a layer of putty over the stryofoam so that it would take paint well. He then did all the painting while looking at a picture of Star's wand online. Then he wrapped the ribbon around the handle, using super glue in two spots – one at the top, one at the bottom. Lastly, he used some of the styrofoam block and carved out the heart for the bottom of the wand.
Ludo Wand
Using basically the same components as Star's wand, we created Ludo's wand. My husband took the styrofoam block and carved out the skeleton fingers, concrete block, and star half. While looking at a photo online, he painted the pieces, just as he did with Star's wand. He also carved out the bone for the bottom of the wand from the styrofoam block.
Costume Components from Amazon
If you want to take the easy road but putting together some different components than you can purchase, I have helped you out with that too.
Star Butterfly:
Ludo:
This Girl's Princess Star Butterfly Cosplay Costume has decent reviews – and they can do the harder stuff for you. It does ship from China from what I see, so I would recommend ordering it at least a month before you need it. It also seems like it runs a bit small, so be sure to size up!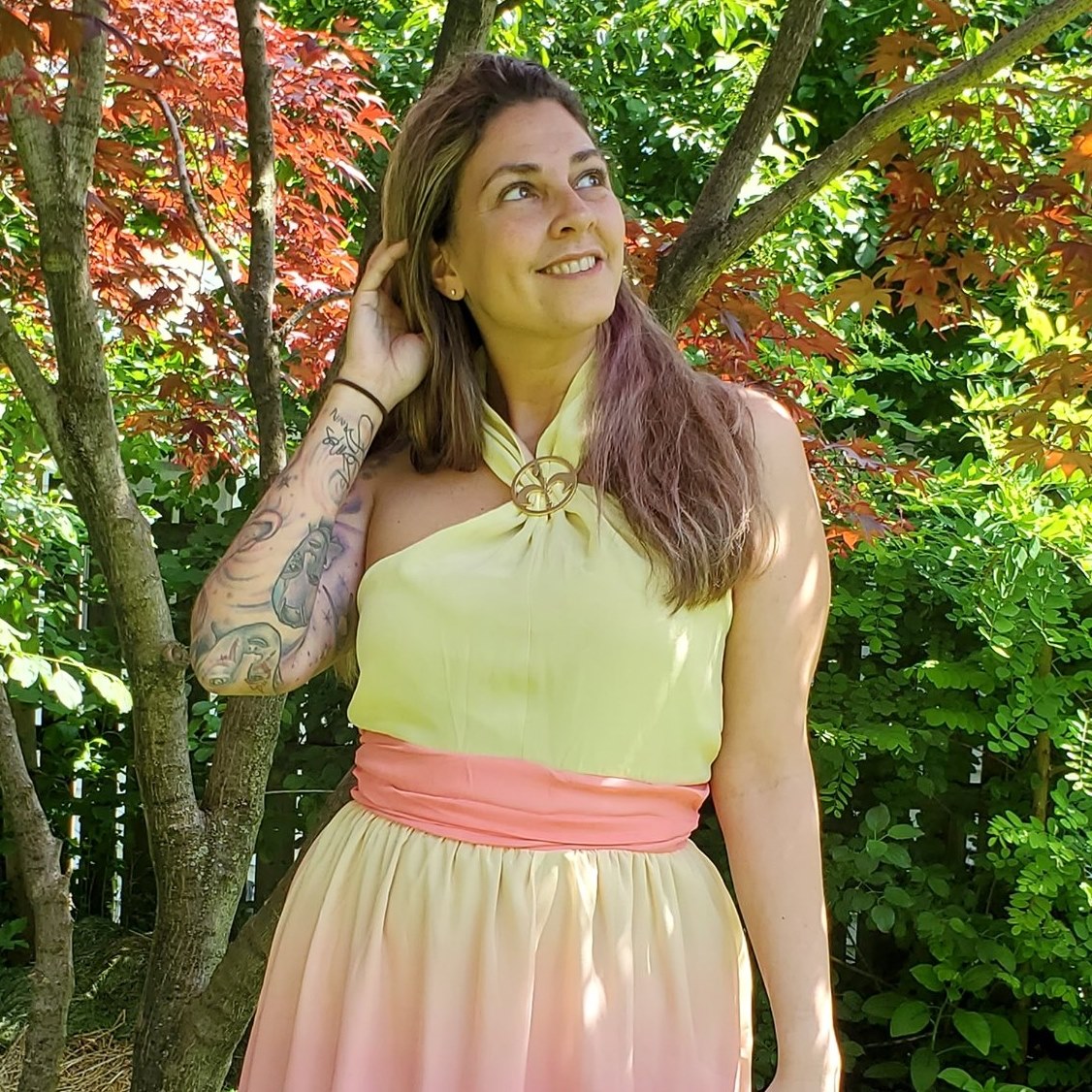 Tessa Smith is a Rotten Tomatoes Tomatometer-approved Film and TV Critic. She is also a Freelance Writer. Tessa has been in the Entertainment writing business for almost ten years and is a member of several Critics Associations including the Critics Choice Association, Hollywood Critics Association, and the Greater Western New York Film Critics Association.