Thank you to Marvel Studios for hosting me and setting up this interview during the Ant-Man and The Wasp Event! All opinions expressed are 100% my own.
If you ask me, Paul Rudd is one of the funniest human beings on the face of the Earth. From the first moment I saw him in Clueless, I fell for him. I love a guy with humor, and he has it. Because I thought of him as such a comedian, it was hard for me to place him as Scott Lang when I first heard he would play him. I thought to myself this is going to either be really bad or really good – well Ant-Man is one of my top favorite Marvel movies, so I would say it was a success. Paul Rudd is the perfect Scott Lang, and so I was really excited to see him reprise the role in Ant-Man and The Wasp – and he did so perfectly (as a sidekick to The Wasp if you ask me). While in LA for the #AntManAndTheWaspEvent, I got to sit down with Paul Rudd and talk all about his role as Ant-Man. We all clapped when he walked in and he joined right in with us! It was a great start to one of my favorite interviews ever!
Paul's Thoughts on Ant-Man 2
The first thing we asked Paul was his thoughts on Ant-Man 2 being out. We know he worked hard on it, and even co-wrote the script. "It's always a strange thing when it's coming out. You put so much work, for so long, into something and to know that people are seeing it and that it's finally finished is a unique feeling. And it's exciting. It's exciting when you like the finished product. Because you can talk about it and you don't have to manufacture enthusiasm. The filming of it, the experience of it, has been nothing but fun, hard work but really enjoyable."
The first Ant-Man was hilarious. We asked Paul if it was harder this time around to bring the comedic factor. Personally, I think the comedy was done perfectly – not too much, not too little. Paul seemed to agree. "I think in a way it was the opposite. It had already been established. People know the characters and accept us in the roles. Because of that we were able to lean into comedy or lean into whatever it is we were doing a little bit more, we didn't have to explain it, we just thought people will go along with this."
"With the Scott Lang role, I've already now been in Civil War. And in Civil War the Russo Brothers really wanted to lean into the comedy of it. During the first Ant-Man there were many discussions that we all had about where do we modulate this. How serious should Scott be, how funny. Because it's a super hero. But you're also Ant-Man – it seemed like a strange one to begin with. In [Ant-Man and The Wasp] we kind of hit the ground running."
Representation in the Film
Ant-Man and the Wasp has everything. Humor, girl power, representation of different family dynamics. Paul is really proud of that. "It's great being in a film costarring with Evangeline – it's a duo. Actually the female character is the one who's really better suited for the job, in all honesty. It's a family business and she's born into it. [Ant-Man and The Wasp] is multi cultural. I love the fact that it is an extended family – that my ex wife and her new husband – we all get along really well. Speaking to that stuff is important and we put a lot of thought into it. It's nice to be a part of something like that."
Family Friendly Movie
One thing that I really loved about Ant-Man and The Wasp is that it is a very family friendly movie. My daughters are well versed in Marvel movies, but I know some parents worry about the violence in them. This is a movie I will confidently take my 5 and 7 year old to see – and I think they will both really enjoy it. We asked Paul if this was on purpose, which I was pretty sure it was. He confirmed that it was. "We feel that we have our own kind of space within the Marvel Cinematic Universe and our own tone with the films. While we want it to work within the universe and want it to be enjoyable for all ages, we're dealing with parents and children. This is a theme that runs throughout this story."
"A lot of kids want to see these movies and sometimes there's some scary things in them. Or there's some violent things in them that might be a little too intense. So we wanted to make a movie that was enjoyable for lots of people. And we wanted it to be funny, but we also wanted it to be engaging and moving in some way. We wanted it to be visually stunning, even more than the first one. And we wanted the action and the effects to be bigger and better."
Love For His Daughter
In this movie, Paul Rudd works very closely with Abby Ryder Fortson, who plays Cassie Lang. He let us know that he thinks she is really talented and he enjoys working with her. "She's a really good actress and a good kid. It was our second time working together, so she trusts me. I love working with her and I love doing those scenes with her. I like working with kids because you don't really know what they're going to do and you just kind of go off of what they're doing and if you can establish a relationship outside of the filmmaking, just hanging around set, it can be really fun to film scenes with kids."
His daughter is a little bit younger than Abby, so the father/daughter scenes are really accessible to him. "At first when [my daughter]was very young, I used to think, is it going to be weird when my daughter is old enough and she sees this movie? She's going to see me playing dad to a little girl. Instead it's the opposite. She really loves it because I tell her you're the real Cassie. I do little things in the movie that are little things for her." Awwww….am I right guys? I totally teared up when he said that. What a sweet dad he is!
Meeting Hannah John-Kamen
Hannah John-Kamen plays Ghost in Ant-Man and The Wasp, who I kind of adore. I loved meeting her (stay tuned for her interview)! When we talked with her her, she spoke the world of Paul Rudd (the whole cast did actually), so we asked Paul how it was meeting and working with her. "This has turned into a love fest for sure. Hannah and I met on this film and she's really, really talented. I'd seen her in other things and I was like, oh she's really good. And very cool. We talked about music." I totally agree Paul, she is a really cool woman!
Becoming Friends with Michael Douglas
Michael Douglas was our first Ant-Man and The Wasp interview of the day and he also had great things to say about Paul. Paul just couldn't believe he could call Michael Douglas a friend. "I love [Michael] so much. It's such a thrill when you get to work with legends and certainly he and Michelle and Laurence Fishburne I feel like they're making this legitimate. They're icons. You can do anything with Michael Douglas and it just has gravitas. He's been in so many films that I've loved for so long, all of us really. I admire and appreciate him as an actor and I have now come to admire and appreciate and love him even more as a guy, as a friend."
"When he's on set, he's just he's so funny and easy going. We've gotten to the point now where we can talk about life things, not just script stuff and movie stuff and instead world events and sports and families. We talk a lot about our kids. I feel like we've become friends which is still baffling to me, that I can say he would be a friend."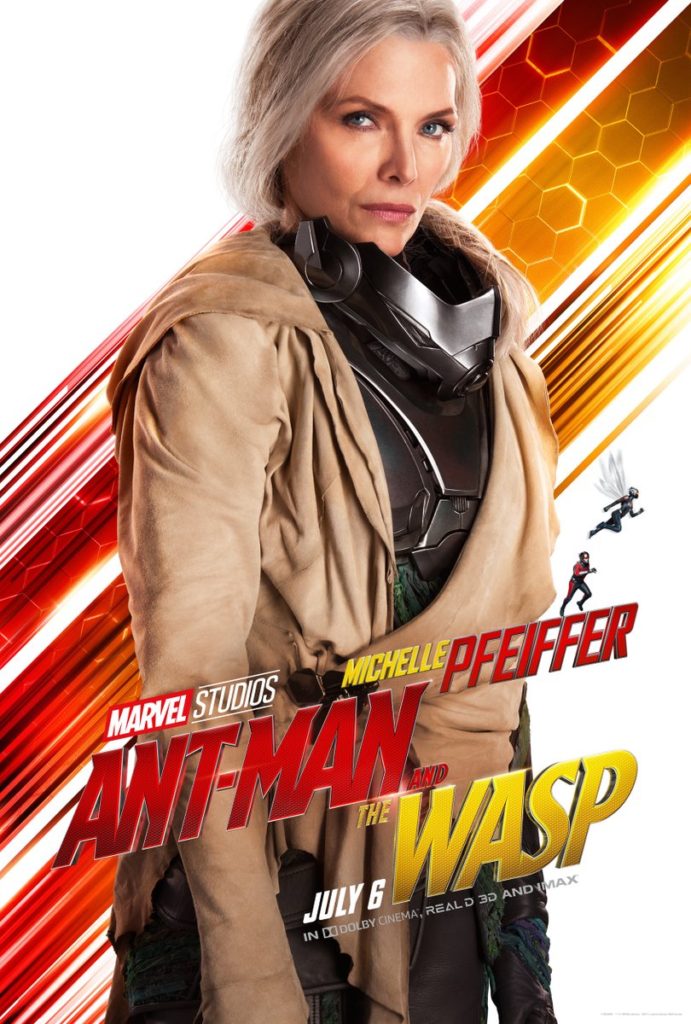 Working with Michelle Pfeiffer
As you know, Michelle Pfeiffer plays Janet Van Dyne, the original Wasp, in Ant-Man and The Wasp. She is phenomenal as her and someone else who doesn't age if you ask me. Gorgeous! Paul Rudd has worked with Michelle before, on I Could Never Be Your Woman, and he said it was great to be working with her again. "She's so nice and she's just a really lovely person. It was great because I hadn't seen her in a while and she is a very, very sweet person. Very smart. Very funny in ways I think people might not know. She's very wry and she's got a real stealthy cool sense of humor."
More Coverage
About Ant-Man and The Wasp
Scott Lang is grappling with the consequences of his choices as both a superhero and a father. Approached by Hope van Dyne and Dr. Hank Pym, Lang must once again don the Ant-Man suit and fight alongside the Wasp. The urgent mission soon leads to secret revelations from the past as the dynamic duo finds itself in an epic battle against a powerful new enemy.
Ant-Man and The Wasp hits theaters July 6th!
Like ANT-MAN AND THE WASP on Facebook: https://www.facebook.com/marvelstudios
Follow ANT-MAN AND THE WASP on Twitter: https://twitter.com/AntMan
Follow Marvel Studios on Instagram: https://www.instagram.com/marvelstudios/
#AntManAndTheWasp | #AntManAndTheWaspEvent