Thank you to Marvel Studios for hosting me and setting up this interview during the Ant-Man and The Wasp Event! All opinions expressed are 100% my own.
When we got our interview list of the Ant-Man and The Wasp press event, I was over the moon to see Michael Douglas on it. I love him as an actor anyways, but his performance as Hank Pym in the first Ant-Man was phenomenal. In the comics, Hank is one of my favorite heroes. Especially when he is dating Tigra but that is a whole other story that I don't think we will ever see in the MCU. Then when I saw him in Ant-Man and The Wasp, well, he blew me away. Michael was all I could have expected and more in the interview room as well. Humble, super nice, and a genuine joy to talk with.
Putting The Movie Together
The first thing we asked Michael was how it was to see the movie all put together. His response? He hadn't seen it yet! He was waiting until premiere night to see it. But he did tell us about all the parts of putting the movie together, which was cool to hear about. "When you're doing them it's all in separate stages. You're acting on one stage, stunt guys are another stage, green screens over here. And then they have those little miniature guys. They work on it right up till the end, all the Marvel pictures. I think that's part of their magic. So, I haven't seen it. I'm excited. They said the humor was funny. A lot of people liked it better than the first one. Our director Peyton [Reed is] beaming."
Being Reunited with the Cast
I would imagine that as an actor there is something comforting about doing a sequel with the majority of the same cast. We mentioned that to Michael and he totally agreed. "There's just an inherent relaxation and joy about a sequel. You look back in the old days, why actors and actresses work together or directors together, you don't have to introduce yourself again. You know each other. There's a comfort factor which makes it much easier. People know your own sense of humor. You're not going to offend anybody. The comfort factor is really nice."
Working with Paul Rudd
Literally everyone we talking to had nice things to say about Paul Rudd. And when we interviewed Paul, we could see why. He is just the nicest, funniest, down to Earth guy. I adore him. Michael loves him too, even though he steals his scenes. "Paul is just a sweetheart. He's just a great, great guy so it sets the tone. Most of my career I've been number one on a call sheet, the lead, and so to be in a supporting role in a picture like this, you watch how he does it, you assume a lot of responsibility. If you're smart, if you're the first, you set the tone. You're the first one on the set, you make everybody else comfortable to make their best performances possible."
Humor on Set
Michael Douglas has some pretty perfect dry humor in Ant-Man and The Wasp as Hank Pym. There were many times I found myself cracking up because of a certain look he gave, or one-liner he dropped. "This set was a lot of fun. I did not plan on mentoring Scott. That was not my idea to take over the role of Ant-Man. He was a burglar. Nor do I think he's proper for my daughter."
Michael then talked about trying to keep a straight face while filming particularly funny scenes. "We watch it because when you feel it bubbling up, we don't let it go there. Sometimes what happens is it's hard to pull it back. And then you can lose a lot of time just because one goes then it happens. With Paul it's difficult because he ad libs so much. I'm a little jealous of Paul because I'm kind of carrying the story line, and having to go home to research about what the hell I'm talking about. And Paul will just come in with some one-liner and steal the scene. He's unpredictable, wonderfully so. And funny."
Seeing the Sparkle in Evangeline's Eyes
We were all excited to see The Wasp suit up in Ant-Man and The Wasp, which totally did not disappoint by the way. "I was excited for Evangeline because if you remember the end the first one, I show her Janet's suit. There's this look in her eye as Hope when she sees her mother's suit. But when I was looking at her when she was doing the scene, I saw Evangeline going I'm going to be a superhero. I could see her. She's loaded. She was ready to go and excited." When Michael said that it gave me chills and I teared up just a little bit. I could only imagine what Evangeline was feeling in that moment, and I love that he picked up on it.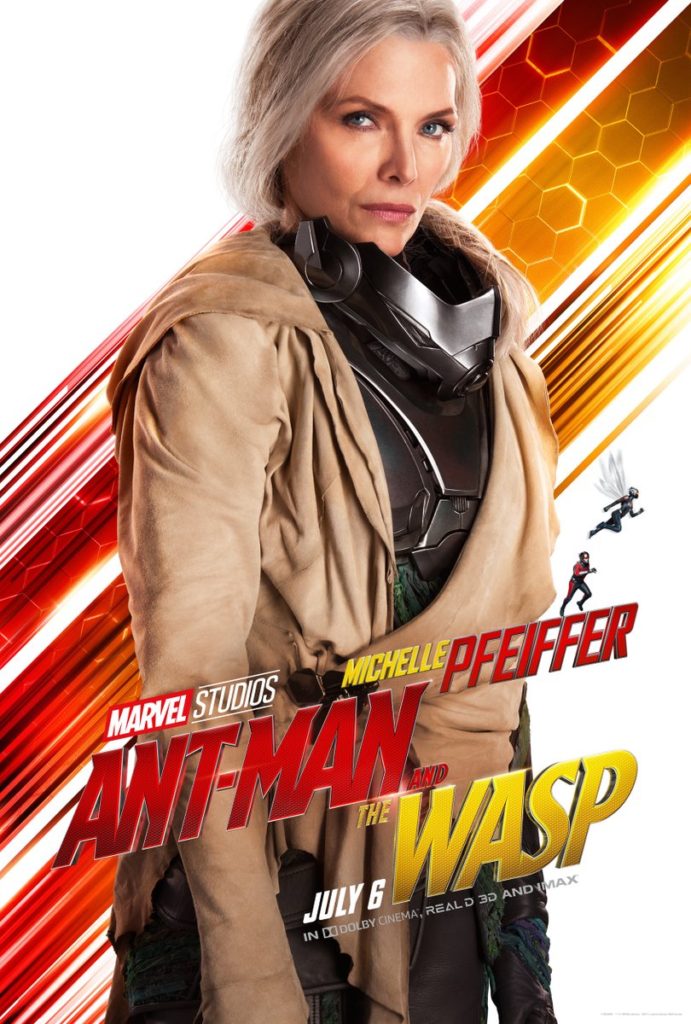 Marvel's Casting
Michael was excited about the newcomers to the Ant-Man family because he said Marvel knows what they are doing with casting, which we have seen over and over. "Marvel does a great job of casting, obviously. Michelle was just such a treat. I [am a]tremendous Michelle Pfeiffer fan. Never imagined ever getting a chance to work with her. Needless to say, to play 30 years younger. So, that was great. And Larry Fishburne is quite an actor. And this young lady, who I think you'll be hearing a lot about is Hannah John-Kamen. They were all talking about her almost like it was a sports team. We have this great rookie, this girl, she's fantastic. And she really is. She's wonderful."
Working on a Green Screen Film
In Ant-Man and The Wasp you see Hank Pym 30 years younger at one point. We asked Michael how it was seeing himself on screen looking that way. "It cracks me up. It just cracks me up. I've never done any of these pictures before. The last one was the first green screen film. It's just a whole other world. I've got a whole new appreciation for actors who can act when there's nothing there. I mean it may be just basic bottom terrain but you'll sit in these huge studios with green walls all around and this and that and Peyton telling you, okay, the asteroids coming in here. Look up here. And you're afraid you're going to be embarrassed. And then you see it put together and they know what they're doing." When he was talking about this, I couldn't help but think back to my interview with Kurt Russell on the set of Guardians of the Galaxy Volume 2, where he said something similar.
The New Lab
Hank Pym's new lab is pretty amazing. There are so many awesome details, so look around when you can. Michael let us know about his first thoughts walking on the new set. "Last I remember, Pym laboratory got demolished. But I must have put a lot of money away. I'm thinking about all of this covert intelligence operations with countries stealing our secrets. I must've had some really high, high classified tools in there. I loved it. It was just staggering. It was absolutely stunning – one of the most beautiful sets I'd ever seen. Our production designer, he'd done a fantastic job."
His Son Thinks He Has Made It Now
We all know that Michael Douglas is a great actor and has been in many amazing films. Something that really made me chuckle, and still does when I think about it, was how his son Dylan reacted to him getting the role of Hank Pym. "When the first one was done Dylan was maybe 15. He came out of the movie and his arms were crossed. He's an actor himself. He says dad, this is going to be very good for your career. You don't understand, this is going to bring a new audience for you. I recommend you do a sequel if they offer it to you."
All joking aside though, Dylan made a lot of sense with that statement. I mean, I went back and watched some of Michael's older stuff I hadn't seen after the first Ant-Man. "It was a picture he could see and it is true. I must say, I never anticipated [it]. I'll be talking sometimes and I'll feel something pulling on my coat, and I'll look down and there will be a little five-year-old kid going 'Ant-Man'. It introduces you to a whole bunch of people who didn't see a lot of my movies."
Suiting Up
We see Hank suit up in this movie, which was something I was really hoping we would see. We asked Michael if he had a superhero moment when he put the suit on, "I did. I was a little disappointed on the first one. Reluctantly, I looked whimsically at how good everybody looked – Paul looked great and everything else. So, I got my old suit back up so if this continues. My feeling is if you get big or small they make you young, I might as well get back in there again."
When asked if we might see him suit up in Avengers 4, he kept his mouth shut. "If I open my mouth, a blowgun – a marvel blowgun – [will shoot me in the neck]. I have learned my lesson. You have nothing."
More Coverage
About Ant-Man and The Wasp
Scott Lang is grappling with the consequences of his choices as both a superhero and a father. Approached by Hope van Dyne and Dr. Hank Pym, Lang must once again don the Ant-Man suit and fight alongside the Wasp. The urgent mission soon leads to secret revelations from the past as the dynamic duo finds itself in an epic battle against a powerful new enemy.
Ant-Man and The Wasp hits theaters today!
Like ANT-MAN AND THE WASP on Facebook: https://www.facebook.com/marvelstudios
Follow ANT-MAN AND THE WASP on Twitter: https://twitter.com/AntMan
Follow Marvel Studios on Instagram: https://www.instagram.com/marvelstudios/
#AntManAndTheWasp | #AntManAndTheWaspEvent