Ms. Marvel first reactions are in from press that were able to screen the first two episodes. Here's what they are saying.
Ms. Marvel First Reactions
Ms. Marvel first reactions have arrived from press and critics who were given access to the first two episodes. The episodes are nearly 50 minutes each. SO what is everyone saying about Marvel's newest hero?
Critics agree that Iman Vellani does a fantastic job in the show and is the perfect Kamala Khan. Many praise the representation brought to screen. Even those who are big comic book readers, understand the changes, and applaud how they are done, for the most part.
The biggest feedback is that this is something new and refreshing!
Ms. Marvel is a coming-of-age story for younger fans but something older ones will enjoy. Fun & unique style incorporates drawings into the storytelling. Different but VERY cool powers! Packed with action & representation! Get ready to fall in love with Iman Vellani! #MsMarvel pic.twitter.com/0qiKDIl3nG

— Tessa Smith – Mama's Geeky (@MamasGeeky) May 25, 2022
Absolutely loved the first two eps of #MsMarvel! 💥 Tons of Easter eggs for comic readers & fun moments for MCU fans…the show is fresh, heartfelt, & a real love letter to the elements that made the comic so special/relatable. Iman Vellani is the perfect Kamala Khan. pic.twitter.com/aaGiILukhW

— Andrea Towers ⧗ (@_atowers) May 25, 2022
I watched the first 2 episodes of #MsMarvel. It's so closely linked to the #MCU, yet unbelievably different from what they typically put out. It's creative, whimsical and the truest depiction of teenaged life in the shared universe.#MarvelStudios @FandomWire @CinemaStubs pic.twitter.com/HU83bLt0Wh

— Joshua Ryan (@MrMovieGuy86) May 25, 2022
Ms. Marvel is an epic, game-changing series for Muslim representation in the MCU. By the time the second episode ended I was already begging for more.

Iman Vellani is a standout as Kamala and I cannot wait to see her in the rest of the series. AND THE MUSIC IS SO GOOD. 😭

— Tariq Raouf (@tariq_raouf) May 25, 2022
#MsMarvel is a Delightful Surprise. The first 2 episodes establish a stylistic coming of age story visually/story wise that was AWESOME.. Kinda reminded me of Dope in some ways. Iman Vellani Ms Marvel is one of your next favorite Marvel Heroes! Very happy to see the rest pic.twitter.com/5wKhzsodea

— Zach Pope (@popetheking) May 25, 2022
I've seen the first two episodes of #MsMarvel! The series feels like a lighthearted departure from previous series; filled with clever editing, smart dialogue, and teenage woes. It doesn't quite know what it is yet, but hopefully it'll get there soon. Iman Vellani is fantastic. pic.twitter.com/f3WIufZaPW

— Maggie Lovitt 🔜 SWC (@maggieofthetown) May 25, 2022
Ms. Marvel first reactions continued…
Got the opportunity to watch the first two episodes of #MsMarvel. It may be the best MCU show since WandaVision (which is saying a lot since there has seemingly been hundreds). Its playful energy is perfect for the title character and moves Marvel TV into exciting new directions. pic.twitter.com/bsyhVo0JG3

— Karl Delossantos @ Cannes (@karl_delo) May 25, 2022
#MsMarvel is a delightful burst of energy and fun, which benefits immensely from largely filming sans green screen. It feels specific and tangible in a way that other COVID-era #Marvel stories have not. Iman Vellani is perfect casting; Yasmeen Fletcher is a supporting standout. pic.twitter.com/cN7wuQATMl

— Bernard Ozarowski (@OzOnMovies) May 25, 2022
I got to catch the first two episodes of #MsMarvel and it's so fun so far! Iman is a natural as Kamala and has such relatable energy! The visuals are whimsical and fitting, and the coming-of-age genre melts into it perfectly! pic.twitter.com/I6E0HJRXKr

— Leo Rydel – Geekly Goods (@LeoRydelGG) May 25, 2022
#MsMarvel is EVERYTHING I wanted. Iman is PERFECT as Kamala. After two episodes, I can't wait to see what happens next.

For those worried about the power changes, it works & still captures the heart of who she is as a person & a hero. Also, can we have a REAL Avengers Con? pic.twitter.com/GatXf7wHCZ

— Ashley Saunders ➡️ SWCA (@ThatAshleyErin) May 25, 2022
My immediate thought after watching the #MsMarvel episodes was to try to go locate the issues with her in it. For people unfamiliar with the character, you will be hard-pressed not to fall in love with her after the first episode.

— Sarah Musnicky (@sarahmusnicky) May 25, 2022
Ms. Marvel first reactions continued…
https://twitter.com/TristianCirca89/status/1529223828114751493
– Iman Vellani is a rockstar. Her #KamalaKhan is part of everything that's good about the first two #MsMarvel episodes.
– The rhythm of the show and its visual cues (especially in episode 1) are just delightful and a breath of fresh air. pic.twitter.com/7FKCwWFory

— João RP (@joaoroquepinto) May 25, 2022
#MsMarvel most definitely feels the most like Homecoming. Kamala is a straight up nerd who is in love with the Avengers. What makes her journey more interesting is her struggle with identity, being a Pakistani and a Muslim America. Her awkwardness is soo relatable and charming. pic.twitter.com/nfIlMsYMq2

— Rayyan – Kenobi Era (@RayyanTCG) May 25, 2022
Ms. Marvel first reactions continued…
#MsMarvel is perfect. It's absolutely charming, the tone is just spot on, and it's absolutely wonderful fun, delivering a story that's optimistic without losing any of the gravity of it's more serious aspects. Iman Vellani is absolutely masterful. I cannot wait for more. pic.twitter.com/ps1eNp37nl

— Nicole Drum (@lifeinpolaroid) May 25, 2022
#MsMarvel is a bright and colorful high school fever dream. Kamala Khan's superhero journey is nuanced and her navigation of the modern world as a Pakistani-American Muslim teenager is relatable yet culturally specific. Iman Vellani is a delight. And those perfect music bangers. pic.twitter.com/Z49mlCHRik

— Michael Lee (@IamMichaelJLee) May 25, 2022
The show feels a little stereotypical in some aspects I'm not the person best suited to speak of, but the tone is good, the vibe is great and the character fits right in. Plus, you won't confuse this one with other MCU shows. #MsMarvel

— Lissete Lanuza Sáenz ✨ (@lizziethat) May 25, 2022
Ms. Marvel first reactions continued…
I got to see the first 2 episodes of #MsMarvel and the show is SO FUN!! Imani Vellani's Kamala Khan is an instantly relatable Marvel fan girl. People are going to love her and her family! Most surprising was the tone it's VERY stylized, upbeat, and a little dark. I'm hooked! pic.twitter.com/OtBCDpK0c0

— Cris Parker (@3CFilmss) May 25, 2022
#MsMarvel first 2 episodes really establish this coming of age, bubbly, artistic tone. It's much more of an after school drama, tackling cultural norms & teen angst than superhero action. Iman Vellani adds a LOT of personality in this origin story. Visualization of powers is meh. pic.twitter.com/CaPYNANFI0

— JBuck (@JaredBuckendahl) May 25, 2022
#MsMarvel review — It's good! Very refreshing and light show that gives us a big breather from where we've been in the MCU. Gives viewers a feel for what the rest of the world is going through and how the world sees Avengers. It's fun, exciting and humorous. I'm on board!

— Herb Scribner (@HerbScribner) May 25, 2022
Ms. Marvel full reviews will be out in June when embargo breaks, and then the first episode drops on Disney+ June 8th.
About Ms. Marvel
Marvel Studios' "Ms. Marvel" is a new, original series that introduces Kamala Khan, a Muslim American teenager growing up in Jersey City. An avid gamer and a voracious fan-fiction scribe, Kamala is a Super Hero megafan with an oversized imagination—particularly when it comes to Captain Marvel. Yet Kamala feels like she doesn't fit in at school and sometimes even at home—that is, until she gets superpowers like the heroes she's always looked up to. Life gets better with superpowers, right?
MS. MARVEL will air weekly on Disney+ beginning June 8, 2022.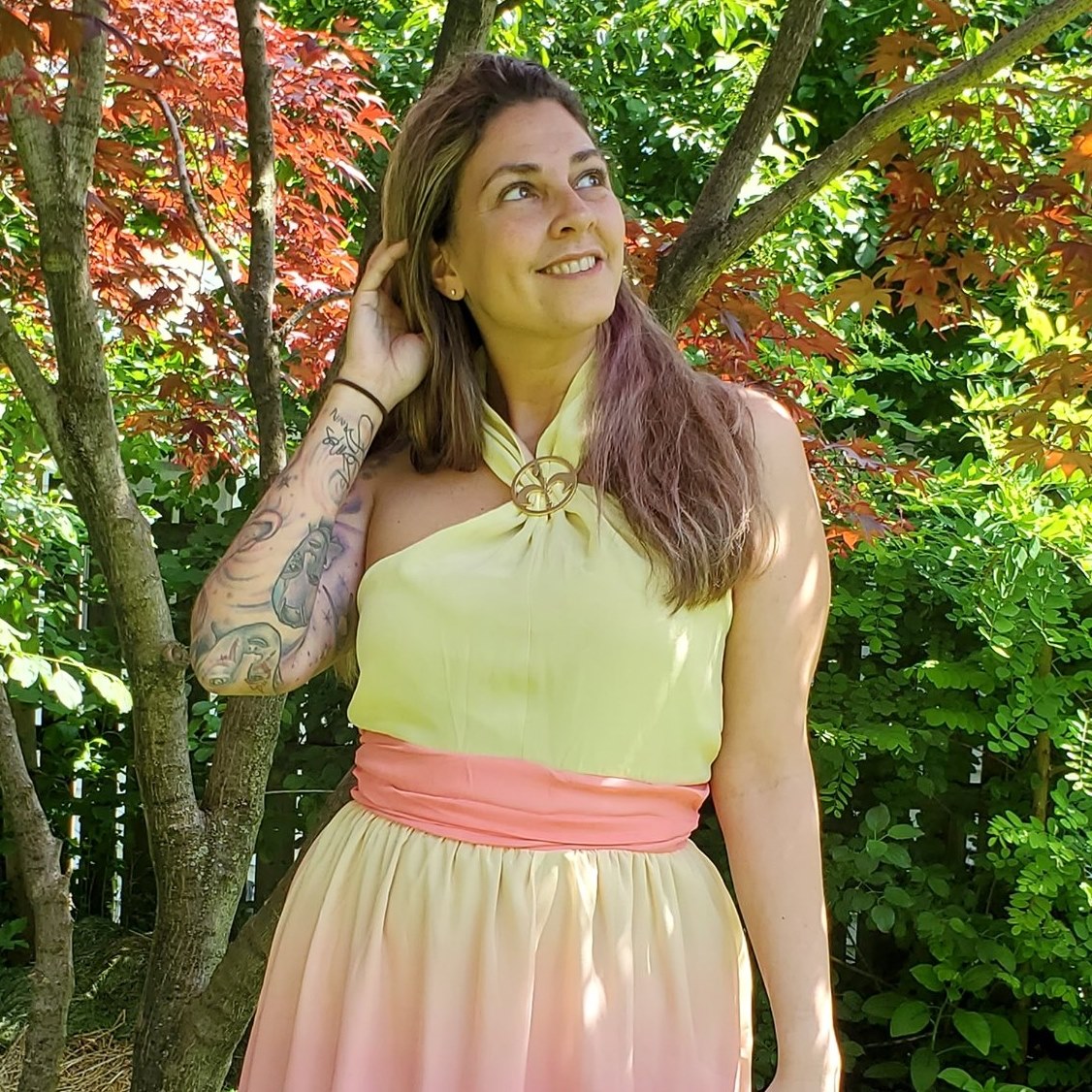 Tessa Smith is a Rotten Tomatoes Tomatometer-approved Film and TV Critic. She is also a Freelance Writer. Tessa has been in the Entertainment writing business for almost ten years and is a member of several Critics Associations including the Critics Choice Association, Hollywood Critics Association, and the Greater Western New York Film Critics Association.