Submitted for your approval by The Midnight Society — an Are You Afraid Of The Dark? inspired campfire craft.
Are You Afraid Of The Dark? was one of my favorite shows when I was younger. So of course when I found out they were doing a reboot, I was thrilled to share this show with my daughters. No surprise that they absolutely loved it — even my youngest who is a little sensitive and scares easily.
We thought a fun way to celebrate the release of the new DVD would be to crate our own campfire craft! This way we could be just like The Midnight Society, but in the comfort of our own home. You will likely have all of these items in your house already! So get ready to gather around the campfire, roast marshmallows, and tell spooky stories!
What You Need
3 empty toilet paper rolls
2 empty paper towel rolls
medium cardboard box
coloring pencils or crayons
tape or glue stick
thin black marker
brown paint
scissors (adult super vision required)
Campfire Craft Directions
This fake campfire may look daunting, but it is actually really easy (and fun!) to make. The best part is that it can be broken down and stored so you can use it again and again! Here are the simple steps to making your own campfire craft, inspired by Are You Afraid Of The Dark?
STEP ONE: Cut a small slit in the top of one of the paper towel rolls — about an inch long.
STEP TWO: Paint the paper towel and toilet paper rolls with brown paint. Let them dry.
STEP THREE: While they are drying, print out the campfire template and color it in with crayons or colored pencils.
STEP FOUR: Cut carefully along the edges of the campfire and glue or tape it to a side of your cardboard box.
STEP FIVE: Cut carefully around the edges again, making the fire nice and sturdy.
STEP SIX: Once the "logs" are dry, use the thin black marker to create grain lines on them.
STEP SEVEN: Arrange the empty toilet paper and paper towel rolls to look like campfire logs.
STEP EIGHT: Place your fire inside the campfire log with the slit to finish off your campfire!
Now all you need is some marshmallows and sticks and you can make your own s'mores. Of course you can't really roast the marshmallows over this fire but it will be fun to pretend!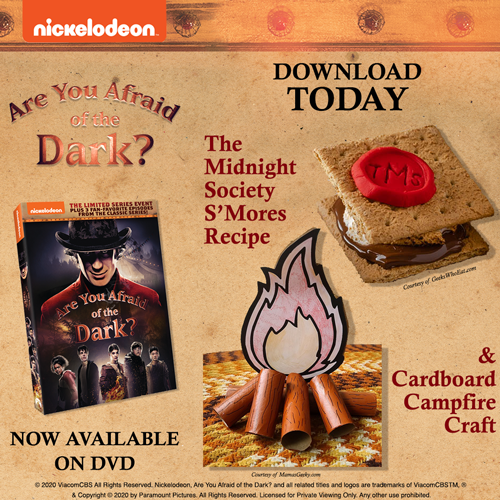 About Are You Afraid Of The Dark?
Re-imagined for a new generation, Nickelodeon's all-new version of '90's kids' cult classic Are You Afraid of the Dark? arrives on DVD Tuesday, August 11, 2020 from Paramount Home Entertainment and Nickelodeon Home Entertainment.
The three-part limited series follows members of an entirely new Midnight Society, who tell a terrifying tale of the Carnival of Doom and its evil ringmaster Mr. Top Hat, only to witness the shocking story come frightfully to life and prepare for an adventure beyond their wildest nightmares.
A must-own for fans of the classic series, as well as those new to the franchise, the DVD also includes three fan-favorite episodes from the original series.
Get your copy of Are You Afraid Of The Dark? here.
Are you Afraid Of The Dark? Episode List
Part One: Submitted For Approval
Part Two: Opening Night
Part Three: Destroy All Tophats
Special Features (US only):
Original Series Season 1, Episode 2: The Tale of Laughing in the Dark
Original Series Season 4, Episode 8: The Tale of the Ghastly Grinner
Original Series Season 5, Episode 1: The Tale of the Dead Man's Float