While the items in this box were gifted to me, my opinions are 100% my own. This post contains affiliate links.
So I am a horrible geek. Just starting out with that. I did not get a chance to see Solo: A Star Wars Story in theaters. I could make up all the excuses, about babysitters and children, but the bottom line is we just didn't get to see it. My husband and I have really been looking forward to it's home release date and last night it showed up on our doorstep, along with the Ultimate Solo Movie and Game Night kit! My girls got in on the fun, and were so excited to see lots of Chewie items. They love Chewie, but really, how could they not.
My Thoughts on the Film
If you are a Star Wars fan, hardcore or casual, I really recommend seeing this movie. Is it the best Star Wars movie? Not even close. Is it a fun way to get to know some of your favorite characters better? Sure is! I adored Lando (Donald Glover) in this movie. I think he was pretty spot on. I also enjoyed Han Solo (Alden Ehrenreich) but not as much as I had hoped to. L3-37 kind of stole the show for me – I just loved her humor!
There were lots of nods to the future of Star Wars of course – like the dice (which I loved seeing featured a few times though-out the movie). And watching Han just full on destroy the Millennium Falcon was pretty awesome. I will say that it is kind of hard watching a prequel movie like this because you know Han and Chewie are going to live. You know the history between Han and Lando. And you know Han and Kira don't stay together. There were a few appearances that made me gasp, and overall, this was a fun movie. Don't completely nit pick it and you should enjoy it.
Plan the Ultimate Solo Movie Night
I don't know about you but I love having themed movie nights. My family has one every Sunday night, and I try to dedicate the whole day to the film we are seeing. Between games, snacks, and other activities. Yea, we go all out.  Even our decor usually fits the theme of the movie. For our Solo movie night, I was thankful the box included all sorts of fun things for the whole family to enjoy!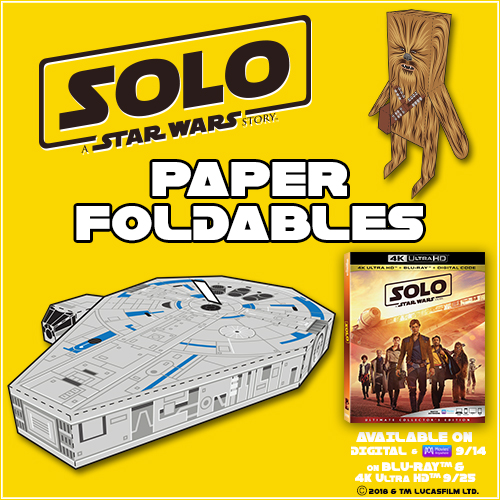 Must haves for a Solo: A Star Wars Story themed night include Chewbacca masks of course! These are so much fun and you can't help but laugh while you are wearing one (or watching your 5 year old daughter wear one!). My oldest daughter is more of a Han girl so she opted to carry around a NERF blaster all night. Me? I just cuddled up in my Chewie blanket and channeled my inner Wookie!
Han Solo Game Night Additions
We are a gaming family so we always play a few board games a day. Especially during a themed movie day. So as far as games go, there are several Solo themed ones you can choose from. Our favorite is, of course, Monopoly. But we were all really excited to try out the Han Solo card game too because it was featured in the movie a few times.
Bonus Features
I always love to pick up the Blu-Ray of my favorite movies because the bonus features tend to be amazing. There is no difference with Solo. Deleted scenes are always the best to watch. I feel like they almost always add to the movie and make it mean more. The eight included on this home release are totally worth the watch! The cast roundtable was probably my second favorite thing to watch, and something I think every Star Wars fan should see.
Solo: The Director & Cast Roundtable:
Team Chewie
Kasdan on Kasdan
Remaking the Millennium Falcon
Escape from Corellia
The Train Heist
Becoming a Droid: L3-37
Scoundrels, Droids, Creatures and Cards
Into the Maelstrom: The Kessel Run
Deleted Scenes

Proxima's Den
Corellian Foot Chase
Han Solo: Imperial Cadet
The Battle of Mimban: Extended
Han Versus Chewie: Extended
Snowball Fight!
Meet Dryden: Extended
Coaxium Double-Cross

The Millenium Falcon: From Page to Park
About Solo
Young Han Solo finds adventure when he joins a gang of galactic smugglers, including a 196-year-old Wookie named Chewbacca. Indebted to the gangster Dryden Vos, the crew devises a daring plan to travel to the mining planet Kessel to steal a batch of valuable coaxium. In need of a fast ship, Solo meets Lando Calrissian, the suave owner of the perfect vessel for the dangerous mission – the Millennium Falcon.
SOLO: A Star Wars Story blu-ray (The GeekLy Show)

Website: http://www.starwars.com/solo
Facebook: http://www.facebook.com/StarWarsMovies
Twitter: https://twitter.com/StarWars
Instagram: http://instagram.com/StarWarsMovies
YouTube: http://www.youtube.com/starwars