This post contains affiliate links.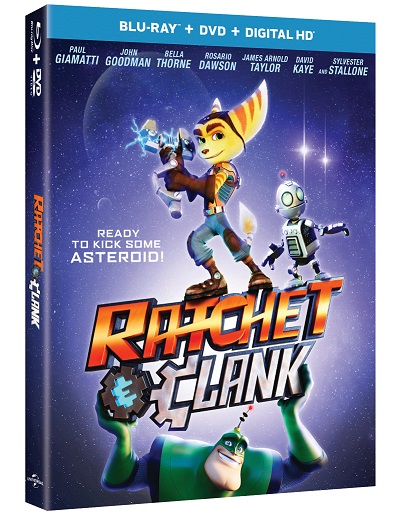 I am a huge gamer, as most of you might know, and I am a big fan of the Ratchet and Clank video game series. My husband is as well and because of this, when the Ratchet and Clank movie was announced, we were thrilled! In fact, we took our young daughters to see it when it came out in theaters. We all really enjoyed the movie – in fact, my 5 year old says it is her favorite movie and asks to watch it all the time. I was excited to receive a copy of it on Blu-ray so that we could watch it at home again and again.  Without giving anything away (because I want you to experience it like I did for the first time), I have put together a few reasons why fans of the Ratchet and Clank video game series will love the Ratchet and Clank movie.
Ratchet and Clank is available in stores everywhere, purchase yours on Amazon here.
The Characters
All of your favorite characters will show up in the movie. I was so excited to see not only Ratchet and Clank (of course) but Captain Qwark, Doctor Nefarious, and more. IT was so much fun seeing them up on the big screen and as a part of this movie. I really enjoyed it – and I think any fan of the video games will too!
The Weapons
One of my favorite parts about the video game series is the weapons. There are lots of weapons to choose from and most of them make an appearance, even a quick one, in the movie. My favorite from the video games is the Sheepinator – and it shows up in the movie.
The Humor
The jokes and comedy in the movie are very similar to the feel of the video games. I was thrilled to see that they really stayed true to the games. There are some heartwarming moments too – and the plot is actually really great – however, the comedy impressed me.
Ratchet and Clank is a must see movie for those that are fans of the video games – and those that are new to the series as well! It is filled with family friendly comedy and I think that any family will enjoy it!