Karla Souza is starring in the new ABC show Home Economics and I was lucky enough to interview her to learn all about it!
ABC has a new sitcom coming to Wednesday nights at 8:30pm ET called Home Economics and I was able to chat with one of the stars, Karla Souza, to learn all about it. Having seen the first two episodes I can confirm that this show is hilarious and has quite a stellar cast! Karla's character, Marina, is probably the one I most relate to for many reasons — like the kids and the wine.
Home Economics Is Relatable
When I asked Karla what drew her to this show, she joked and said the wine at first, but then talked about how the same person who cast her in How to Get Away with Murder cast her in Home Economics. My favorite part about this conversation though was when she talked about how it was almost like a courtship with Topher.
"Topher sent me some flowers basically like 'please be my wife' and my husband found them outside of the hotel where we were staying. He's like 'what the hell is this?' I was like No, it's basically the process of courtship. Then Topher had to send a message saying 'Oh I also told my wife about it, don't worry.'"
I always enjoy hearing about behind the scenes things like that and this is not the first time I have heard a cast talk about things like the flowers happening when they cast an on screen couple. I was also excited to learn about what Karla really liked about Home Economics and why she was interested in joining the cast.
"I love the comedy and how relatable it is to my life as well as Motherhood. Laughing about all of that and having uncomfortable comments from the In-Laws. Marina used to be a lawyer and I used to play a lawyer — it's just funny all around."
Karla also discussed how she was pregnant when she was cast in her role, and that they were going to work around that and even write it into the script. But then when the pandemic hit, they moved things around and so she ended up filming after giving birth.
Comedy Versus Drama
Home Economics is very clearly different than How To Get Away With Murder — it is a comedy versus a drama. So when Karla was asked about that she explained that she enjoys doing comedy a lot more.
"Don't tell my Murder family but I'm like how will I ever go back to drama after this? I'm so in love with laughing at work all day. We all had that heavy year. It's weird to have table reads through Zoom, and rehearsals with masks on right before shooting. It's so hard to be funny and receive people's intentions with a mask on. There's a lot of adjusting to do when you're filming a comedy [right now]. All of that said, we're so lucky as an industry to be able to continue to work and to be putting out a project when people are so hungry for things right now. So hungry to just lay back, relax, and have a few laughs."
Being A Mexican Playing A Mexican
Karla Souza is a Mexican woman playing the role of a Mexican woman on Home Economics, something that is pretty amazing. When asked to talk about it, she had a lot to say. She is very excited to be playing the role of Marina, but initially marina was going to be Peruvian. Karla explained how she had a conversation with casting about how while she loves Peru, she was not comfortable making self deprecating Peruvian jokes in the show, since she is not Peruvian herself.
"I can't laugh at Peruvian people if I'm Mexican. That is not OK. I said if you want someone to play a Peruvian, you guys need to cast a Peruvian. I could stand up for a lot of the actual things that I go through as a Mexican. I specifically asked for there to be writers that are Spanish speakers. They're mothers, they're women, and have the attributes that Marina has, so that it isn't like a man writing for my motherhood experience. Being a Mexican woman that married a white man and what it feels to be in their family on Thanksgiving — all those things are very specific that have a lot of comedy potential is what I really cared about when talking to the producers and the showrunners and to Topher we were talking about whether or not I would be Marina."
About Karla Souza
Karla Souza is perhaps best known for co-starring opposite Viola Davis in ABC's hit international drama "How to Get Away with Murder," which recently completed its six-season run. She was most recently seen starring as Rosario for Amazon Prime's Spanish language drama "El Presidente." The series, created and written by Academy Award® winner Armando Bo ("Birdman"), tells a story of the 2015 FIFA corruption scandal. She also appeared in the feature "The Sleepover" for Netflix and starred in "Everybody Loves Somebody," which was written and directed by Catalina Aguilar Mastretta.
Growing up, Souza spent four years in France where she was part of a professional theater company that toured throughout the country. She went on to study in London at the Central School of Speech and Drama where, in 2008, she received the CCP Award, given to the most promising actress in London. Following her time in the U.K., Souza was selected to study in Moscow, Russia, with Anatoly Smilianski. She later traveled to present a showcase in New York and subsequently began receiving offers for leading roles in Mexico City.
Souza has starred in three of Mexico's top grossing films of all time: "¿Que Culpa Tiene El Nino?" in 2016, and "Instructions Not Included" and "Nosotros Los Nobles," both in 2013. Born in Mexico City, the mother of two currently resides in Los Angeles.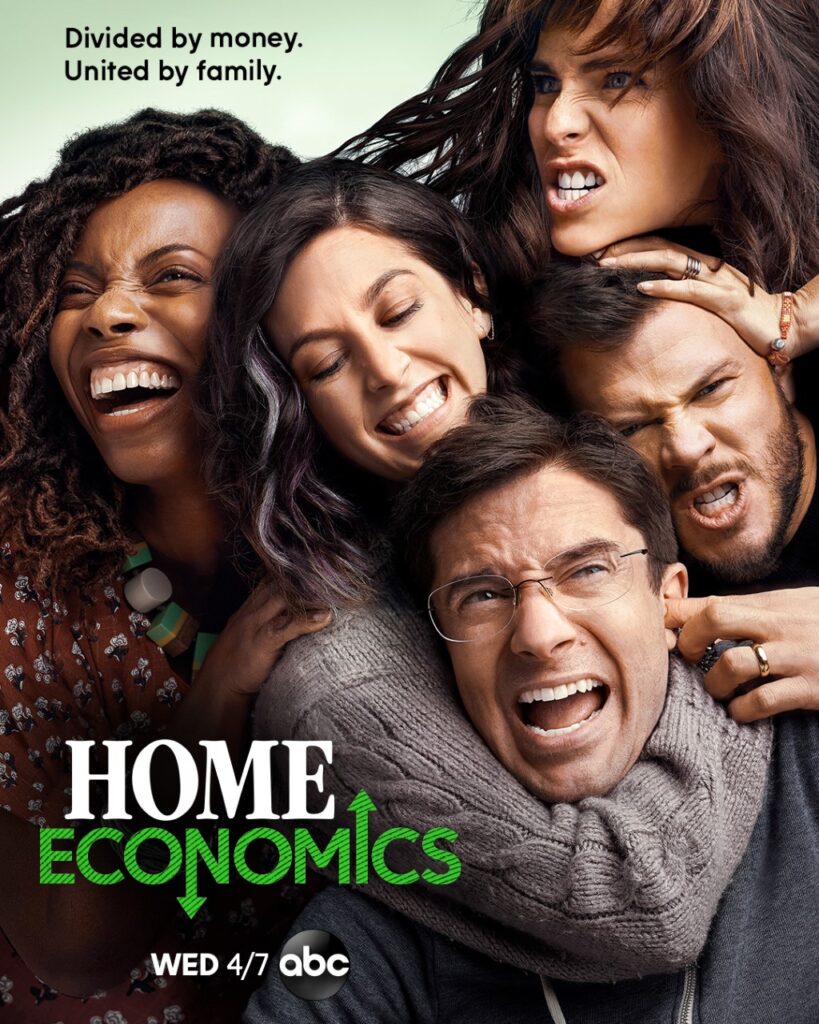 About Home Economics
Executive produced by and starring Topher Grace, new series "Home Economics" joins ABC's Wednesday night comedy block on WEDNESDAY, APRIL 7 (8:30-9:00 p.m. EST) on ABC. Episodes can also be viewed the next day on demand and on Hulu.
From writers and executive producers Michael Colton and John Aboud, the series takes a look at the heartwarming yet super uncomfortable and sometimes frustrating relationship among three adult siblings: one in the 1%, one middle-class and one barely holding on. The comedy is inspired by the life of writer and executive producer Michael Colton.
The series stars Topher Grace as Tom, Caitlin McGee as Sarah, Jimmy Tatro as Connor, Karla Souza as Marina and Sasheer Zamata as Denise. Also starring is Shiloh Bearman as Gretchen, Jordyn Curet as Shamiah, Chloe Jo Rountree as Camila and JeCobi Swain as Kelvin.