Watch Dogs: Legion is a whole lot of fun, but it does get repetitive from time to time. Still, more than worth playing!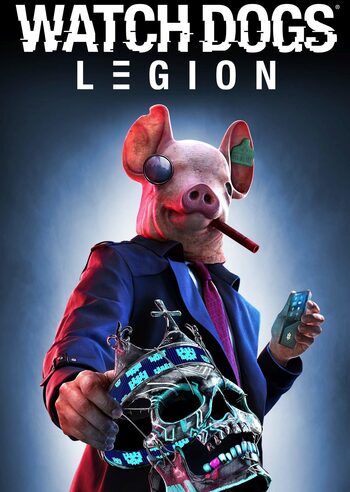 I have to be totally honest here and let you all know that this is the first Watch Dogs game I have ever played. But as soon as I saw the trailer for Watch Dogs: Legion I was intrigued. Thanks to my partnership with Ubisoft, they sent me over a review code and I was thrilled to dive into this world!
I started playing this game on my Xbox One, and about a week later my Xbox Series X arrived. Honestly I was nervous about trying to switch my game over to the new console but it was super easy! Since I have an Ubisoft account and a Microsoft Account all I had to do was log in and go to the store. It showed that I already owned the game, so I just downloaded it and it picked right back up where I left off.
The first thing I want to say is what a difference in switching consoles! Wow! The game already looked amazing on the Xbox One but there is a noticeable upgrade when playing on the Xbox Series X. At least it seemed that way to me.
What I Love About It
It didn't take me too long to get into Watch Dogs: Legion. I purposefully did not look up anything about the past games, so this would be a totally new experience for me. One of my favorite things about this game is YES, you can totally jump in knowing nothing about the franchise and have an absolute blast!
I am a big fan of open world games where there are plenty of side missions for you to complete as you play. This not only adds length to the game, making it worth the higher price point, it ends up adding more to the story. And Watch Dogs: Legion is one of those games. Theoretically someone could spend massive amounts of hours playing this game, and still not beat the main story line.
The gameplay itself is flawless and once you get the buttons down, which the beginning sequence prepares you for, this game really takes off. I have so much fun sneaking around to complete missions, and also literally running in and shooting a place up. There is such a variety of tasks that there is something for every type of gamer!
What I Don't Love About It
One of the hardest parts of this game, for me anyways, is driving on the other side of the road. We are in London and I found this to be SO DIFFICULT. To the point where I was getting annoyed and would just drive on the wrong side and crash into oncoming cars.
Until I discovered there is a button that will make the car drive itself to the destination you set on the map. While this can be a little slow if you are traveling a far distance, it is convenient. I often use the time to refill my water or grab a snack.
The only other real issue I have with this game is that some of the missions get repetitive. But honestly this is an issue most games like this have. Similar mission, different surroundings. It is completely understandable for this to happen and for me, it didn't take much away from the game. Plus, if it does bother you, you can skip the side stuff and stick right to the main campaign.
Overall Thoughts
Watch Dogs: Legion is a super fun game that actually serves well as a jumping off point into the series. I have already downloaded Watch Dogs and am eager to check it out next! The main story itself takes about twenty hours, which is impressive in my opinion.
The upgrade to a next gen console is seamless, so even if you plan on getting a new console soon, you can pick up your copy now and start playing!
About Watch Dogs: Legion
Available now on PlayStation 4, PlayStation 5, Xbox One, Xbox Series S|X, and Windows PC.
Rated M
In Watch Dogs: Legion, London is facing its downfall. Amidst the growing unrest of a restless London, an unknown entity named Zero-Day has framed secret underground resistance DedSec for coordinated bombings across London. In the aftermath, criminal opportunists from every corner of London took hold and filled the void left by a defeated government.
As a member of DedSec, players will be going up against those criminal opportunists in Watch Dogs: Legion; sadists, mercenaries, cybercriminals, and more; they'll have to be prepared for a variety of situations. Players must recruit members into their DedSec Resistance to take on these criminal opportunists, liberate London and uncover the identity of Zero-Day.
Purchase Watch Dogs: Legion today!
Check out my other gaming reviews.