Spies In Disguise starring Will Smith and Tom Holland is finally available to take home. I have a list of the Spies In Disguise Blu-ray bonus features & free activity sheets for you!
Spies In Disguise is one of my favorite movies from 2019 to watch with my kids. We saw it in theaters and absolutely loved the message that it gives kids (and adults) about how it is OK to be weird. In fact, you should embrace your weird! Spies In Disguise is finally available to take home — and we were offered an advance copy. We loved it just as much as we remembered, if not more.
As a fun bonus I have some free printable activity pages that kids are sure to love. This packet includes a maze, spot the differences, word search, and crossword puzzle. Download your Spies In Disguise activity sheets here —> Spies In Disguise Activity Sheets
If you missed my spoiler free review of Spies In Disguise, check it out and I bet it will convince you to pick up your copy of the movie today!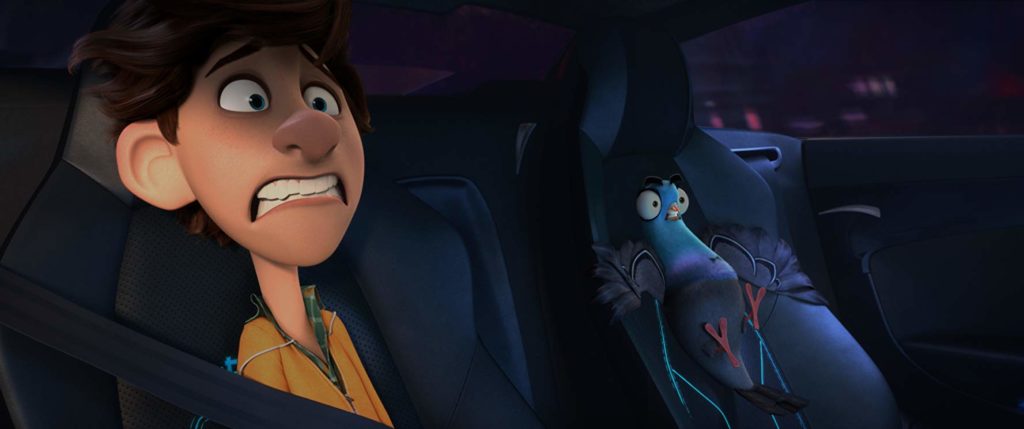 Spies In Disguise Bonus Features
I know I sound like a broken record but one of my favorite things about a home release is all the bonus features. Spies In Disguise knocks them out of the park with this fun collection of never before seen content. From music videos to behind the scenes looks — fans of the movie have a lot to look forward to when they bring the Blu-ray home.
Super Secret Spy Mode
Infiltrating Blue Sky Studios
The Top Secret Guide to Gadgets
"Then There Were Two" Music Video
"Freak of Nature" Music Video
Making the Soundtrack "Then There Were Two"
Making the Soundtrack "Freak of Nature"
"Lunch Break" (Digital Exclusive)
Gallery

Color Keys and Moment Paintings
Character Designs
Locations
Props and Gadgets Concept Art
About Spies In Disguise
Super spy Lance Sterling and scientist Walter Beckett are almost exact opposites. Lance is smooth, suave and debonair. Walter is not. But what Walter lacks in social skills he makes up for in smarts and invention, creating the awesome gadgets Lance uses on his epic missions.
But when events take an unexpected turn, Walter and Lance suddenly have to rely on each other in a whole new way. And if this odd couple can't learn to work as a team, the whole world is in peril.
Spies In Disguise is available to take home now!