While at The Geekly Retreat, I was among the first audience to see Spies In Disguise — seriously they had just finished it the day before. The movie hits theaters on Christmas Day, but here is my Spies In Disguise spoiler free review. All opinions expressed are 100% my own.
Spies In Disguise is a movie that the entire family is sure to enjoy. Filled with humor AND heart — and life long lessons — it is the perfect Christmas vacation movie. Spies In Disguise proves to kids why it is OK to be weird, even when it seems like everyone else is against you. It also shows that not everything should be solved with violence, and to never judge a book by it's cover.
My kids have been dying to see this movie, and after watching it for the first time, I cannot wait to take them. I know they will be asking to buy Spies In Disguise when it comes out on home release — and will be watching it over and over. Which I am totally fine with because I think it is a must see for the whole family!
If you missed it, I got a chance to chat with the directors about this film, and I learned some fun facts about Spies In Disguise from them! There are no spoilers in that article, so read it without a worry!
This review of Spies In Disguise is spoiler free.
Will Smith & Tom Holland Are The Perfect Pair
Two of my favorite actors in the whole world are Tom Holland and Will Smith. You can't go wrong with them. Tom Holland is on top of the world right now being Spider-Man and all — but he has also signed on to several animated films, including Spies In Disguise and Pixar's Onward. So of course I was thrilled to see these two team up on the big screen in Spies In Disguise — and I wasn't let down.
Both of these actors take their characters to a new height. They were perfectly cast. Will Smith as the cool super spy and Tom Holland as the geeky nerd with weird inventions. The two of them had me laughing uncontrollably several times.
Filled With Humor — And Heart
The supporting cast takes this movie to the nest level. Eyes (Karen Gillan) and Ears (DJ Khaled) had some of the funniest lines of the film. I couldn't help but be excited when I saw them step into a scene, wondering what they might say or do next. Part way through the movie Lance unexpectedly joins up with some pigeon companions, and they had me rolling as well! If nothing else, you are sure to have a good time watching this movie.
Everyone who knows me knows that I am pretty emotional. I cry at a lot of things — especially movies. There was one moment in particular that got to me — and if you have a child who is particularly sensitive to death, it might get to them as well. However, it is nothing we haven't seen before in many popular kids movies. And it is a lot more subtle than most.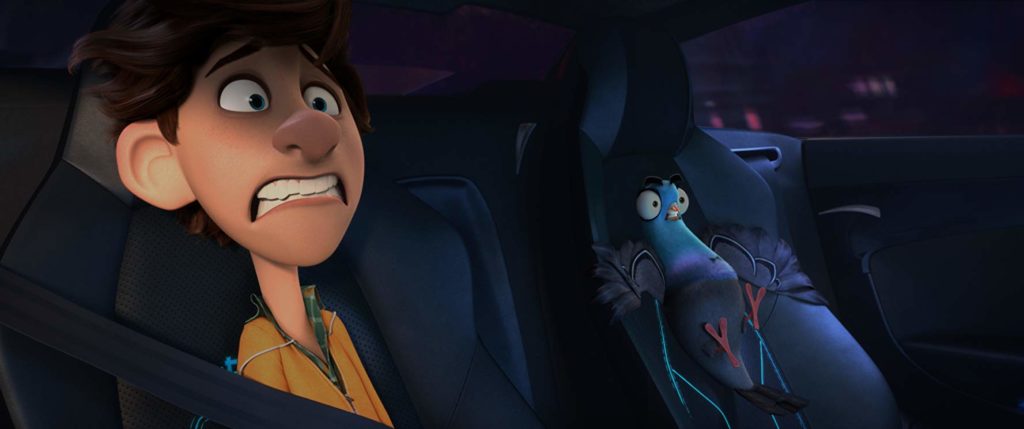 Is It Scary?
My youngest daughter is pretty sensitive when it comes to movies, just like her mama. So I wanted to include this section in my Spies In Disguise review for those of you that have children like her. So is this movie scary? Not really. There is a bad guy, of course, and lots of action and some violence, but nothing too over the top — especially for a spy movie.
In Spies In Disguise, we actually learn a lot about the villain, and his points of view. He is definitely not a great human being, but you just might see where he is coming from. A lot of the action involves cool (and sometimes very weird) gadgets, that kids are sure to love.
I wouldn't worry about taking little ones to Spies In Disguise. In fact, I think it is a movie that all members of the family will enjoy.
Overall Thoughts
From the moment I saw the first Spies In Disguise trailer, I thought this was going to be a cute movie, that my kids would enjoy. But I had no idea I would love it as much as I did. There were moments were I was cracking up, and moments where I was tearing up.
Spies In Disguise teaches kids that not only is it OK to be weird, it just might mean you are the only one that can help in certain situations. And even though the "cool kids" might not recognize it at first, the ones that matter will come around to believe in you.
But my favorite lesson of all? Perhaps there are no good and bad — perhaps there are just people. That is probably my favorite of these Spies In Disguise quotes. Not every villain thinks they are a villain. Take Star Wars for example. When Anakin Skywalker turns to the Dark Side, he says "From my point of view the Jedi are evil."
Overall, this is a movie that I think every family with young children should watch. It teaches valuable lessons in a way that will stick with most kids. It is also hilariously fun and entertaining for parents. The perfect movie to check out on Christmas Day!
As always, I will have a Spies In Disguise review with spoilers — and the 10 most emotional moments of the film — after opening weekend. So stay tuned for that, you don't want to miss it!
Will Smith & Tom Holland make the perfect pair in Spies In Disguise. Filled with humor, heart, and WEIRD, this movie is a must see family film!
About Spies In Disguise
Super spy Lance Sterling and scientist Walter Beckett are almost exact opposites. Lance is smooth, suave and debonair. Walter is not. But what Walter lacks in social skills he makes up for in smarts and invention, creating the awesome gadgets Lance uses on his epic missions. But when events take an unexpected turn, Walter and Lance suddenly have to rely on each other in a whole new way. And if this odd couple can't learn to work as a team, the whole world is in peril.
Spies In Disguise flies into theaters December 25th, 2019!