This post contains affiliate links.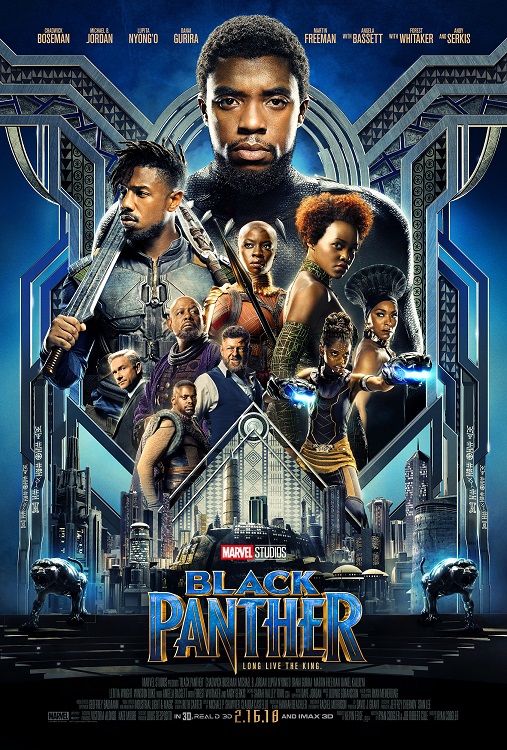 Black Panther is hitting theaters in February 2018 and is highly anticipated by Marvel fans everywhere. I am certainly one of those fans who is dying to see what Marvel does with this film. Admittedly, I am sad knowing that Storm won't be in it – but thanks to that exciting deal being worked out by Disney and Fox, we might see her in the future! Wakanda is one of my favorite places in the Marvel Comics world, so seeing it become a part of the MCU is pretty awesome. If you don't normally read the comics, but want a good background on the man himself, Black Panther, before heading to theaters in February, here are 5 books I think you should pick up.
Black Panther Vol 1. by Christopher Priest
Black Panther reinvented as a sharp and witty political satire? Believe it! T'Challa is the man with the plan, as Christopher Priest puts the emphasis on the Wakandan king's reputation as the ultimate statesman, as seen through the eyes of the U.S. government's Everett K. Ross. As the Panther investigates a murder in New York, Ross plays Devil's Advocate in an encounter with Mephisto, and a new regime seizes control in Wakanda. COLLECTING: Black Panther (1998) 1-17.
Black Panther Vol 2. by Christopher Priest
When T'Challa falls to the one foe he's never beaten, Killmonger earns the right to become the new Black Panther! Only Everett K. Ross can save T'Challa's life – okay, Ross plus Moon Knight, Brother Voodoo and the Panther God! Still suffering, the deposed Wakandan leader finds himself caught in a cat trap with the Avengers and…Deadpool?! Storm of the X-Men off ers comfort, as Wakanda fi nds itself on the verge of war with Lemuria and Atlantis – and Klaw, Malice and Man-Ape threaten to destroy the African Avenger once and for all! COLLECTING: BLACK PANTHER (1998) 18-35, DEADPOOL (1997) 44.
Black Panther Vol 3. by Christopher Priest
It's Black Panther vs. Iron Man (with Wolverine in the middle) in the blockbuster sequel to Enemy of the State II! Secrets are revealed, punches are thrown and King Solomon's Frogs wreak havoc…but who is the second Panther? Plus: Flash forward to T'Challa's old age, where the once and future king has washed his hands of the outside world. Will he come out of retirement to save Everett K. Ross' life? And travel back to the Old West, as T'Challa finds himself in the middle of 1986's THOR #370! COLLECTING: BLACK PANTHER (1998) 36-49, 57-58; INCREDIBLE HULK (2000) 33; THOR (1966) 370; MATERIAL FROM MARVEL DOUBLE-SHOT 2.
Secret Invasion: Black Panther
When the Skrulls come to town, it's all-out war in Wakanda! The alien invaders have war ships, advanced technology, super-powered soldiers, and an army that outnumbers the Wakandans ten-to-one. Cake walk, right? Think again! There's a reason Wakanda had never been conquered, and the Skrulls are about to find out why – the hard way! Collects Black Panther #39-41, reprints and extras.
Black Panther: Civil War
The Royal Couple, King T'Challa and Queen Ororo, embark on a diplomatic tour that will have them spanning the globe – and beyond! Stops include Latveria (Dr. Doom), the Moon (Black Bolt and the Inhumans), Atlantis (Namor the Sub-Mariner) and the Civil War-ravaged United States, for a meeting with none other than the point man for the U.S. government's implementation of the Superhuman Registration Act: Tony Stark, T'Challa's former Avengers teammate. Will the Black Panther and Storm decide to get off the sidelines of the Civil War and get involved? COLLECTING: Black Panther #19-25.
Black Panther Synopsis
Marvel Studios' BLACK PANTHER follows T'Challa who, after the death of his father, the King of Wakanda, returns home to the isolated, technologically advanced African nation to succeed to the throne and take his rightful place as king. But when a powerful old enemy reappears, T'Challa's mettle as king – and Black Panther – is tested when he is drawn into a formidable conflict that puts the fate of Wakanda and the entire world at risk. Faced with treachery and danger, the young king must rally his allies and release the full power of Black Panther to defeat his foes and secure the safety of his people and their way of life.
BLACK PANTHER hits theaters Feb. 16, 2018!