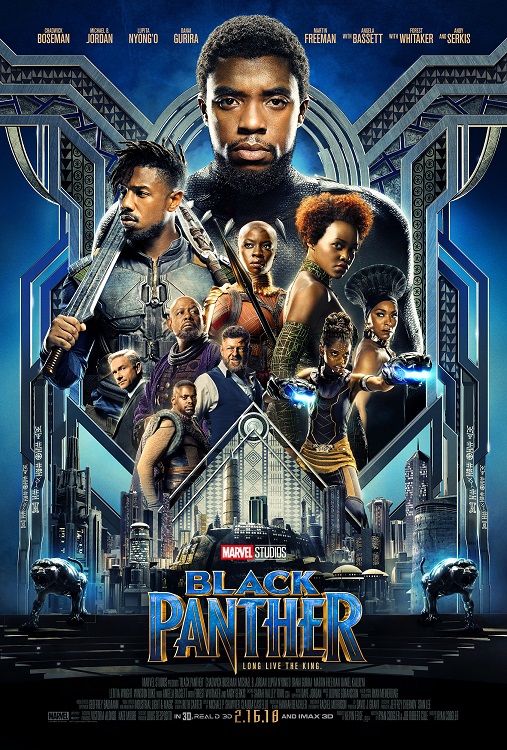 I am a pretty big fan of Marvel, in case you somehow missed out on that. I have been reading Marvel Comics since I was a little girl – so you can imagine how excited I am about all of the Marvel movies coming out. This is certainly a great time to live in if you are a geek like me. Thor: Ragnarok is the next Marvel Studios film to come out (and I can't wait for you all to see it – it is so good!!) but after that will be Black Panther. After seeing the latest poster and trailer, I was blown away. I already know this film would be amazing, but now I am really counting the days.
Admittedly, Black Panther was never one of my favorite comics. I still read them, especially the cross over issues, but if I missed some I wasn't upset about it. T'Challa is in a relationship with one of the X-Men, Storm, in the comics. Honestly, they quickly became one of my favorite couples. The fact that they will likely never be together in the movie due to Marvel not owning the rights to her has had me bumming. It kept me from being overly excited about this film. But after this latest trailer, I am getting there. I watched it about ten times in a row – and you should too!
About Black Panther
Marvel Studios' BLACK PANTHER follows T'Challa who, after the death of his father, the King of Wakanda, returns home to the isolated, technologically advanced African nation to succeed to the throne and take his rightful place as king. But when a powerful old enemy reappears, T'Challa's mettle as king—and Black Panther—is tested when he is drawn into a formidable conflict that puts the fate of Wakanda and the entire world at risk. Faced with treachery and danger, the young king must rally his allies and release the full power of Black Panther to defeat his foes and secure the safety of his people and their way of life.
Black Panther opens in theaters Feb. 16, 2018!
Like BLACK PANTHER on Facebook: https://www.facebook.com/BlackPantherMovie
Follow BLACK PANTHER on Twitter: https://twitter.com/theblackpanther
Follow Marvel Studios on Instagram: https://www.instagram.com/marvelstudios/
The opinions expressed here are that of Mama's Geeky only. While the products in this post were given complimentary (unless otherwise stated) for me to review, that does not alter my opinion of the product(s) mentioned. This post may contain sponsored links and affiliate links.