This post contains affiliate links.
One of our favorite holidays is Halloween. There is nothing like cuddling up with the family, putting on a spooky movie or TV show, and eating some treats. Our daughters are pretty young still (4 and 6) so we tend to select videos that they can watch – but that we will enjoy too. That is why we love NCircle Entertainment and were thrilled to get some Halloween DVDs from them. These are must haves for families with young kids!
Cat in The Hat Knows A Lot About Halloween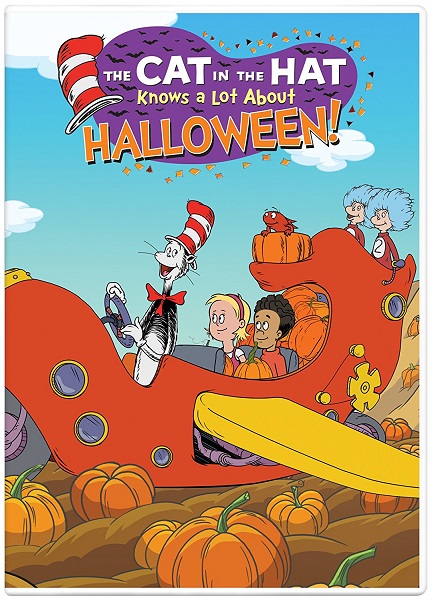 The Cat in the Hat takes Nick and Sally on a Halloween ride filled with howlers and shockers and scary fandangles, big laughs and music and fun from all angles! Their fright-filled adventure takes them deep into the Oooky-ma-kooky Closet where Nick and Sally discover the very best Halloween costumes ever.
Pocoyo BOO
Join Pocoyo and his friends on seven playful adventures. Whether it's playing a new game called Boo!, enjoying a monster mash party or pretending to be Godzilla & King Kong, every day is fun & engaging with Pocoyo and his friends! Pocoyo: Boo!
Sid's Spooky Halloween
It's Halloween! Join Sid and his friends as they discover how bats catch mosquitoes, why spiders are expert engineer web builders, and how skeletons make up the foundation of our bodies. The kids dress up to celebrate Halloween at school, and Teacher Suzie leads them in a special Halloween parade song to show off their costumes! With Sid the Science Kid, Halloween can be spooky and scientific!
Doozers Spookypalooza
Welcome to Doozer Creek where the Doozers live! They're green. They're cute. And they're three inches tall and they re full of energy, ideas, and enthusiasm! It's Spookypalooza! The time of year when all Doozers get together to spook each other. The Pod Squad makes the spookiest pumpkin ever a cool Pumpkin Doozer made by stacking three pumpkins together. But when their new invention starts rolling all around town, the Doozers have to find a way to reign in their spooky creation! Enjoy four STEM-based adventures with the Doozers!
The Cat in the Hat Knows A Lot About That! Trick or Treat
A new spooky adventure this DVD brings, with The Cat, Nick and Sally, Fish and the Things. Meet the eeriest critters you have ever seen, arrived just in time for this Halloween! There will be lots of tricks and, of course lots of treats, to share with the animal friends you will meet! There's a coconut crab, spider monkeys and bats, and plenty more fun with The Cat in the Hat!
CONNECT ON SOCIAL MEDIA:
Facebook: https://www.facebook.com/NCircleEntertainment
Twitter: https://twitter.com/ncircle
Pinterest: https://www.pinterest.com/ncircleent/
YouTube: https://www.youtube.com/user/ncircle
Enter to win a set of these Halloween DVDs form NCIRCLE using the Gleam form below. Be sure to check out my other giveaways while you are here and GOOD LUCK!
NCircle Entertainment Halloween DVDs