Zoe Saldana admitted that she is ready to take a break from playing science fiction females – and talks Gamora's relationships.
When I talked with Zoe Saldana on the set of the Guardians of the Galaxy Vol 2 last year, she was beyond inspiring. She discussed how important it is for women to be strong and take control of their own lives. She also gave some great marriage and fitness tips. So when I was told we would have a chance to chat with her again after seeing the movie at the World Premiere, I was really excited. I went in to this interview just knowing how great it would be – and Zoe did not disappoint.
Gamora and Nebula
In Guardians of the Galaxy Volume 2, Nebula is back. Gamora is not exactly pleased with her after the way they left things at the end of the first film. James Gunn introduces us to a lot of the history between the two in Volume 2 so that we can get more of an understanding of their relationship. Personally, I loved how it all came about (and it gave me the feels guys) and Zoe agreed with me when we asked her about it.
"I loved it. I was very excited. There were three female characters in this movie and they all provide three different essences. Mantis is such an innocent creature, Nebula's so angry, and Gamora is so maternal. Gamora's turned over this new leaf. In the first movie she was so selfish. It was about running away from her father and now it's about keeping this family together. She [is] the opposite of who she was in the first movie."
Nebula still has it out for Thanos and so I asked Zoe if she would prefer Gamora team up with Nebula, leaving the Guardians behind to take out Thanos, or if she would prefer Gamora stay with the gang. Her response made me smile. "I'm biased. I would want her to go to Nebula. I would go with my sisters anywhere. They call me now, it's like, okay, let's go, ask questions later. I would go to Nebula." I have to admit, I was hoping that was her choice.
Zoe and Karen
When chatting with Karen Gillan who plays Nebula (that interview will be up later this week, so keep checking back), she mentioned that Zoe gave her some pointers during fight scenes. We asked Zoe about it.
"I don't have to give Karen any tips on performances – Karen's a bad ass. This girl is like the Hulk in acting. Literally, she's Bruce – Mark Ruffalo. Then when she turns into the Hulk, she transforms into this character, you forget that Karen was in the building. She just turns into Nebula and she's menacing. In terms of stunts, I do [give her advice] – like baby girl, you can't walk like that. Because I don't think she's ever been to a gym, still, to this day. I [said] with your permission, I love you and I'm here to help. She [responded] please help me. I'm like, then don't run like that and then we laugh it out. I did also tell her, and James reiterated, that whenever she did not feel comfortable, she has nothing to prove to anybody, so she can always sit it out. And she did; she would pick her battles. She did a lot more stunts in this movie than I thought she would. We were very impressed. "
Gamora and Star-Lord
We then got into some details of everyone's favorite "will they or won't they" Guardians couple – Gamora and Peter Quill. Some stuff is spoilery so I won't mention it – and some stuff was for our ears only (sorry guys, because it was AWESOME to hear!). We asked her how she felt about their connection and if she ever wants to see them romantically involved (you will have to watch Volume 2 to see what happens between them as maybe they already are…who knows!).
"Yes and no. I'm not a sucker for romance in films. It needs to be really well done, and very meticulously paced out, in order for me to feel like it wasn't gratuitous for the audience. I think that James Gunn is exceptionally talented in the way that he creates strong characters in the beginning, and then he really lets these characters tell him where they need to go, based on what he established before. Gamora and Quill are best friends. The bond that they have is so spiritually dynamic, that, to top it off with a kiss, you might actually ruin it."
Maternal Instincts
Since Zoe fully admitted that Gamora goes maternal in Volume 2, we asked her if she pulled from her own maternal instincts when acting in this film. "I tried but I'm the middle child of three sisters, so I was never the Gamora. My sister Marielle is more the Gamora, she keeps us on track. I was always the f*ck up. Middle kids are – it's the title that they give you – you don't take any responsibility, you don't finish what you start, and you never obey your parents. That was me. And, so channeling something in Gamora, I think I was just thinking about my sister."
Time for a Break?
In our previous interview, Zoe discussed how important female empowerment was to her. When we brought it up this time, we were all a little surprised by what she had to say about it.
"I love it. I do. But I would like to take a break from playing kick ass science fiction females. I've been doing it for over 10 years, I'm kind of tired. When I was little, I only had two icons that I can reference, and I'd watch those movies until my tape would break. It was Ellen Ripley from Aliens, and Sarah Connor from Terminator. I was always watching action movies told through the eyes of males and always feeling that gap, that void."
Being a mom of two young girls, I can relate. I want them to have strong female role models in films, and lucky for me, there are so many out there now. Like Zoe herself, as Gamora.
"I took a gamble on these movies [and] they ended up being super special, and they went into sequels. I had my responsibility to fulfill them, it wasn't my idea, trust me. Once I was there, I didn't want to be bitter about it. I wanted to acknowledge that maybe it means something. Maybe it is important that I'm a part of those women that are filling in that gap, so that women can have more options, more references to look into."
https://www.instagram.com/p/BSrqvB_Bolu/
Doing Her Own Stunts?
Gamora sees a lot of action in Volume 2, so we asked Zoe about the stunts. She raved about her stunt double, Leanne, saying she is phenomenal.
"All the parts where Gamora looks absolutely unbelievably, that's Leanne. And all the parts where [she's] posing and taking out my sword, that's me. But I did do a lot of those jumps, and I would do a lot of the stunts that she would do, but the PG-13 version. Because, one, I can't do them. And two, it's a liability to the film if I get killed. I posted something on Instagram. There is a jump that I did. They made me jump from three stories and I was on wires. I still can't remember if somebody told me and I just brain farted, or somebody forgot to tell me that I was going to free fall – [that] I was not going to feel the tension on the wires. So when they said action, and I jumped, I thought I was dying. Then James Gunn was like, yeah, your face was kind of awful there, you have to do it again."
Gamora's Take-away
Zoe has become a great role model for young girls, and us moms appreciate that! We asked her what she wants them to take away from her character in Guardians of the Galaxy, Gamora.
"I think that it's okay to still be vulnerable, and be strong. For some reason, we take it upon ourselves, or where we're told, that you have to be one or the other. Vulnerability is strength, and being strong that means that you have to be vulnerable. I hope young women take that. Because I don't see Gamora as a strong character. I see her as someone that's tired, annoyed, and very vulnerable."
See Gamora Kick Some Ass in Guardians of the Galaxy Vol 2 on 5/5!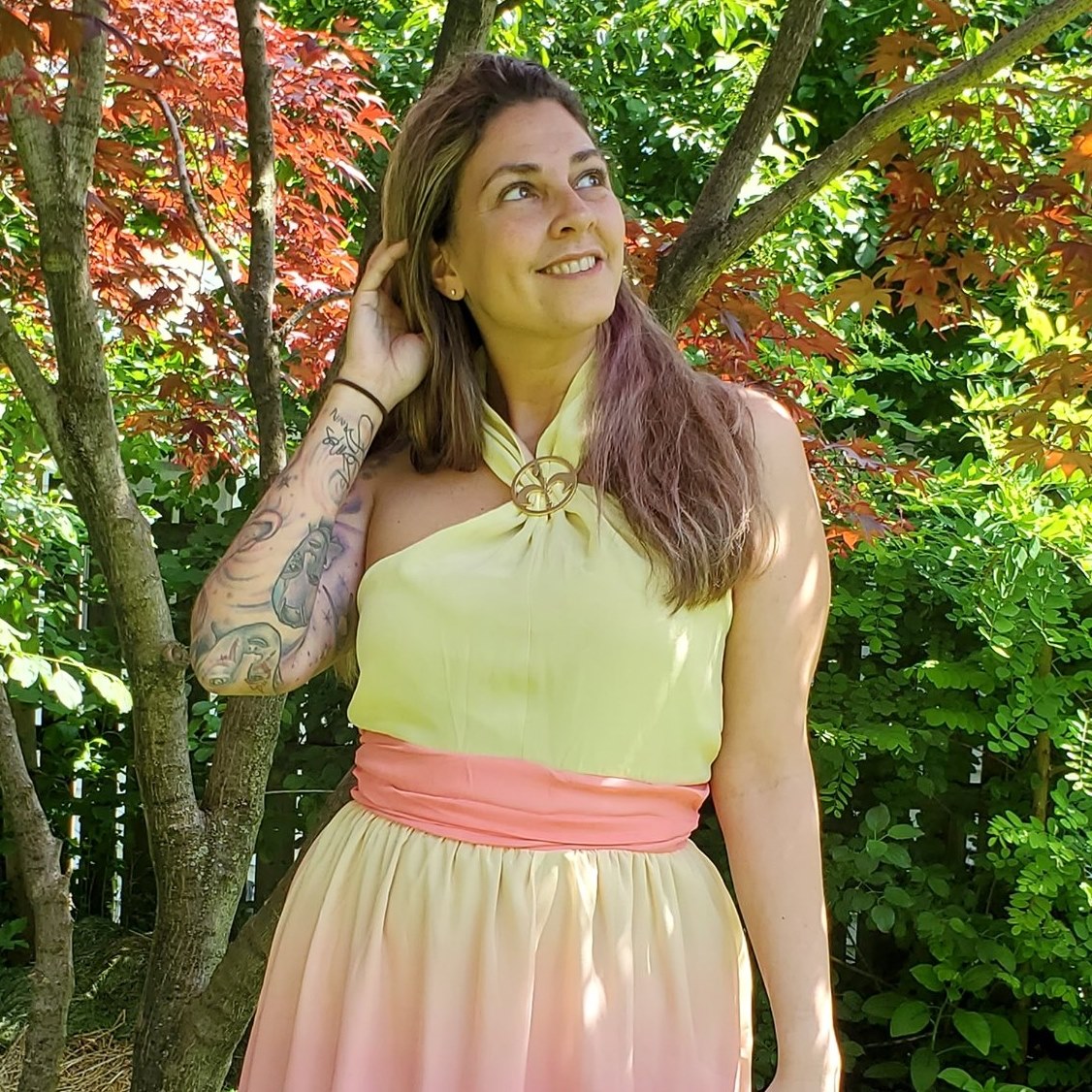 Tessa Smith is a Rotten Tomatoes Tomatometer-approved Film and TV Critic. She is also a Freelance Writer. Tessa has been in the Entertainment writing business for almost ten years and is a member of several Critics Associations including the Hollywood Critics Association and the Greater Western New York Film Critics Association.