The Disenchanted returning cast discusses coming back to their characters, and newcomers express excitement, for this magical sequel.
The long awaited sequel to Enchanted is nearly here as Disenchanted starts streaming exclusively on Disney+ November 18th. During the press conference in support of the film, the Disenchanted returning cast discusses what it was like coming back to these fan favorite roles, and newcomers talk about the excitement of joining.
Disenchanted Cast Talks Making A Magical Sequel
The first film came out in 2007 and has turned into an iconic movie with a massive fanbase. Amy Adams reprises her role as the lovable and innocent Giselle, but in Disenchanted we see a different side of her. Adams explains that after ten years, things have changed for her, and now we get to see her in a different light.
"There's been an evolution from the beginning of Enchanted to who Giselle is at the end of the movie. Taking that evolution of who she might be after spending 10 years [in New York City], but also making sure we keep her grounded in the truth of her feelings without losing that joy and that naiveite and innocence and purity that makes Giselle so special is where my launching place was."
She goes on to say that it was a pleasure to get the opportunity to spin things for Giselle in Disenchanted and to reunite with the returning cast. "It was so fun to get to see everybody step back into it, and that we were lucky enough to have everybody come join us. And I can't thank them enough, and I'm very appreciative. And then for our new cast members, I was so pleased to get everybody we have."
Idina Menzel returns as Nancy in Disenchated and getting to hear her sing this time around is no the only difference. "Mine is a pretty drastic change. I go from this cynical New York chick, and then I jump down a manhole. It was so much fun for me figuring out the balance."
She explains that she talked a lot with director Adam Shankman about how much of her New York accent stayed after her years in Andalasia and how much of the idyllic, romantic, perfect place rubbed off on her. Menzel says that it was an easy journey for her.
Patrick Dempsey also shows fans a new side to Robert in this film. "At the beginning he is very much the same, although he's kind of trying to balance life between his new baby and his other child, and the conflict between the stepmother and that dynamic. And then getting into larger than life was completely freeing and really fun. So for me, it was a fantastic ride."
We also get to see him dance and sing in Disenchanted, which he says was great fun. "That whole process of going through, finding your voice, working with the coach on that, learning the lyrics and the dance was an extraordinary experience and something I'd never done before. And really appreciate the talent with the voices and the singing of Idina and Amy and Maya and everyone. It's an extraordinary feeling you get when you sing. The vibration, it's something very intoxicating about it."
New Cast Talks Joining Disenchanted
There are several new cast members in this movie as well, who were all very excited to join the franchise, and this magical film. Maya Rudolph plays Malvina Monroe, who gives Giselle a run for her money, and she said they had so much fun, and also notes that the singing and dancing aspect is what was most memorable.
"Even though I've had a chance to sing in things before, it was nothing like this experience. And knowing that I was going to get to write this Menken & Schwartz song was really, truly almost like a life fulfillment. Like I was training for the marathon I'd been training for my whole life. And that's what it was every day. We'd go to vocal rehearsal, and we'd go to dance rehearsal, and we were working towards the day where we shot the song. And then we shot it. And we got to record it. Such a dream come true. Like, there are no words for stuff like that."
Jayma Mays explains that she was so excited to join the cast as a huge fan of the first film. "When I got this job, I was like, 'Great, I can retire now. I did it.' And it was a dream. We had so much fun."
Yvette Nicole Brown also says that she had the best time. She explains that she is a huge fan of Enchanted. "I've said this before, but my friend, Marilyn Sue played the bus driver in the original Enchanted. And I remember, how you're happy for somebody and just feel bad in your soul 'cause it's not you. And then, 15 years later, for the call to come my way — I'm pinching myself that I'm looking at all your faces 'cause each of you beyond this movie, I've loved in a thousand different ways in everything you've done before. And so, to get to be a part of this group… we all had the best time in Ireland."
Brown goes on to add that it was amazing to make this love letter for everyone who loved the original film and she is honored to get to be a part of it. She dives into a heartwarming story about how the cast all lifted her up after her mother passed. Each and every one of them made sure that she was okay, and took care of her in her time of need. "I wanna take a moment to just thank you again for carrying me through that moment. And I don't have any sadness about my time with you at the hardest time of my life because that was the love of this film. So, I wanted to make sure I thanked you all again. And I'm so happy that our love letter is now out in the world. And I know my mother would just wanna thank you all, too, for taking care of her baby."
Gabriella Baldacchino portrays an older version of Morgan Philip from the last time we saw her, and she says that this was a dream come true. "When I was little, and even growing up, Enchanted was my favorite movie. So, being able to join all these people was surreal to me."
She adds that getting to be a part of something like this has been her dream, and it has completely changed her life.
"I'm so, so grateful to sing music written by Alan Menken and Stephen Schwartz. Like, I grew up performing. I loved musical theater and singing, so that wasn't new for me. But to get to originate something that they wrote, it's an honor, you know? And to be surrounded by Adam Shankman, Barry Josephson, this cast, I learned so much as I got to sit with Adam. Sometimes when he was directing scenes, I'd watch from the other side. Barry's taught me so much, as an aspiring producer someday. And working with this incredible cast is like a master class in acting every single day, so I'm just really grateful."
Disenchanted streams exclusively on Disney+ November 18th, and you don't want to miss it.
About Disenchanted
An all-new live-action musical comedy, "Disenchanted" is a sequel to Disney's box office hit "Enchanted" featuring the original cast from the heart-warming story of the lovable maiden from the fairy tale world of Andalasia who finally found her Prince Charming in the kingdom of New York City. A Disney+ Original movie directed by Adam Shankman, produced by Barry Josephson, Barry Sonnenfeld, and Amy Adams.
It has been more than 10 years since Giselle (Amy Adams) and Robert (Patrick Dempsey) wed, but Giselle has grown disillusioned with life in the city, so they move their growing family to the sleepy suburban community of Monroeville in search of a more fairy tale life. Unfortunately, it isn't the quick fix she had hoped for. Suburbia has a whole new set of rules and a local queen bee, Malvina Monroe (Maya Rudolph), who makes Giselle feel more out of place than ever.
Frustrated that her happily ever after hasn't been so easy to find, she turns to the magic of Andalasia for help, accidentally transforming the entire town into a real-life fairy tale and placing her family's future happiness in jeopardy. Now, Giselle is in a race against time to reverse the spell and determine what happily ever after truly means to her and her family.
Disenchanted is streaming only on Disney+ November 18th.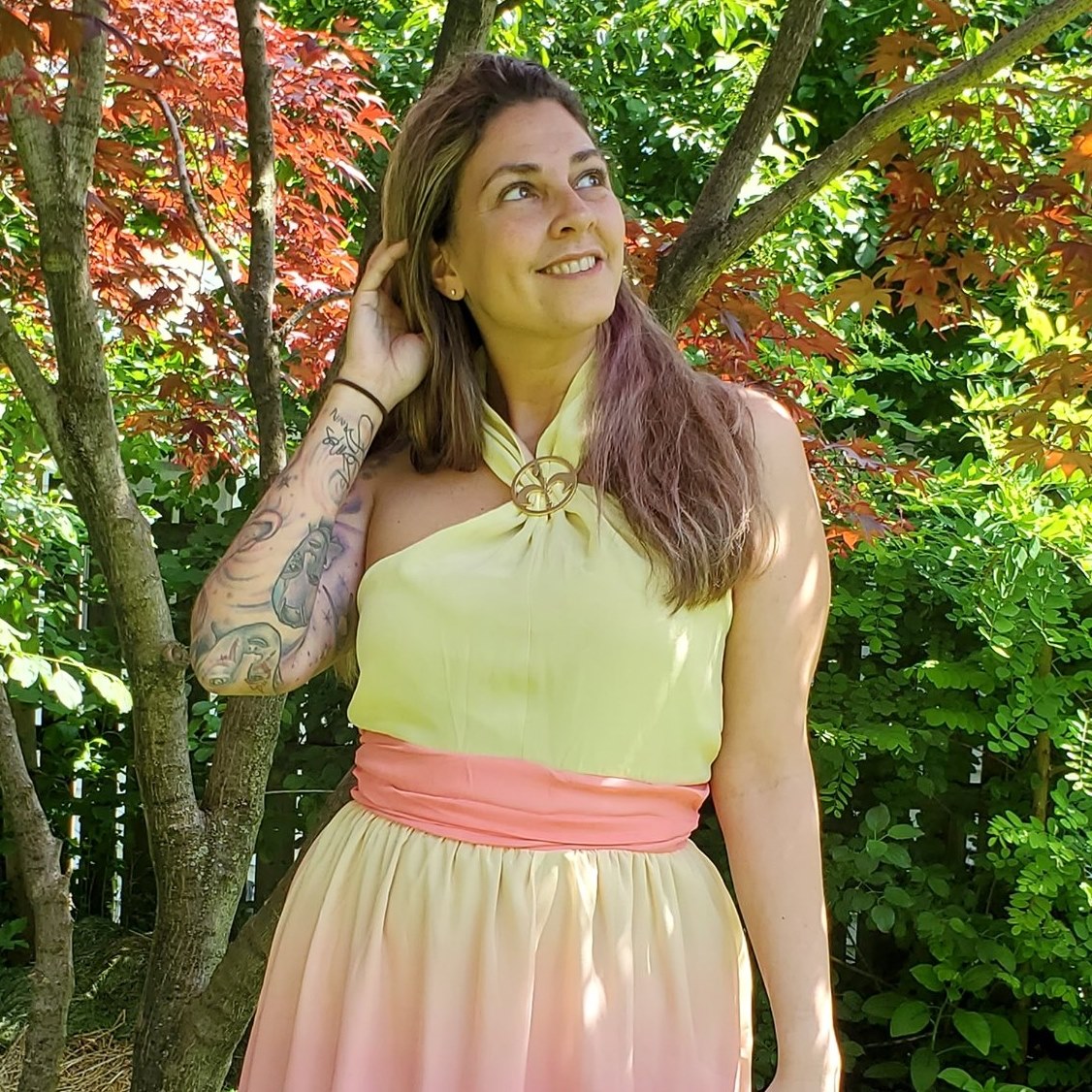 Tessa Smith is a Rotten Tomatoes Tomatometer-approved Film and TV Critic. She is also a Freelance Writer. Tessa has been in the Entertainment writing business for almost ten years and is a member of several Critics Associations including the Critics Choice Association, Hollywood Critics Association, and the Greater Western New York Film Critics Association.