Disenchanted is absolutely magical. It's packed with incredible songs that will get stuck in your head and powerful performances.
Enchanted came out in 2007 and fans have been chomping at the bit for a sequel every since. Giselle, played by Amy Adams, is easy to fall in love with as she is sweet, innocent, and a true Disney princess. The time has finally come for a second film, this time titled Disenchanted. It may not be as perfect as the first film, but it is a worthy successor.
Disenchanted is set ten years after Enchanted, and now Giselle and Robert have a child of their own named Sofia. When this causes things to get a bit cramped in New York City, they opt to move to the suburbs, where Giselle believes the family's happily ever after lies. Morgan is now a teenager and along with that, comes the attitude of a teenager. The family finds themselves somewhat unhappy, so when Nancy and Edward come from Andalasia to give Sofia a birthday gift — a magic wishing wand — Giselle uses it to wish for a fairy tale life.
The issue lies in the fact that Giselle is a stepmother and what do all fairy tale stepmothers have in common? They are wicked, evil, vain, and just all around not good people. This, coupled with the fact that their new town has a "Queen" who doesn't have the best of intentions (Malvina Monroe played by Maya Rudolph), makes for an entertaining and suspenseful story.
The story that follows is a good one, and one that works well following the first film. It was more than worth the long wait, as it adds a lot to the story that we got before, and deepens the relationships between the characters as well as the connection that viewers feel to them.
Amy Adams steps back into this role as if she never left it. However this time she gets to have a lot more fun with Giselle. Seeing her explore her villain side is something most fans likely never expected to see, but she does it with ease. It works so perfectly within Disenchanted because of the talent of Amy.
Enchanted really dropped the ball in not giving Idina Menzel (who plays Nancy) a song, but Disenchanted makes up for that. Not only does she throw in a few lines alongside James Marsden (who plays Prince Edward) at the start of the film, she has a powerful ballad that will move even the coldest person to tears. It comes right at the climax of the movie and Idina does what she does best — gives us a song that fans of all ages will be singing for decades to come. She is a talent. A true talent.
The addition of Maya Rudolph is a very inspired choice. Her performance alongside Amy Adams' of Giselle is sure to deliver goosebumps. The two of them have wicked chemistry on screen and a coldness between them that truly works on screen. Their duet is one of the best songs in the film and not just because of the words and the tune — it is the performance that make this a highlight. More movies with the two of them together, please.
Speaking of additions to the cast, Gabriella Baldacchino who plays the teenaged Morgan, steps into this role confidently. She fits right in with the all star cast as if she was born for this role. She is relatable and easy to connect with. Giselle might be at the center of the story, but she is right alongside Morgan and Gabriella does not drop the ball. She is a very talented performer — both acting and singing — and we cannot wait to see where she goes from here.
Each and every one of the songs in Disenchanted is catchy and exciting. This is something that Disney does extremely well, and it continues with this newest film. Alan Menken and Stephen Schwartz once again prove just how talented they are by delivering songs that will be stuck in our heads for years, just as Happy Working Song has been since the day Enchanted was released.
The musical numbers themselves are huge and exciting. Having seen it at the premiere on the big screen, we only wish that other fans would have the option to do so. Disenchanted is one of those movies that just plays better in front of an audience on a massive screen. However, streaming it on Disney+ will still entertain, of course.
The biggest issue with Disenchanted is how long it is. It clocks in at around two hours and that runtime is felt, just a little, in the middle. That said, the story itself really moves at a decent pace. Robert's journey is laugh out loud hilarious at times, but feels out of place and unnecessary.
The overall feel of the movie, however, is very much like the first one. Which makes it easy to step back into this world. We even get some animated moments, which are both beautiful and exciting to watch.
Overall Thoughts
Disenchanted is magical from start to finish. It is a complete joy to see Giselle and her found family back on screen, and in a story that feels warranted. This is a worthy successor to a true classic movie, even though there is no way that it could ever top Enchanted. Maya Rudolph is the greatest addition to the cast, as she always excels at what she does. She is perfectly wicked and gives Amy Adams a run for her money — the two of them on screen together is priceless.
The new songs will be stuck in fans' heads for years to come, and the musical numbers are fantastic, as are the costumes. When it comes to the story itself it perfectly fits in with the first movie. It's charming and fun, with a bit of a twist. Even though it can get predictable at times, it has heart. A whole lot of it. This movie teaches lessons about family and friendship, and holding those you love dear as close as possible. It is touching and heartwarming, and a great way to wrap up the year.
Disenchanted is streaming now on Disney+ and we cannot recommend it enough — especially for Enchanted fans.
Rating: 3.5 out of 5
About Disenchanted
An all-new live-action musical comedy, "Disenchanted" is a sequel to Disney's box office hit "Enchanted" featuring the original cast from the heart-warming story of the lovable maiden from the fairy tale world of Andalasia who finally found her Prince Charming in the kingdom of New York City. A Disney+ Original movie directed by Adam Shankman, produced by Barry Josephson, Barry Sonnenfeld, and Amy Adams.
It has been more than 10 years since Giselle (Amy Adams) and Robert (Patrick Dempsey) wed, but Giselle has grown disillusioned with life in the city, so they move their growing family to the sleepy suburban community of Monroeville in search of a more fairy tale life. Unfortunately, it isn't the quick fix she had hoped for. Suburbia has a whole new set of rules and a local queen bee, Malvina Monroe (Maya Rudolph), who makes Giselle feel more out of place than ever.
Frustrated that her happily ever after hasn't been so easy to find, she turns to the magic of Andalasia for help, accidentally transforming the entire town into a real-life fairy tale and placing her family's future happiness in jeopardy. Now, Giselle is in a race against time to reverse the spell and determine what happily ever after truly means to her and her family.
Disenchanted is streaming now, only on Disney+.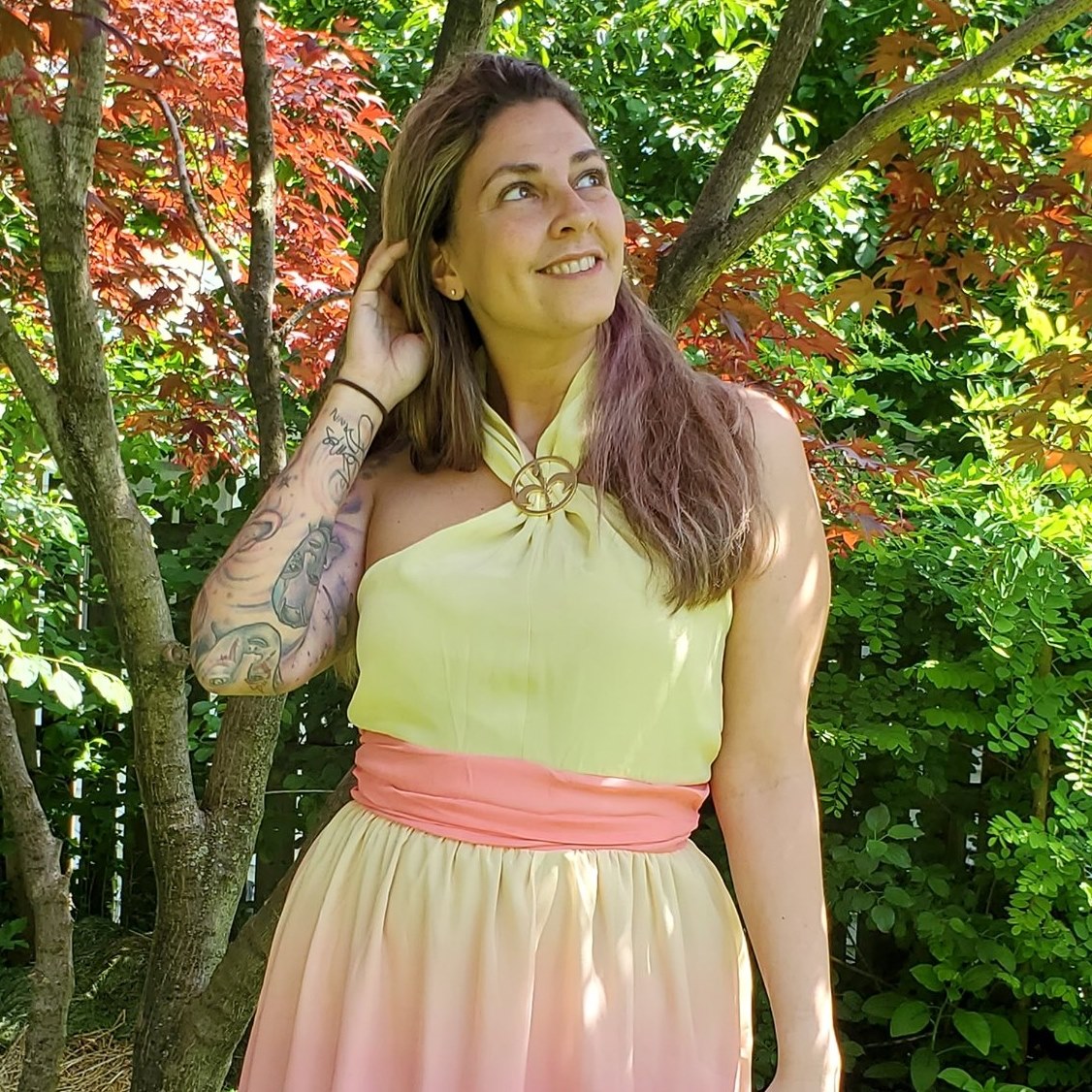 Tessa Smith is a Rotten Tomatoes Tomatometer-approved Film and TV Critic. She is also a Freelance Writer. Tessa has been in the Entertainment writing business for almost ten years and is a member of several Critics Associations including the Critics Choice Association, Hollywood Critics Association, and the Greater Western New York Film Critics Association.