Space Jam: A New Legacy is filled with character cameos, movie and TV show Easter Eggs, and so much more — here is all the ones we spotted.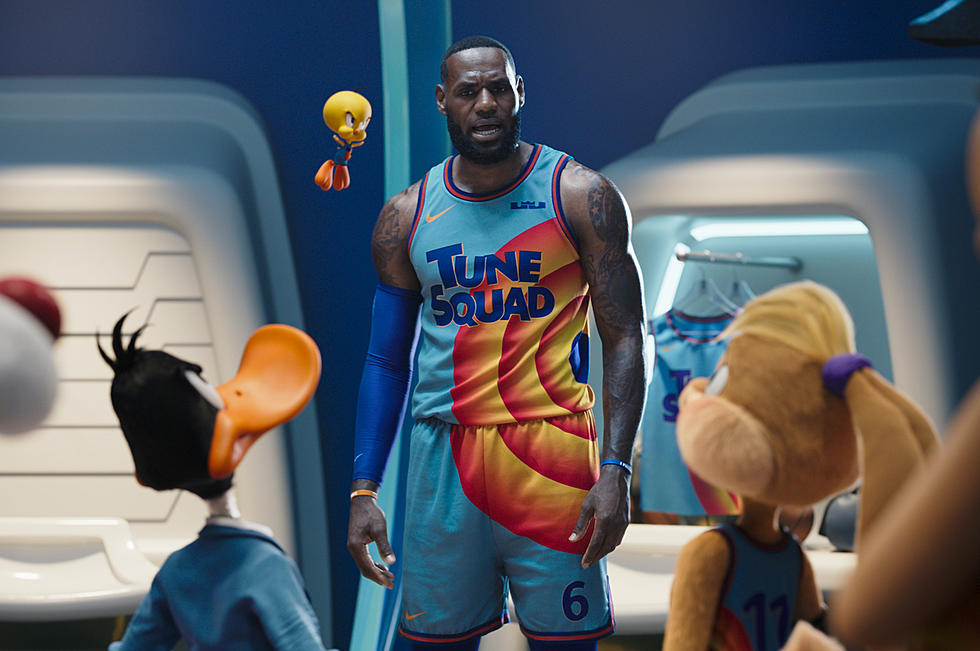 Space Jam: A New Legacy is one bit ball of Easter Eggs and character cameos. There is not one scene that doesn't have something to look at in the background. Now that it is out globally, here is a breakdown of all the cameos, Easter Eggs, and movie/TV show references that I found. If there is something I missed, don't be afraid to drop it in the comments!
Space Jam: A New Legacy Easter Eggs
The movie opens with a young LeBron James in 1998 getting ready for a basketball game. In this scene we see a Looney Tunes backpack, and he is playing a Looney Tunes game on Nintendo Game Boy. Of course, he is also wearing a number 23 jersey.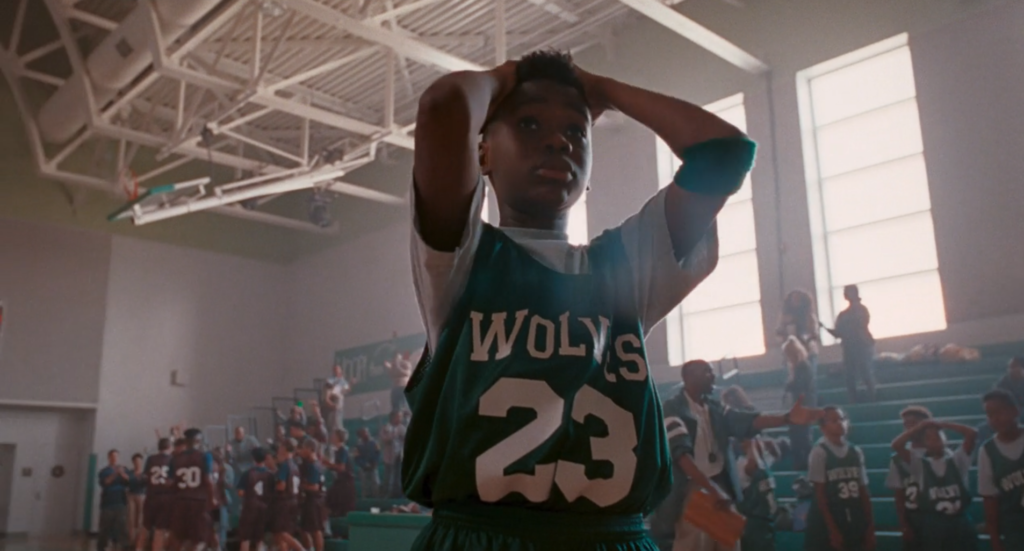 In Dom's room, a poster for the comic Book Xango can be spotted. It features a cover produced by comic artist and illustrator Hugo Canuto as part of an Orisha inspired Afro-Brazillian take on various Marvel Comics including Thor and The Avengers.
Sarah Silverman can be sitting at her office desk early in the movie with posters for Aquaman and Joker behind her. She's reading the November 25, 2020 issue of Variety trade magazine, which features Toon Saloon's Wolf Walkers on the cover.
A quick glimpse at her inbox reveals a selection of emails – all sent by names of artists working in Space Jam: A New Legacy's visual effects and story team. Gotta love when those who work on the movie get to be "in it" in Easter Egg form.
This scene of LeBron James and his sons is very reminiscent of a scene with Michael Jordan and his father from the original Space Jam film.
At Warner Brothers studio there are a ton of Easter Eggs — including movie posters for some of their newer films like Scoob!, Tom and Jerry, In the Heights, Matrix: Revolutions, The Big Bang Theory, Teen Titans Go to the Movies, Birds of Prey, Aquaman, and even James Gunn's upcoming The Suicide Squad.
Inside the studio, LeBron attends a pitch meeting for Warner 3000. During the presentation, many more movie posters are shown, most noticeable include the first Space Jam, 1989 Batman, Batman Returns, Batman Begins, LEGO Batman, Joker, Wonder Woman, Justice League, 2016's Suicide Squad, Dunkirk, Inception, Tim Burton's Willy Wonka, The Polar Express, Casablanca, Singin' in the Rain, The Matrix, Clash of the Titans, 1933's King Kong, The Mask, various Harry Potters and various TV series, including, Supergirl, The Flash, Black Lightning and The Big Bang Theory.
Also during the pitch LeBron is featured as Mr. Freeze going up against Batman, riding Game of Thrones' Drogon the Dragon, and in Gryffindor gear playing a game of Quidditch.
There are also several busts for characters such as Batman, Superman, Wonder Woman, Marvin the Martian, Gremlins' Gizmo, and Animaniacs' Dot.
As Dom leaves the meeting, more busts can be seen lining the hallway, as well as a photo of the famed WB water tower and another of the actual Warner Brothers – the studios founders – Harry, Albert, Sam and Jack.
As Lebron is dropped into Tune World, he passes by many worlds in the Serververse, including Orbit City from The Jetsons, Bedrock from The Flintstones, Hogwarts from Harry Potter, Westeros from Game of Thrones, Themyscira from Wonder Woman, and Emerald City from The Wizard of Oz.
Once he arrives in Tune World there are many classic Tune gags that are referenced including "Duck Season / Rabbit Season" bit from Chuck Jones' classic Hunting Trilogy, the usage of TNT, and other ACME-brand weapons and traps, a cliff-drop gag, the hilarious Road Runner and Wile E Coyote 'fake tunnel' gag, as well as the 'scientific name' gag often featured in their shorts.
Bugs appears briefly as a barber – referencing Chuck Jones' Rabbit of Seville and then even transforms into the meme-famous Big Chungus!
Al G transforms into a Steve Jobs like outfit and even stands behind an Al G Bar, a reference to the Apple stores.
Marvin the Martian turns up in Toon Town, and points his gun at Bugs and LeBron, flicking through various "ray" settings – finally landing on Charles Ray… an allusion to jazz and soul great, the Genius Ray Charles.
Across the front of Marvin the Martin's ship is written "A113." This is a number found hidden in LOTS of animated films and series, that have been worked on by various alumni of the CalArts school – particularly those who graduated from the school in the middle-80s and went on to lead the animation renaissance at Disney, Pixar and other studios. A113 was the number of the classroom used by graphic design and character animation students such as Brad Bird, John Lassetter, Tim Burton, Stephen Hillenberg, Genndy Tartakovsky, Glen Kean, Andrew Stanton and Henry Selick.
When rounding up the various Tunes from other worlds, we see LeBron as a Hufflepuff.
In DC world LeBron and Bugs become Robin and Batman, Daffy Duck is seen as Superman, and Porky Pig resembles Jimmy Olsen. On a train platform are seen various DC series characters including Clark Kent, Commissioner Gordon, Selena Kyle, Dick Grayson and Jimmy Olsen. Inside the train we even get a glimpse on Lois Lane, Alfred the butler, and pre-clown Harley Quinn.
They pass through Aquaman's underwater world of Atlantis, and later Superman is seen coming to the rescue, before being, flanked by the Justice League – including Aquaman, Batwoman, The Green Lantern and The Flash.
In the Mad Max world we find the Road Runner and Wile E Coyote taking part in the enormous chase sequence from Fury Road. LeBron and Bugs are seen here, behind the wheel of a vehicle as War Boys.
An iconic Austin Powers scene is shown which inserts a couple of toons into a scene with Doctor Evil and his son Scott. Elmer Fudd takes the role of Mini Me, while Sylvester is seen as Doctor Evil's cat.
Casablanca World shows Sam playing the piano in the role of Dooley Wilson's pianist character, also named Sam, from the original movie. Ingrid Bergman's classic line "sing it Sam" is played. We then get a glimpse of Bugs and LeBron in chic white suits, resembling the get-up of Humphrey Bogart's Rick in the movie.
In Game of Thrones' world, Foghorn Leghorn is seen dressed as Daenerys riding a dragon.
Matrix World sees Granny inserted into the opening scene of the original film, in place of Trinity. Speedy Gonzales is a Neo-esque character and he slows time to dodge bullets. LeBron and Bugs also burst in, Bron dressed like Neo and Bugs resembling Morpheus.
One of the coolest Easter Eggs from Space Jam: A New Legacy takes place inside a Wonder Woman comic book where Lola Bunny is found participating in the Trial of the Gods in order to become an Amazonian Warrior. Of course Wonder Woman is there, and Bugs and LeBron arrive in warrior outfits. This is all done in the aesthetics of a comic book panel. the lasso of truth also makes an appearance.
Rick and Morty make an appearance in space, dropping off Taz stating they are done experimenting on him, and will never forget what they have seen.
During the game, a license plate that says "Back to the Bucket" pops up, clearly a reference to Back to the Future.
Before their transformation, the Tune Squad can be seen in their OG basketball uniforms from the original Space Jam.
Actor, rapper and comedian Slink Johnson, best known as the star of TV sitcom Black Jesus, is seen as a Warner Bros Studio Security Guard.
Space Jam: A New Legacy Basketball Game Character Cameos
The majority of Space Jam: A New Legacy takes place at the basketball game where there are an insane amount of character cameos. There are lots of well known characters, as well as obscure characters. Here is everyone I spotted, but feel free to let me know if I missed any.
the entire Flintstones cast – including the obscure Great Gazoo
the Jetsons family
Yogi Bear and Boo-Boo
Magilla Gorilla
Jabber Jaw
Captain Caveman
Mighty Mightor
Peter Pottomus and his time travelling balloon
Space Ghost
Rick & Morty
Frankenstein Jr and his pal Buzz
Blue Falcon and Dyno Mutt
Igoo, Gleep and Gloop from Herculoids
Dick Dastardly, Mutley and Penelope Pitstop from Wacky Races
The ThunderCats
Migo, Gwangi, and Meechee from Smallfoot – the latter two actually voiced in the original film by New Legacy cast members LeBron and Zendaya
The Iron Giant
The Warner siblings from Animaniacs
'66 versions of Batman and Robin
'66 Batman villains such as Catwoman, The Penguin, and the Joker
'92 Penguin
'92 Joker
'89 Joker
'97s Mr. Freeze
'89 Joker goons
Joker girls
General Zod
Wizard of Oz characters such as Dorothy and Toto and the Wicked Witch and one of her Monkeys
Game of Thrones characters such as the Night King and White Walkers, and the dragon Drogon
Lord of the Rings characters including Frodo, Gandalf, Gollum and Elvin Warriors
Harry Potter Quidditch players from both Gryffindor and Slytherin
Lord Voldemort
Agents from the Matrix including Mr. Smith, Mr. Anderson, and franchise heroine Trinity
King Leonidis, Spartan Warriors, Immortals from 300
Wonder Woman Amazonians
War Boys from Mad Max
King Kong
The Mask
Pennywise
Robocop
Beetlejuice
Gizmo and the Gremlins
Alex De Large and the Clockwork Orange Droogs
Tony Soprano
Mamma Fratelli from The Goonies
Will Smith's Jim West from Wild Wild West
Baby Jane from Whatever Happened to Baby Jane
Nymphomaniac Nuns from The Devils
present-day Clint Eastwood
Zorro
The Green Hornet
Alice in Wonderland
generic cowboys, gangsters, knights, pirates, 19th century ship captains, and devils – representing various film genres.
1920s film starlets
1950s film starlets
Of course, many fans were hoping to see Michael Jordan make a cameo appearance in Space Jam: A New Legacy and he did — sort of. During halftime Sylvester spots Michael B. Jordan and brings him to the locker room.
There is a cameo from other stars of the original Space Jam though — the Nerdlucks, seen cheering for the Goon Squad.
Space Jam: A New Legacy Film & TV References
Moving past the Space Jam: A New Legacy Easter eggs and character cameos, there are also a lot of quick references to Warner Brothers franchises, including the following:
What in the Matrix hell? – Matrix reference.
Who dares disturb the great and powerful LG? – The Wizard of Oz reference.
Jiggle me this! – Riddler's classic catchphrase "riddle me this" in Batman Forever reference.
THEY'RE ALIVE… THEY'RE ALIVE!! – "he's alive… he's alive!" cry of Doctor Frankenstein in Universal's 1931 Frankenstein film reference.
Bugs Bunny mimicks the classic voice patterns of William Shatners Captain James Kirk of the original Star Trek series on Marvin's ship.
Winter, I say, Winter is coming! – a reference to Game of Thrones
King Kong ain't got nothin' on me! – Training Day reference
Space Jam: A New Legacy Sports References
There few more must mention references that all have to do with the sports world. The first is the Nike symbol and a basketball net when LeBron crashes into Tune World.
Bobby Knight – aka The General – one of the most successful College Basketball coaches of all time – well-known for wearing red sweaters on the court. One 1985 incident also saw him throwing a chair across the court, which is parodied in the movie.
AL G is also seen in a parody of NFL Coach Bill Belichick of the New England Patriots.
A reference to the Wild World of Sports during the game.
Randy Mims, LeBron's personal assistant and manager also appears in a brief cameo during a Barber Shop sequence.
The game comes to the end with a huge power-play by LeBron, which results in himself and Al G being immortalized in a trading card-like moment.
Various sporting cameos in Space Jam: A New Legacy include:
sportscaster Ernie Johnson, Jr
Sue Bird
A'ja Wilson
Draymond Green
Anthony Davis
Damian Lillard
Klay Thompson
Nneka Ogwumike
Diana Taurasi
Rhonda Rousey (in the credits)
Enjoyed these Space Jam: A New Legacy Easter Eggs?
Be sure to check out the best Space Jam: A New Legacy quotes!
About Space Jam: A New Legacy
Superstar LeBron James and his young son, Dom, get trapped in digital space by a rogue AI. To get home safely, LeBron teams up with Bugs Bunny, Daffy Duck and the rest of the Looney Tunes gang for a high-stakes basketball game against the AI's digitized champions of the court — a powered-up roster called the Goon Squad.
Space Jam: A New Legacy hits theaters and HBO Max on July 16th.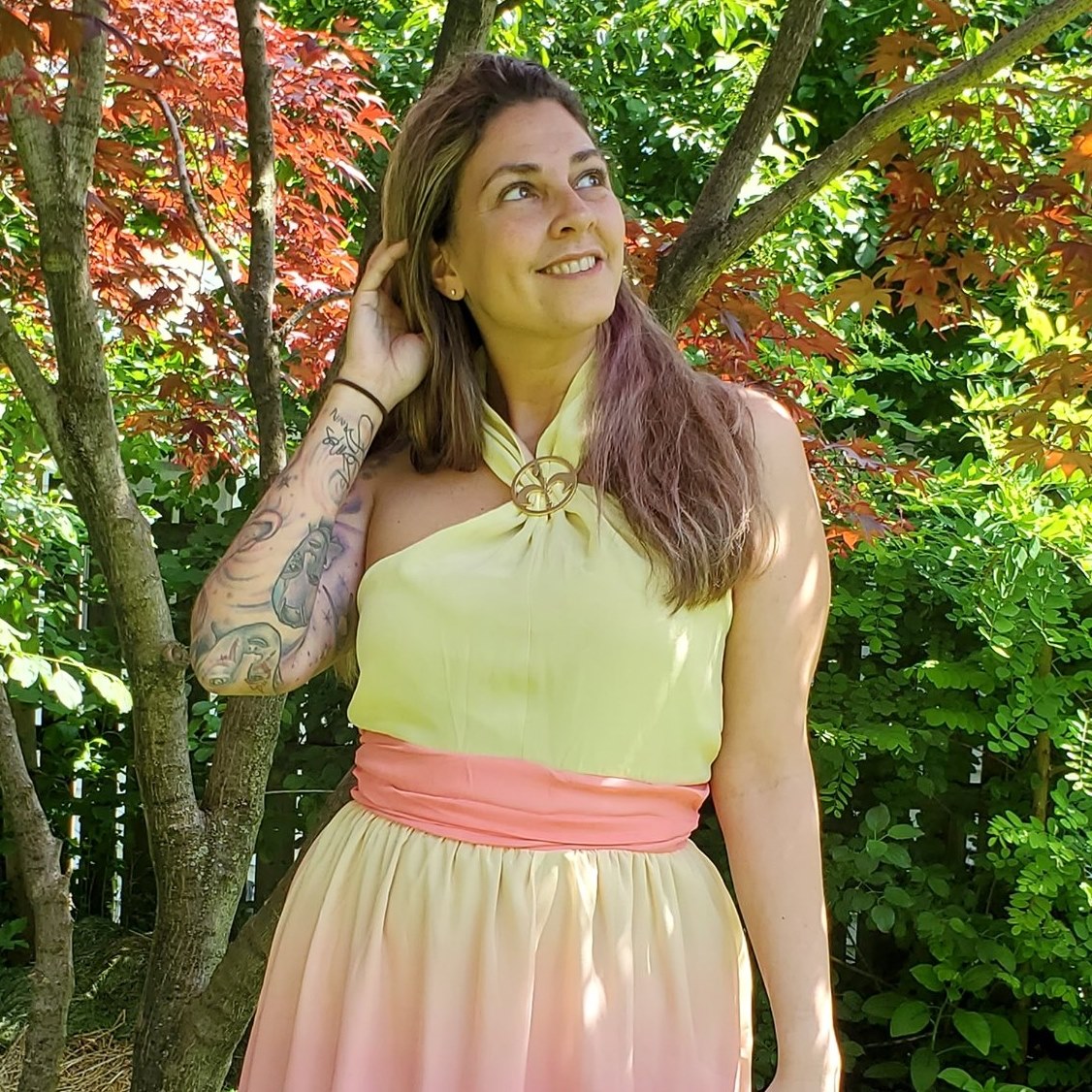 Tessa Smith is a Rotten Tomatoes Tomatometer-approved Film and TV Critic. She is also a Freelance Writer. Tessa has been in the Entertainment writing business for almost ten years and is a member of several Critics Associations including the Hollywood Critics Association and the Greater Western New York Film Critics Association.