This morning a new trailer for Frozen 2 dropped, and it gave us some new characters, as well as some more of the plot. I was already thrilled for this movie, but now, I am even more excited! It looks like we are going to dive in to Elsa and her magic more, and I am here for it! She certainly isn't the only one out there with special powers….
My Reaction
There is so much going on in this new trailer for Frozen 2. We learn a lot more about where the plot and story line are going. We see more of Elsa and Anna's mother and father (yay!) — but are they alive or dead? That we don't really know. I have to assume they are dead, but maybe not.
We also see others that know magic, and that is pretty cool. Will Elsa fall to the dark side? I am not sure, but hopefully it all works out at the end. She has her sister Anna by her side, and that is all that matters.
Now that Frozen 2 is in theaters, read my spoiler free Frozen 2 review. And don't forget to check out these 10 powerful Frozen 2 quotes!
KING AGNARR
The son of King Runeard, King Agnarr is married to Queen Iduna, and is Anna and Elsa's father. King Agnarr loves his family, and would do anything to ensure his daughters' wellbeing and safety. Alfred Molina lends his voice to King Agnarr.
In Frozen 2, we learn a lot more about Anna and Elsa's parents — which I love! It was such a mystery before, and now we get much more of an insight into them and their past.
YELANA
The unspoken leader of the nomadic Northuldra. She is fiercely protective of her family and community but is known to soften when people show an understanding of nature and their environment. Martha Plimpton was called on to bring Yelana to life.
I love Yelana in Frozen 2! She is strong willed, and pretty amazing if you ask me! I hope we see more of her in the future.
HONEYMAREN
A member of the Northuldra, Honeymaren is a true free spirit and wants nothing more than to bring peace to the enchanted forest. She is bold and brave, with a reverence for the magic of nature. Rachel Matthews provides the voice of Honeymaren.
Honeymaren is one of my favorite characters in Frozen 2. I love her bond with Elsa — maybe that will lead to something in the future?
RYDER
Eager and fun, Honeymaren's brother Ryder embraces life with optimism. Ryder's love of reindeer might just rival Kristoff's – but unlike Kristoff, Ryder has never roamed the great plains outside of the Enchanted Forest. He longs to embrace the world and venture beyond the magical mist. Jason Ritter lends his voice to Ryder.
Ryder is so much fun in Frozen 2! Totally one of my favorite new characters — and not only because I love Jason Ritter! The fact that he is a lot like Kristoff, who I adore, helps!
BRUNI
Curious and cute, this salamander inhabits the Enchanted Forest. Though shy at first, Bruni can't help but be drawn to Elsa's icy magic and enjoys the cool snowflake treats she creates.
Cutest salamander EVER. I need all the Bruni merchandise. Now please.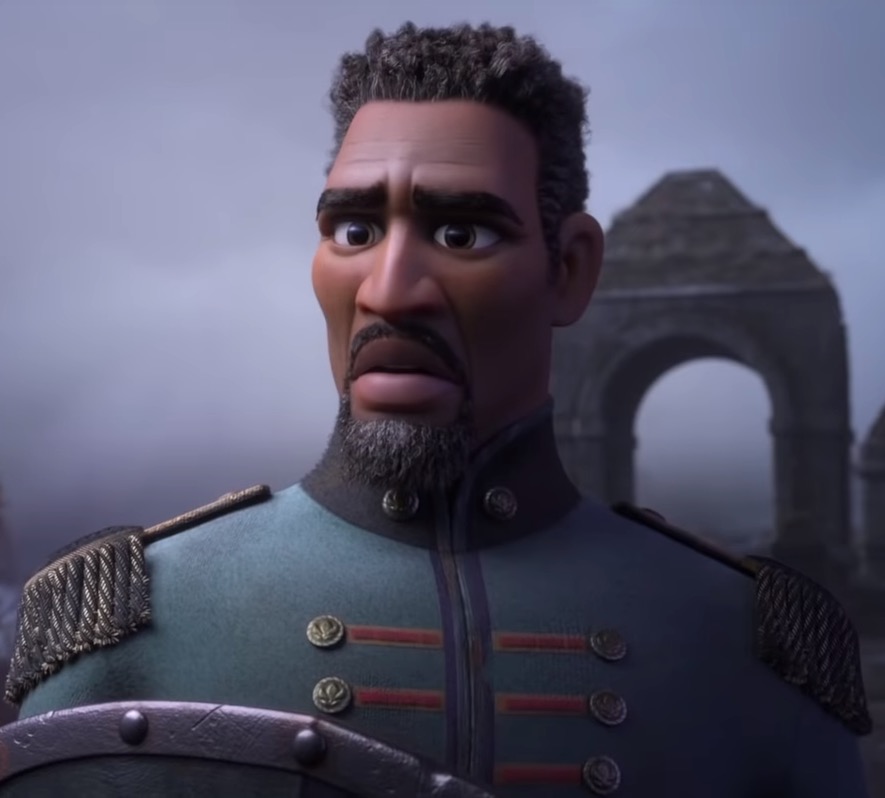 LIEUTENANT MATTIAS
Mattias was one of the most respected members of the guard, with a portrait hanging within the library of Arendelle Castle, second on the right of Runeard. Mattias was also present during the supposed peace gathering between Arendelle and the Northuldra. A war broke out between the two sides, which angered the spirits of the Enchanted Forest. Runeard was killed in battle, prompting the spirits to seal off the forest from the rest of the world, trapping Mattias, his surviving men, and the Northuldra inside, and preventing outsiders from entering.
Lieutenant Mattias is a great addition to the Frozen 2 cast. A tie in from Anna and Elsa's past and their father, he actually does a lot for the story.
About Frozen 2
Why was Elsa born with magical powers? What truths about the past await Elsa as she ventures into the unknown to the enchanted forests and dark seas beyond Arendelle? The answers are calling her but also threatening her kingdom.
Together with Anna, Kristoff, Olaf and Sven, she'll face a dangerous but remarkable journey. In "Frozen," Elsa feared her powers were too much for the world. In "Frozen 2," she must hope they are enough.
Frozen 2 Hits Theaters November 22, 2019!
Facebook: https://facebook.com/DisneyFrozen/
Twitter: https://twitter.com/DisneyFrozen
IG: https://www.instagram.com/DisneyFrozen/
#Frozen2