The latest Pixar short, Bao, is adorable, entertaining, and shocking. Yes, shocking. Once you see it, you will know what I mean. I refuse to give spoilers but I promise you, this is a must watch short. It quickly became my favorite Pixar short, which is saying a lot. I was lucky enough to chat with the Director, Domee Shi, at Pixar Studios in April in order to learn all about Bao. She is actually the first female director for a Pixar short – talk about impressive.
The Story Behind Bao
Bao took almost four years to create and is loosely based on Domee's childhood. She grew up with Chinese parents and has always had a love of food. "Bao" has two meanings – little steam bun (such as a dumpling) and treasure, something precious. Once you see this short you will know that Bao is the perfect name for it. Domee calls Bao a Chinese version of the gingerbread man, and I that is a perfect way to describe it.
While working on Toy Story 4, Domee drew almost all of Bao herself. When there was an open call for the next Pixar short, she pitched Bao and to her surprise, it was chosen. As she was growing up, her mom was always watching over her, and she used that when creating this short. Bao truly is about a mother's love, and a mother dealing with their child growing up and moving on in life. Her mother always used to tell her "I wish I could put you back in my stomach". In watching Bao, you can see where this line really inspired the story.
Perfecting Dumpling
The star of Bao is an adorable little dumpling named Dumpling. He is the cutest thing ever and I really hope they make many different plushes of him – maybe even a tsumtsum! Domee talked about how it was important to make sure he was created perfectly. In order for all the animators to understand how dumplings were made, she brought her mom in to give a cooking class. They all made, and watched Domee's mom make, dumplings. This way they could really see them, touch them, hold them – learn how they move and how they act. Dumpling is squishy and stretchy – and perfection – thanks to this exercise.
Designing Mom
After watching Bao, we also got to speak with Rona Liu, the Production Designer. Bao was her first time in this role and she was very excited to take it on. She knew it was important to make this story look and feel cute, so she was heavily influenced by Chinese folk art. The simple design, characters who are rounder and cuter, were the inspiration in drawing the characters of Bao. Rona knew Mom needed to make bold fashion choices. She was very much based on the actual Grannies of Chinatown. However, in scenes where she was feeling low, the colors of her clothing became muted.
Set Design
As I mentioned in my Incredibles 2 animation article, the set plays a supporting role in movies. The Bao team wanted to make sure there were not straight lines in the short. Chinese art is not concerned with perfection, so this was very important. The house was balanced between East and West – American and Chinese culture both playing a part in the decor. The kitchen was very much based on Rona's mother's kitchen. And of course, the lighting always supported Mom's emotional journey.
The Music
While talking with the Producer, Becky Neiman, she stressed to us just how important the score of Pixar shorts are. They carry such a heavy load because there is no dialogue – and I must say, the music throughout Bao was perfection. Becky also said something that really stuck with me. "Food is the physical demonstration of a mom's love." This is so true, and plays a very important role throughout Boa.
The Moral of the Story Is…
Every Pixar short has a moral – it wouldn't truly be Pixar if it didn't. Bao has a lesson that all parents need to learn. This one was tough on me, but that is partly why I loved it. I will say no more, just be sure to go see Bao playing in theaters with Incredibles 2 – opening this weekend!
Get The Recipe
Want to make the perfect dumplings? Domee's mom has shared her delicious recipe with us, so enjoy!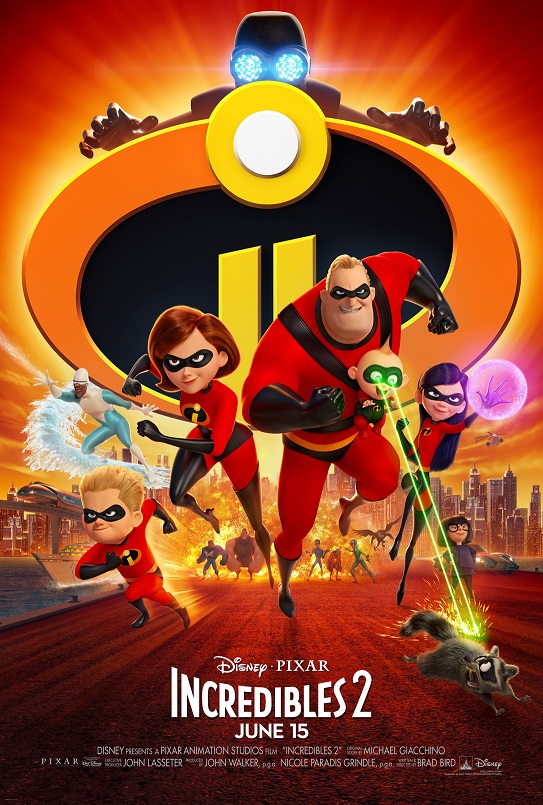 About Incredibles 2
In Incredibles 2, Helen is called on to lead a campaign to bring Supers back, while Bob navigates the day-to-day heroics of "normal" life at home with Violet, Dash, and baby Jack-Jack—whose super powers are about to be discovered. Their mission is derailed, however, when a new villain emerges with a brilliant and dangerous plot that threatens everything. But the Parrs don't shy away from a challenge, especially with Frozone by their side. That's what makes this family so Incredible.
Bao & Incredibles 2 hit theaters 6/15!
Like INCREDIBLES 2 on Facebook: https://www.facebook.com/PixarTheIncredibles/
Follow INCREDIBLES 2 on Twitter: https://twitter.com/TheIncredibles
Follow INCREDIBLES 2 on Instagram: https://www.instagram.com/theincredibles/
Visit the official INCREDIBLES 2 website here: http://disney.com/incredibles2