Looking for a delicious keto recipe? Here are 5 of my dinner favorites — and a to die for keto approved dessert recipe! Plus a weight update.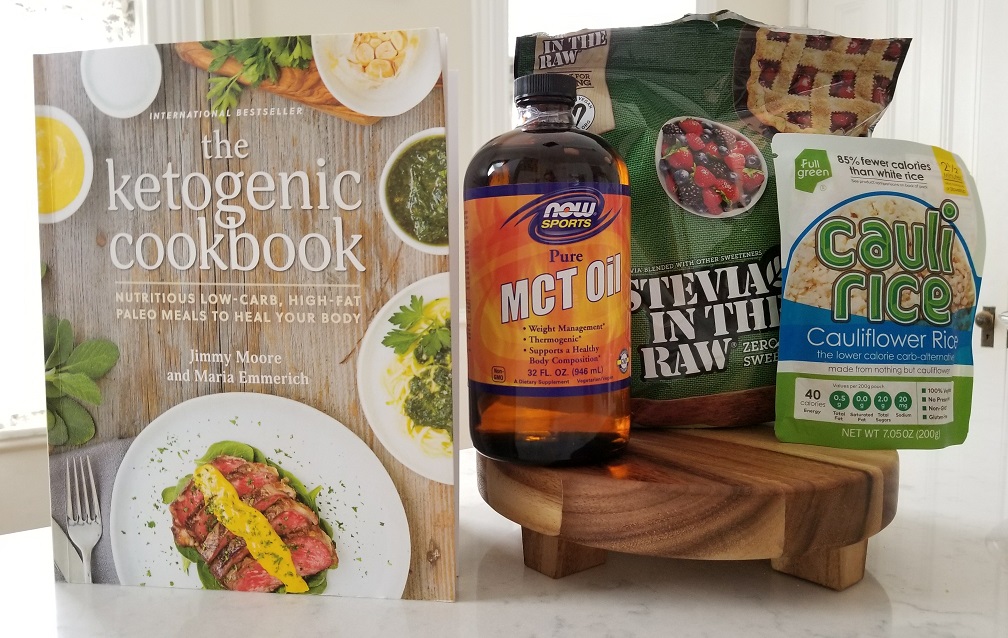 I started the Keto way of eating a month ago now. As you might know already, my last update was at the two week mark. I had lost 10 pounds, going from 174 to 164. With most diets, it gets harder to lose as time goes on. Which makes sense since you start to have less to lose.
Well, after one full month of Keto eating (January 1st to February 1st), I now weigh in at 159. That is 5 pounds in 2 weeks, and 15 pounds in one month – which is pretty good. I stuck to Keto eating and working out almost daily. However, in the interest of honesty, I did "cheat" a little bit (I had a vodka, water, and MIO drink a couple of times – which is Keto approved and didn't kick me out of Ketosis).
I expected my weight loss to slow down, but I won't lie. I was a little disappointed. Having gone down so fast, so quickly, to start with boosted my confidence. Because I was not feeling great about my loss, I put two pictures side-by-side. One from the day I started, and one from the day I was feeling down.
I noticed myself toning up and could definitely see a lot of inches lost. OK, this IS working I told myself. My first goal is 155, so 4 pounds away. Hoping to hit that goal before I spend 12 days at Disney – wish me luck!
Favorite Recipes
I have had many people ask me about the food I have been eating. Because of that, I decided to share 10 of my favorite recipes. These are ones we have already made at least twice – and that the entire family has enjoyed.
Keto is not just a diet, it is a lifestyle change. A new way of eating. These recipes have made it much easier for me and my husband to stick to this, and I hope you enjoy.
Chicken Bacon Ranch Cream Cheese Crust Pizza
First, make your cream cheese crust using this recipe. Cut chicken breast in to squares and cook through. Use ranch dressing as sauce for the pizza as desired and top with mozzarella, cheddar, cooked and cut up bacon (or bacon bits), and chicken. Top with more ranch dressing as desired. Bake at 350 for approximately 20 minutes.
If these types of pizzas aren't for you, try making pizza sauce from tomato paste, and then top with whatever you love most!
Buffalo Chicken Celery Boats
These are the perfect snack for game days or lazy Sundays! And they only take a few minutes to make. Simply cook up some Frank's Buffalo Chicken Dip (we opted out of the blue cheese crumbles) and scoop it into sliced up celery. Top with ranch dressing if desired.
Philly Cheese Steak on 90 Second Keto Bread
This is a recipe that we came up with on our own – and is one of our favorites! It is delicious, and also super easy to make.
1.5 lbs of beef
1 Bell Pepper (chopped)
1/4 Onion (chopped)
6 Slices of deli purchased cheese (we use Sharp White Cheddar)
1/2 cup beef broth
1 tablespoon Worcester Sauce
Salt & Pepper to taste
Brown beef in pan. Add chopped peppers and onions. Stir for 2 to 3 minutes and add beef broth and Worcester Sauce. Stir until well mixed and broth is gone. Add salt and pepper to taste. Lay cheese slices on top and melt. Scoop up and put on a slice of 90 second Keto bread if desired. Makes 2 to 3 servings.
Broccoli Bacon Chicken Casserole
Another really easy recipe that we found online is Broccoli Bacon Chicken Casserole. It is easily a favorite in the house – and a great way to get the kids to eat their vegetables!
Chicken Cream Cheese Stuffed Peppers
The recipe quickly became one of our favorites. We opted to add bacon bits on top. Personally, I skip the salsa, but my husband loves it! Even my daughters devour this meal as soon as it is put in front of them. Sometimes we add bacon bits for fun, which you see pictured above. I like to serve it with a side salad.
Cinnamon Swirl Cheesecake
If you are missing sweets, this recipe is sure to take care of that for you. I found it in Maria Emmerich's ketogenic cookbook that we got when we first started this way of eating. Cheesecake has been one of our family's favorite desserts for quite sometime. So it was something that we were really missing. We had so much fun making this cheesecake all together, as a family. Which made it taste even sweeter!
Do You Have A Favorite Keto Recipe?