This post contains affiliate links.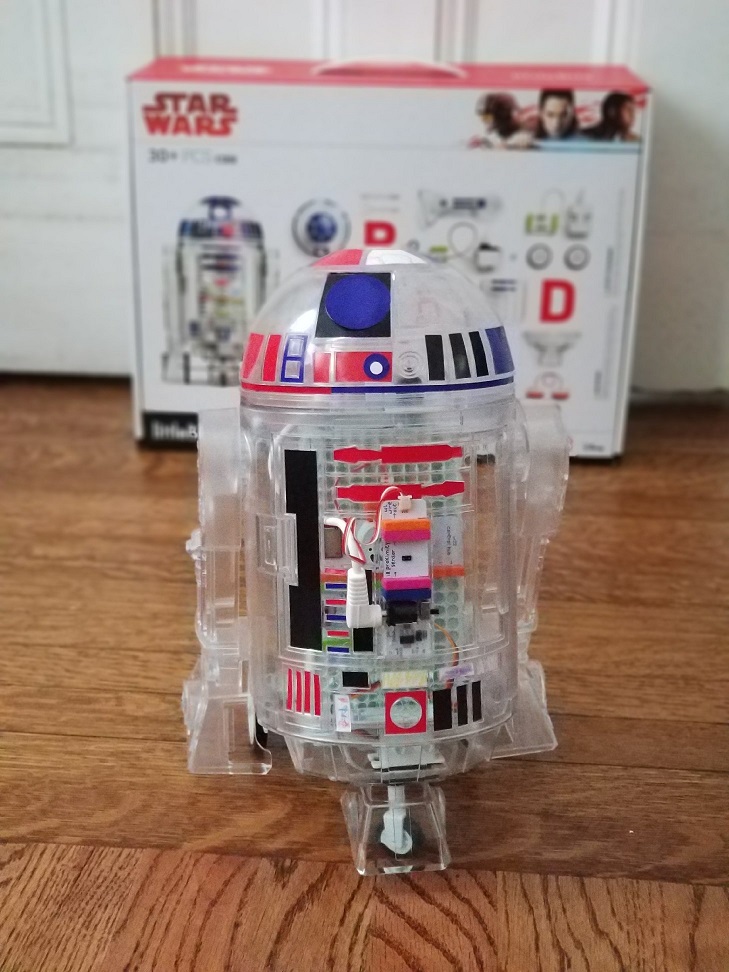 My husband is big into the latest and greatest technology. For years, he has been talking about littleBits and how he couldn't wait to get our young daughters started on coding and creating circuits. He is right when he says this is an ultra important skill for kids to have these days. littleBits are a great way to help kids easily put together circuits for all kinds of inventing. Their electronic building blocks are color-coded, magnetic, and reusable. While in LA for the Thor: Ragnarok Event, I had lunch with them to get a hands-on experience with the Star Wars Droid Inventor Kits. My daughters and husband were thrilled when a couple of these kits arrived at our house for them to play with!
About the Star Wars Inventor Kit
Kids can create their own Droid and bring it to life using littleBits electronic blocks! With the Droid Inventor app, they'll give their Droid new abilities and take it on 16+ missions. With the wave of a hand, kids can guide their Droid like they are a Jedi using the Force. Everything's on the FREE companion app! From video instructions to missions & controls, this is a Droid Inventor's most important tool.
Our Experience
littleBits are so easy for kids to use, that my 6 year old put together a Star Wars Droid all by herself. Yup! After doing one with my husband, she opened up her own and put it together without any help! I was blown away (and admittedly, super proud!). My husband was beyond excited as well. He is really looking forward to customizing their Droids together and programming them to do all sorts of amazing things! Stay tuned for more videos – they aren't done yet!
The littleBits Droid Inventor Kit is going to be one of the must have gifts for this holiday season – I can guarantee it! Little (and big!) inventors everywhere are going to want to create their own Droids. This is the perfect STEAM (Science, Technology, Engineering, Art, and Math) gift. You can customize them to do just about anything – from serving drinks and food, to drawing pictures with a marker – the possibilities are endless!
Black Friday & Cyber Monday Deals
In case you were on the fence about a littleBits Star Wars Droid Inventor Kit (how could you be? These things are awesome!), they have Black Friday and Cyber Monday deals that are sure to convince you! Consumers interested in purchasing the award-winning Droid Inventor Kit will have the opportunity to take advantage of a 20% off discount on littleBits.cc, Walmart.com, Amazon.com, ShopDisney.com, as well as Walmart and Disney stores nationwide from Thursday, November 23, 2017 through Monday, November 27, 2017. This holiday season, the littleBits Star Wars Droid Inventor Kit is sure to be at the top of many kid's holiday wish list!
littleBits Competition
On November 15th, littleBits announced the littleBits Competition: Droid Inventor Kit which invites kids, families, and Star Wars fans (residing in the US, UK, and Canada) to share their own unique Droid creations with the global inventor community! The competition will run from November 15, 2017 to January 10, 2018. Fans and families will be able to submit their own leading-edge Droid design creations. Submissions will be judged by Star Wars: The Last Jedi stars Daisy Ridley (Rey) and Kelly Marie Tran (Rose Tico) alongside Ayah Bdeir (founder and CEO of littleBits) and Kathleen Kennedy (president of Lucasfilm).
Killer Prizes
I know my husband and daughter are planning something EPIC to submit – and you should too. I mean, just look at this list of incredible prizes. You could be one of 6 lucky winners (3 from each category!) to take home inventor treasure.
Categories:
PADAWAN LEARNERS: Don't be afraid to use all the Bits you own, and add craft materials like cardboard, styrofoam, pipe cleaners, mom's jewelry (you didn't get the idea from us!) – whatever's at home or in your makerspace.
JEDI MASTERS: Are you a master maker? Do you create complex inventions on the regular? Could you earn an honorary degree in Droid Invention? This category's for you! Start with Bits, then level-up. And up. And up!
Prizes:
FIRST PLACE: LUCASFILM DREAM TRIP. Grab the fam. We're sending you to San Francisco to get a VIP tour of Lucasfilm! You'll also get $500 USD to spend at littleBits.cc.
SECOND PLACE: SIGNED R2-D2 REPLICA. Take home an invaluable piece of Star Wars with autographs from the cast of Star Wars: The Last Jedi. Plus you'll get a littleBits Code Kit!
THIRD PLACE: DISNEY SHOPPING SPREE. Invent more magic with $200 USD to spend at any Disney store, and bag some sweet littleBits swag.
Which one would you like to win the most? There is no way I could decide – I would be happy with any of them! Start planning now, and get your submission in by January 10! Get all the contest details and submit yours here.
Connect with littleBits on Social
Facebook: https://www.facebook.com/littleBitselectronics
Twitter: https://twitter.com/littleBits 
Instagram: https://www.instagram.com/littlebits/
YouTube: https://www.youtube.com/user/littleBitsInc
Pinterest: https://www.pinterest.com/littleBits/
#littlebits | #InventorsWanted