The reviewer has been compensated in the form of a Best Buy Gift Card and/or received the product/service at a reduced price or for free.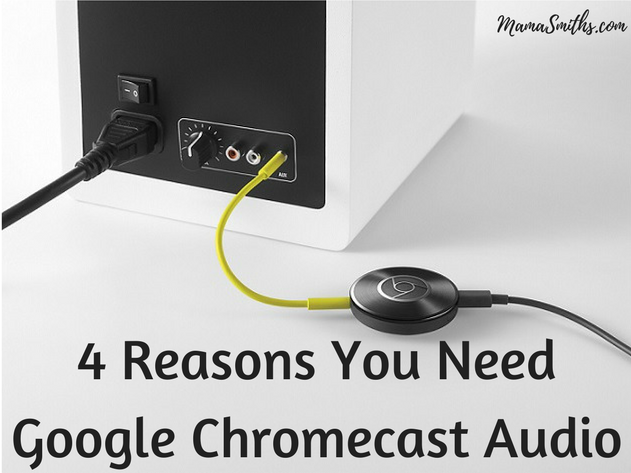 Music is really important in my family. We all connect to it in one way or another and constantly have it playing throughout the house. Of course, we have issues with our bluetooth speakers cutting in and out, and trying to get it to play in multiple rooms – but not anymore thanks to Google Chromecast Audio! Now we can play music, seamlessly, throughout the house. We can play it from our phones, tablets, or computers – meaning no more drained cellphone batteries! We love Google Chromecast Audio, and we think you will too! Here are 4 reasons why you need it in your life!
Listen to your favorite tunes on your speaker
By using your phone, it's easy to play, pause, or change the volume from anywhere in your home. Not only that, while streaming, you can still text or call without interrupting what's playing or draining your battery! This is a huge plus for me because I am on my phone for work constantly – and I enjoy listening to music throughout the day. Being able to connect to a speaker to listen to my music helps save my phone's battery life, and allows better quality music.
Crystal clear sound, powered by the cloud
My favorite thing about Google Chromecast Audio is that it can stream over Wi-Fi, not Bluetooth. This has been a life (and battery) saver for us. Having our phones constantly connected to Bluetooth drains our battery energy faster than I could have ever imagined. Half the time we need to have our phones plugged in while they are connected to speakers, which kind of defeats the purpose. Being able to use Wi-Fi makes the music quality clearer and not spotty as well.
Enjoy hundreds of your favorite audio apps
Stream millions of songs, radio stations, and podcasts through apps like Pandora, Spotify, YouTube Music, and Google Play Music. This is great because my family likes a variety of music. During dinner, we play kid's channels low in the background now. This has been a lot of fun for my daughters – and my husband and I! Find compatible apps here.
Play music everywhere with Multi-room
Now you can easily fill every room in your home with synchronous music by simply grouping Chromecast Audio devices together. Now you can listen to the same song on multiple speakers. I cannot tell you how much I love this feature! I move around the house a lot – especially on cleaning days – so this has been great! I can now keep listening to my favorite songs with ease as I move room to room.