This post contains affiliate links.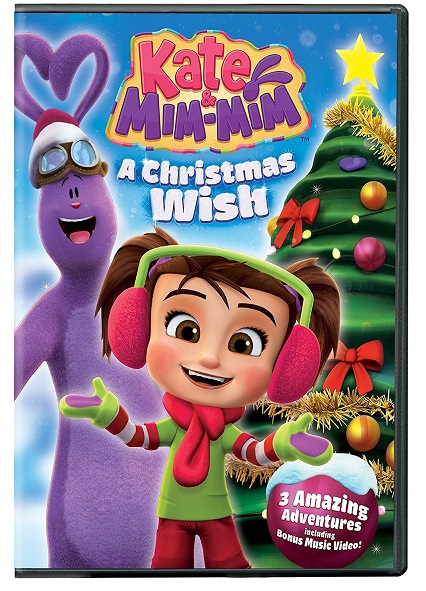 Celebrate Christmas with Kate & Mim-Mim and their new DVD, A Christmas Wish! My girls and I are huge fans of this Disney Junior TV show and already have a couple of the DVDs. We were really excited to see a Christmas special DVD as it has become tradition to watch Christmas specials starting every November (we LOVE Christmas!). Since we received an advance copy, we watched all the episodes the first day that it arrived. The episodes chosen to be on this disk are perfect for the holiday season! This DVD would make a great stocking stuffer for your little ones as well.
In the story "A Christmas Wish," which is a special extended adventure, Tack's letter launcher is used to send Christmas wishes to Santa. After blasting off for the North Pole, the letter launcher malfunctions, landing in the wrong location and destroying the beautiful Christmas tree Kate and Mim-Mim decorated with their Mimiloo friends. With their Christmas tree ruined and no way to send their letters to Santa, can Christmas be saved? In addition to "A Christmas Wish," this DVD features two more exciting tales in which Kate and Mim-Mim go snow bowling, get stuck inside an ice cave, and try to find their friend Chilly in order to prevent the Winter Waterfalls from melting. Purchase here.
The following episodes are included on this DVD:
"A Christmas Wish" (extended adventure)
It's a stormy Christmas Eve and Kate worries that Dad won't get home in time to put the star on the Christmas tree. In Mimiloo, Kate tells her friends all about Christmas, and everyone is excited to send a wish to Santa Claus. But when Tack's letter launcher malfunctions, it looks like Christmas will be ruined!
"Snow Bowling"
Kate wants to build a snow fort, but there isn't enough snow in the yard. In Mimiloo, Kate and her friends go snow bowling in the Winter Waterfalls. They use snowballs as bowling balls and snowmen for the pins. But when the gang slides down into an ice cave, Kate will have to think creatively to help them escape.
"Chilly the Snowman"
Kate's sad because her snowman is melting! In Mimiloo, it is a sweltering hot day so Kate, Mim-Mim, and their friends head to the Winter Waterfalls to cool down – only to find that all the ice is melting! To re-freeze the waterfalls, Kate will have to find Chilly the snowman who keeps the Winter Waterfalls cold, snowy, and frozen.
Inspired by a real life little girl, "Kate & Mim-Mim" follows the fantastical adventures of five-year-old Kate, who, together with her toy rabbit Mim-Mim, travels to the fantasy world of Mimiloo where Mim-Mim comes alive as a larger-than-life playmate. In each story, Kate and Mim-Mim and their group of loveable friends discover exciting new places and set off on adventures, all in the hope of solving a puzzling problem Kate has encountered in the real world.
Exploring themes of friendship, adventure, and problem solving, "Kate & Mim-Mim" encourages children to use their imaginations and work together, believing no problem is ever too big to solve!