Eternals hits theaters everywhere on November 5th. At a recent Eternals press conference, there was lots of insight about the film, and the cast.
Marvel's Eternals is like nothing the Marvel Cinematic Universe has experienced before. It does not feel like a typical Marvel movie. While there is action, there is also a lot of dialogue and character development. This is a massive, large scale film, that is here to introduce fans to more than ten new characters — and it does this perfectly.
During a recent press conference to promote the film, the cast, director Chloe Zhao, and Marvel President & Producer Kevin Feige explain what this film means to them, what it was like filming, and so much more. Here are some of the most interesting things we learned about Eternals.
Eternals Press Conference
Participating Talent:
Angelina Jolie
Salma Hayek
Richard Madden
Gemma Chan
Kumail Nanjiani
Kit Harington
Brian Tyree Henry
Don Lee
Lauren Ridloff
Lia McHugh
Director Chloé Zhao
Producer Kevin Feige
"The vision of the film is to capture the scale of something as large as the creation of the sun and as small as the whispers of lovers." – Director Chloe Zhao
Kevin Feige says that the whole idea of Eternals is to be the first time a lot of folks get to see themselves as superheroes. Producer Nate Moore had that driving vision for what this film could be, and then Chloe came in and pitched a fantastic story to them. That, coupled with the spectacular Jack Kirby source material all felt like a very new special step for Marvel.
"In a post-Infinity saga world, we wanted to make a bold new step and say you don't know everything about the universe yet and that there are these 10 spectacular heroes who you haven't met who've been here the whole time." – Kevin Feige
Angelina Jolie, who plays Thena says that she was attracted to this role for many reasons, not just because she is a fan of the MCU and of Chloe.
"It was the idea of what this family would be. And I just wanted to be a part of this family before I even knew very much about who I was gonna play." – Angelina Jolie
As she learned more about her character, Thena, she learned about how vulnerable she is, but also how strong she is, and that balance that she struggles with.
Gemma Chan plays Sersi, who becomes an Avenger in the comic books. Most fans have their fingers crossed for that to eventually happen. The way that Gemma describes Sersi makes it clear just how much she loves this character.
"Her powers are not kind of the most obvious or the flashiest. She's not the best fighter. But what she does have is empathy, and a real affinity for humankind and the Earth. She's a free spirit. I loved that. That was one of the enjoyable things about the film — going on that journey with that character. It's kind of her coming-of-age, even though she's probably thousands of years old. She learns to trust herself and to grow into her own power. That was a really interesting thing to explore." – Gemma Chan
For Richard Madden, his character Ikarus is very different from the characters he is used to playing. Something that he found really fun about his Eternals' role.
"I'm used to playing lovers often. And to play someone who's such a soldier, but is completely driven by love, all his decisions are driven by love, and it's actually him that's wrestling with that. I'm used to characters who are very focused on their love, and that comes out. With Ikaris, it's the opposite of that. He's trying to bury that love because it gets in the way of his duty and is constantly wrestling the two. That's what made it really interesting for me to pull out that relationship with all the characters from Sprite to Sersi, and kind of work out what this relationship is when you're trying to stick to duty, but your feelings get in the way. " – Richard Madden
Kingo, who is played by Kumail Nanjiani, is hands down the funniest character in the film. He provides a lot of comic relief. One of his best scenes is a Bollywood dance, and when asked about that, he revealed he was sort of led astray about it.
"When we first talked about the movie, she was like, 'There's a Bollywood dance sequence,' and I was like, 'Chloe, I don't think I can do that.' She's like, 'Okay, we'll make it a Bollywood action scene.' And then soon as I got to London, she's like, 'It's a dance sequence.' And I was like, 'Get me a dance teacher right now then.' And Nileeka who did the choreography was wonderful. Worked with me for months and months to do that because it was so outside my comfort zone. But really, you know, ultimately, for me, all that came down to trust. It really did. On the macro level, trusting Kevin because he's made so many MCU movies, and they're all great. And then with Chloe, just in meeting her, I was like, oh, she's not going to let me suck in this thing. So if she wants me to do something, I'm going to do it." – Kumail Nanjiani
Salma Hayek portrays Ajak in Eternals, and she has one of the biggest hearts in the film. When asked about how it feels to be a superhero, her answer is very inspiring and heartwarming.
"It's such a humbling sensation. When you think about it, I'm in my 50s, Mexican, short with big boobs. It's not the normal superhero. I'm not muscly. I don't look like that, like a superhero. It's just beautiful. Yesterday when I came out, I nearly cried because I saw this Latino family. The mother with the three little girls all dressed like Ajak. " – Salma Hayek
Phastos is a brilliant mind, and is played by Brian Tyree Henry. He has helped humanity advance technologically, but these advances have pushed them toward their own destruction with things like war. This is a burden that weighs heavily on him and when asked about it, Brian had a lot to say.
"The thing that really attracted me to this part was that I think about all the images of black men out there and how we are portrayed. What I love the most about Phastos is that, one, he's an ancestor. All of us are ancestors technically. So Phastos predates everything and had to do probably go through all these things which could actually make someone lose faith in humanity very quickly. And I remember when I was coming to this project that I, Brian, had kind of lost faith in humanity just looking at all the things that we've been through. And what the images of black men were and how we were being portrayed and how the power was taken from us. Like, the lack of power or feeling powerful. And what I really love the most about Phastos is that through all of that, him being eternal, him never being able to die, he still chose love. He still decided to have a family even though he may have to watch them perish." – Brian Tyree Henry
While Dane Whitman isn't on the screen a lot in Eternals, he still plays a very important role in the film, and in the future of the MCU. Kit Harrington plays him and says that he fully respects this character.
"I felt that from the beginning, I had to represent something that was worth saving. I hope that Dane comes across as a nice, standup guy. And one thing I really respect him for is that a man flies out of the sky and shoots lasers out of his eyes and steals his girlfriend, and he's kinda cool with it. " – Kit Harrington
Don Lee, who plays Gilgamesh, has been in many films — over a hundred films in the last twenty years — but he says that Eternals is the biggest scale film he has ever done.
"I was so impressed about this great, diverse cast from all over the world. And then I was so interested in global contents, this could entertain more people in the world. So I was so happy about it. I always been a big fan of Marvel, and Kevin. And I was a big fan of Chloe too. Everybody was so nice. All of our crew was so nice too. " – Don Lee
Sprite is the same age as all of the other Eternals, but trapped inside a child's body. Lia McHugh, who plays her, says that there are a lot of layers to her.
"There's a lot of layers to sprite. In every scene, she goes through a lot of emotions, but she expresses them in a sort of sassy, temperamental way as an old lady would. " – Lia McHugh
About Eternals
Marvel Studios' "Eternals" welcomes an exciting new team of Super Heroes to the Marvel Cinematic Universe. The epic story, spanning thousands of years, features a group of immortal heroes forced out of the shadows to reunite against mankind's oldest enemy, The Deviants.
The outstanding ensemble cast includes Richard Madden as the all-powerful Ikaris, Gemma Chan as humankind-loving Sersi, Kumail Nanjiani as cosmic-powered Kingo, Lauren Ridloff as the super-fast Makkari, Brian Tyree Henry as the intelligent inventor Phastos, Salma Hayek as the wise and spiritual leader Ajak, Lia McHugh as the eternally young, old-soul Sprite, Don Lee as the powerful Gilgamesh, Barry Keoghan as aloof loner Druig, and Angelina Jolie as the fierce warrior Thena. Kit Harington plays Dane Whitman.
Eternals hits theaters on November 5, 2021.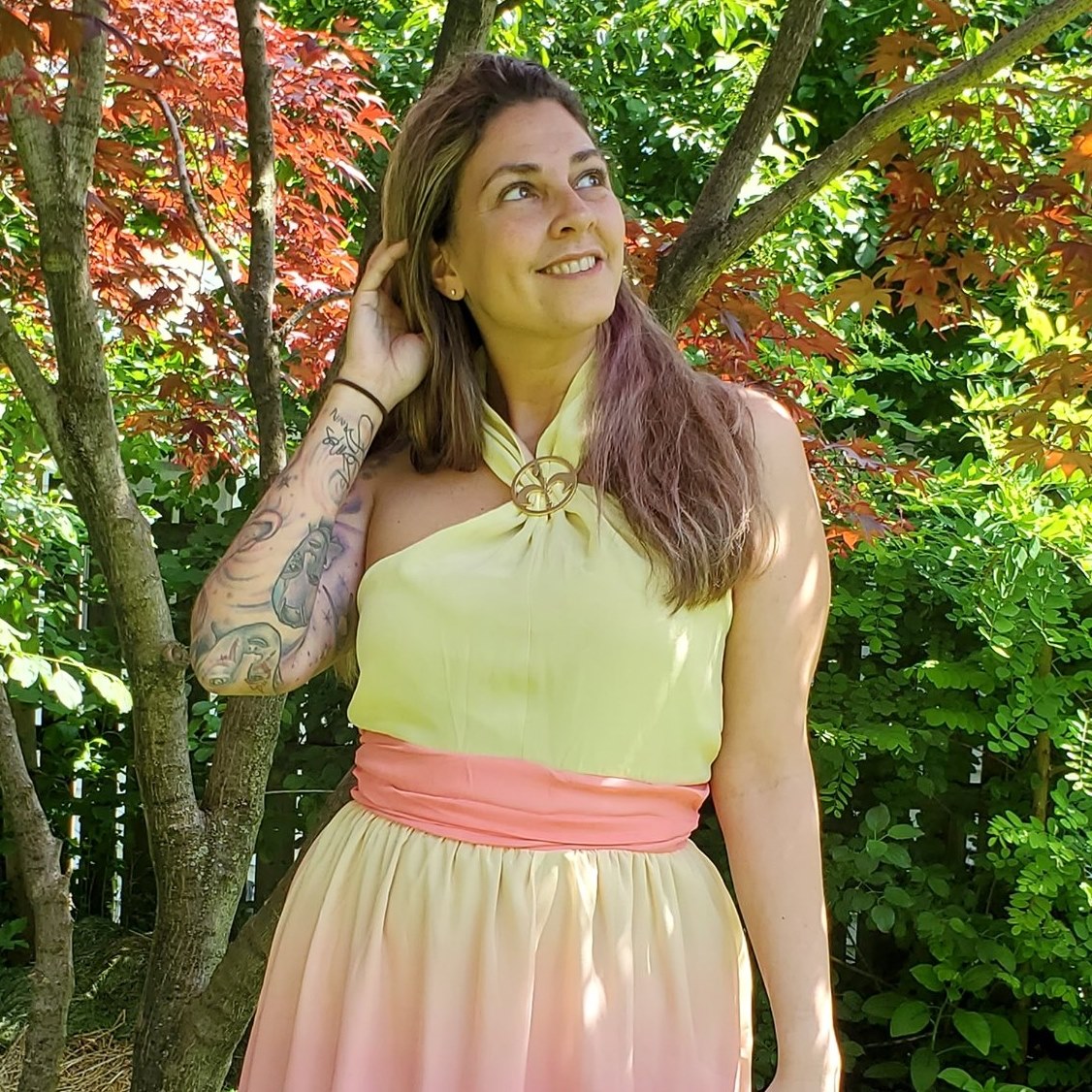 Tessa Smith is a Rotten Tomatoes Tomatometer-approved Film and TV Critic. She is also a Freelance Writer. Tessa has been in the Entertainment writing business for almost ten years and is a member of several Critics Associations including the Critics Choice Association, Hollywood Critics Association, and the Greater Western New York Film Critics Association.