Eternals is like nothing Marvel has ever done before! It opens up the doors to so many possibilities in the future of the MCU.
Marvel's Eternals is a movie that is going to have audiences divided. Some will love it, some will hate it, and some will think it is just alright. However, this critic finds it easily landing in her top 10 MCU films, and perhaps even in the top 5. It is visually stunning, tells an interesting and compelling story, takes just enough from the comic books but still is it's own thing, and of course, has a fantastic cast who all get their moment to shine.
Eternals tells the story of God-like creatures that were sent down to Earth to stop the Deviants, who are a predator species and are attacking humanity. When the job is done, or so they think, they stay on Earth for thousands of years, living as humans and waiting to be called home. Waiting to be told that their time there is done.
However, something starts to happen and Deviants are coming back. Having gone their own ways over the course of many years, they must all band together again to take them on. Exploring why they have all gone to do their own thing is interesting, and the plot here is a great one. There are flashbacks throughout the movie as it jumps through time in order to give viewers every detail of the Eternals. Seven thousand years is a lot to cover in just over two and a half hours, but Eternals pulls it off perfectly.
The most obvious thing to talk about with Eternals is the fact that it is visually stunning. This movie is gorgeous to look at, there is no denying that. From far away shots of one person in a beautiful outdoor setting, to incredible action scenes with mind blowing CGI, to the time spent in space with ominous and threatening Celestials.
The cinematography here is amazing and trust me when I say this movie deserves to be see on the biggest screen possible. It is absolutely gorgeous to watch. Nearly every scene is breathtaking — and when the action is brought into it — WOW! There is a lot going on here, so seeing this movie more than once is something that is highly recommended.
As a reader of the comic books, it was nice to see that there a lot of nods to them, but that the story itself is something new and unique. There are many aspects of the characters and plot points taken from comic books, but they are shaped into a completely different event, which is appreciated. It is always nice to sit down and be surprised by a movie, when you think you know what is going to happen.
For those who know absolutely nothing about the Eternals, have no fear, this movie does a fantastic job of letting you get to know each and every one of them. Their powers, their strengths, their weaknesses, but also their hopes, dreams, and fears. It is almost guaranteed you will leave this movie feeling like you got to know all of the members of the team equally.
Marvel's Eternals kicks right off with the action and makes sure there is a decent amount of it throughout the film. However, the story itself and the dialogue are allowed the breath, which is important with a movie as dense as this one is. These are all new to the MCU characters, and there are a lot of them.
For the average movie goer to be able to understand exactly who they are, what they are doing, and why they should care, there is a lot of character development that needs to be added in. Luckily this is done in a really great way that doesn't disrupt the pacing, and doesn't take away from the film as a whole.
Yes, Eternals clocks in at 2 hours and 37 minutes — but it never feels that long, and that is the important thing. When the film started to wrap up, I was surprised it had been that long. This is impressive considering exactly how heavy this movie really is, and says a lot about how well it put together the emotion, the heart, the humor, and the action.
This movie is soulful and deep — something you don't often get with a Marvel film, so soak it up. Take it all in and enjoy every breathtaking moment. It has a lot of first for the Marvel Cinematic Universe, and that is not a bad thing.
In order to avoid spoilers I will not get into specifics, even though they are already out there, but know that one of them is very important to include in a movie like this, and I am very glad they did it.
There is a lot going on here, and while it all could have easily been a mess, it worked for me. I was captivated and attentive the entire way through, always eager to see what was going to happen next. There is a massive ensemble cast for Eternals, with ten new heroes to explore, and to learn what they have been up to since they have been on Earth since the time that humanity started.
While this is clearly a lot of new characters to meet and get to know, it feels like each and every one got the time that they deserved on screen. They all have their moments. Some more than others, of course. Not to mention the new characters on top of the Eternals like Dane Whitman. While they all do not get equal screen time, it seems that they all get their time to shine, and have their purpose in the movie. It is very difficult to pick standout characters because of this.
It should be noted that Kumail Nanjiani's Kingo steals every scene he is in. He is hilarious, quirky, and just a whole lot of fun. Not to mention his finger gun power is really, really freaking cool. Just wait until you see it in action and try not to cheer. It is very clear that he is having the time of his life being a hilarious superhero.
As for the heart of the film, that goes to Gemma Chan's Sersi, Dom Lee's Gilgamesh, and Salma Hayek's Ajak. There are a lot of emotional moments involving them, and they all shine in their own way. If there was to be a main character in the movie, it would be Sersi. However, each and every other character is given their time as well. This just feels more like Sersi's story than anyone elses.
Angelina Jolie's Thena deals with some trauma in this movie and she is the perfect actress for that role. I have heard several people say that she is underused but I just do not feel that way. She was fantastic and did a great job with her complicated character.
Speaking of complicated, Barry Keoghan's Druig is one that audiences might struggle to like at times, but one thing you can say is that he is never boring. He is a very interesting character but one that will have you wondering how you feel about him throughout the film — much like his character is in the comics.
Lauren Ridloff's Makkari is another character that will make you laugh. She is funny, witty, and unafraid of the others. She is deaf and played by a deaf actress, which is something that should be applauded. She also has some of the best fight scenes in the entire film. She runs fast — like really fast — and seeing her in action is one of the best parts of the movie.
Lia McHugh plays Sprite, and character who is just as old as all of the other Eternals, but stuck in the body of a child. She brings a lot of great moments to this character, and is sure to have you in your feels and you see her struggle. In the comic books it is well known that Sprite just wishes to grow up. That comes across in the film, mixed with her fun loving spirit.
Everyone's powers look incredibly cool when executed, but the way that Sprite's appears around her fingers while creating an illusion is one that stands out. It is attention to detail like this that makes Eternals one of the best MCU films.
Richard Madden's Ikarus is full of surprises. He has been labeled the Superman of the film because he shoots lasers out of his eyes and flies, which is fair, but because of that he is one of the most powerful members of the Eternals. His story is a fun one to watch unfold.
Last, but certainly not least, Brian Tyree Henry's Phastos brings heart, kick butt action, super smarts, and something unexpected to this movie. While it is certainly hard to pick favorites, he is likely to be at the top of everyone's list. He has a lot of heart, and is unafraid to wear his emotions on his sleeve.
Oh, and as for Kit Harrington's Dane Whitmore, fans will not get a whole lot of him. He is in the movie sporadically, but when he is, he is fantastic. Don't worry though, we are sure to see a lot more of him soon. If you know about him from the comic books, then you know he is quite an important character. While this is not fully explained in the film, there are some hints at it, and it has been assured by Marvel that fans will be getting more of him.
The Post Credit Scenes (No Spoilers)
Of course I cannot say too much about the post credit scenes in an effort to remain spoiler free. Even though some outlets have shared major details already, I refuse to be one of those people. These scenes are best gone into knowing nothing about them. The movie itself ends on a slight cliffhanger, but these end credits burst open the door for nearly infinite MCU possibilities.
Avid comic book readers will be screaming, jumping around, and completely flipping out as they are revealed. There are some new characters coming to the MCU and holy cow, we cannot wait for them to be explored. There is also a cameo voice that will literally give you goosebumps, so get ready to be coming up with all the theories, even though WandaVision taught us to never do that again.
Overall Thoughts
The reason that opinions on Eternals are going to be so split is because this is uncharted territory. It doesn't feel like a typical Marvel movie and for those who know nothing about the Eternals, there might be some struggling here. It takes time to get to know them all and because of that this is a dense movie. There is a lot to take in here, but it is done so well that it will should not overwhelm audiences.
This movie is ultimately about family. It is beautiful, touching, and all around an amazingly emotional film. There is a lot to unpack, but it is worth spending the time to do it right. That is where this movie excels. It takes its time, allowing important moments to breath. Character development is important when introducing anyone who might be sticking around the Marvel Cinematic Universe for a while, so it is very much appreciated that this film took the time to do it with many new characters.
Luckily there wasn't much need for world building since this is a universe fans have lived in and explored for years. Thankfully there was no need to really explain the world surrounding these characters — or we could have been looking at a four hour long movie. Honestly though, if anyone could have pulled it off it is Chloe Zhao. Her vision for this movie is stunning, well executed, and simply put, incredible.
When I say that Eternals is like nothing we have ever seen in a Marvel movie before, I mean it. Sure there is action, but it isn't at the forefront of the film. This movie is kind of a love letter to humanity, and I am here for it, even if humanity kind of sucks right now. Eternals is going to invoke a lot of emotions. Remember, this is a new Phase of the MCU and it is time to move on from what we know and love and dive into the unknown. If this is what the future of Marvel looks like, sign me up!
About Eternals
Marvel Studios' "Eternals" welcomes an exciting new team of Super Heroes to the Marvel Cinematic Universe. The epic story, spanning thousands of years, features a group of immortal heroes forced out of the shadows to reunite against mankind's oldest enemy, The Deviants.
The outstanding ensemble cast includes Richard Madden as the all-powerful Ikaris, Gemma Chan as humankind-loving Sersi, Kumail Nanjiani as cosmic-powered Kingo, Lauren Ridloff as the super-fast Makkari, Brian Tyree Henry as the intelligent inventor Phastos, Salma Hayek as the wise and spiritual leader Ajak, Lia McHugh as the eternally young, old-soul Sprite, Don Lee as the powerful Gilgamesh, Barry Keoghan as aloof loner Druig, and Angelina Jolie as the fierce warrior Thena. Kit Harington plays Dane Whitman.
Eternals hits theaters on November 5, 2021.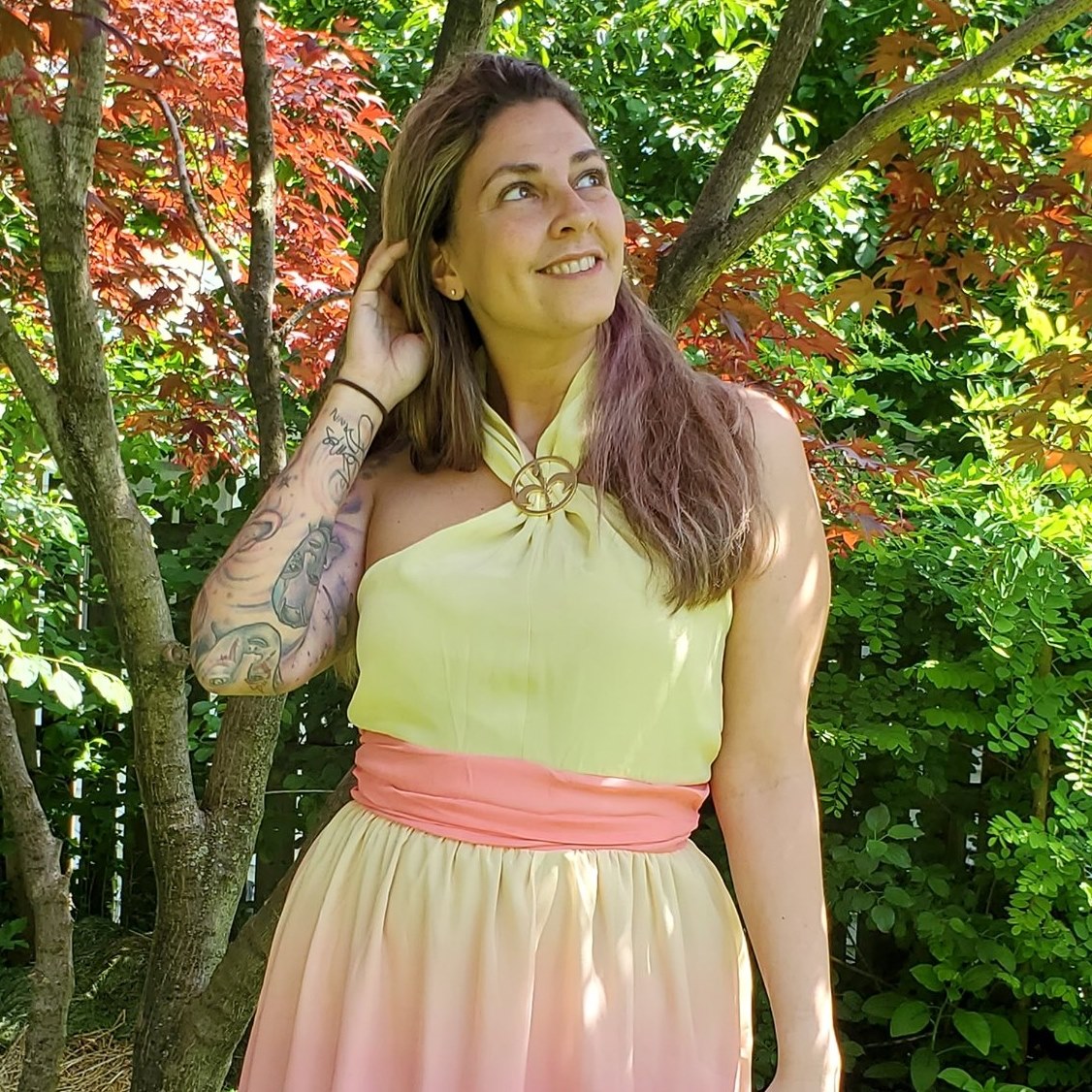 Tessa Smith is a Rotten Tomatoes Tomatometer-approved Film and TV Critic. She is also a Freelance Writer. Tessa has been in the Entertainment writing business for almost ten years and is a member of several Critics Associations including the Critics Choice Association, Hollywood Critics Association, and the Greater Western New York Film Critics Association.