With the final season of Schitt's Creek starting, I wanted to celebrate by sharing the absolute best Schitt's Creek quotes that will make you feel all the feels.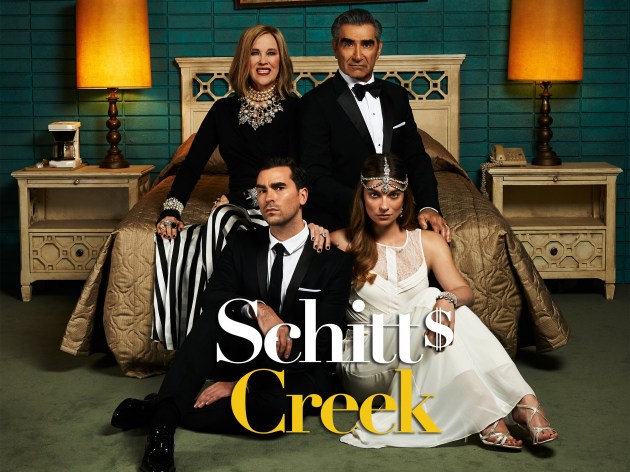 I only recently watched Schitt's Creek — but I admit, I was hooked instantly. Friends and family continued to recommend the show to me, but my husband and I never got the chance to sit down and watch it. But with the final season approaching, we decided to check it out. Well, we binged it all in less than two weeks — just in time for the final season. BOO.
The Best Schitt's Creek Quotes (from the whole family)
Here are some of our absolute FAVORITE quotes from Schitt's Creek! They are in no order in particular. Not in the order they were on the show, and not in the order of favorites. Just Schitt's Creek quotes that I wrote down because I loved them. They either made me laugh, or cry.
Which ones are your favorite?
"Ew, David." – Alexis
"Shame on you for attempting that position at 8 o'clock in the morning." – David
"The north Korean army could not keep my mother under control when it comes to event planning." – David
"What kind of sociopath abandons her family in some vomit-soaked dump to gallivant around the world with her dumb, shipping-heir, loser boyfriend she's known for three months?!" – David
"When one of us shines, all of us shine." – Moira
"I miss being surrounded by loos acquaintances who think I'm funny and smart and charming." – Alexis
"You might want to rethink the nightgown first — there's a whole Ebenezer Scrooge thing happening. My best to Bob Cratchet." – David
"I could not be more at one with nature. I do Coachella every year." – David
"Why should I be the only one encumbered with this emotional cargo?" – Moira
"Do what you must." – Moira
"Fall off a bridge, please." – David
"I'm gonna pass. I'm not really in the mood to be a victim of a hate crime tonight." – David
"Hide your diamonds, hide your exes…I'm a little bit Alexis." – Alexis
"You'd think there'd be more of a market for oversized paintings of other people's families." – Stevie
"You make me sound like a feral cat." – David
"I would be pleased to RSVP as pending." – Moira
"Very uninterested in that opinion." – David
"Relax David." – Alexis
"If you're looking for an ass to kiss, it's mine." – Roland
"Tweet us on Facebook!" – Johnny
"You're my Mariah Carey." – Patrick
"I'd kill for a good coma right now." – Moria
"I saw a lot of my body and I didn't like it." – David
"My car is worth less than your pants." – Stevie
"I've seen your car and that makes sense." – David
"If airplane safety videos have taught me anything, David, it's that a mother puts her own mask on first." – Moira
"If you ever see me shopping at Blouse Barn, you must shoot me in the temple." Moira
"I'm not seeing anything in trend forecasting or art curating. That's weird." – Stevie
"I will not feel shame about the mall pretzels." – David
"Is there like, a Texas Chainsaw movie being filmed out there that I'm not aware of." – David
"No matter what anyone says, you will always be our first dad." – David
"He told me be doesn't want my help, so I'm just going to play the supportive partner and watch him fail." – David
"David, stop acting like a disgruntled pelican." – Moira
About Schitt's Creek
In the sitcom "Schitt's Creek," a wealthy couple — video store magnate Johnny and his soap opera star wife Moira — suddenly find themselves completely broke. With only one remaining asset, a small town called Schitt's Creek, which the Roses bought years earlier as a joke, this once-wealthy couple must give up life as they know it. With their two spoiled children in tow and their pampered lives behind them, the Rose family is forced to face their newfound poverty head-on and come together as a family to survive.
The final season of Schitt's Creek starts January 7th, 2020.