My whole family was really excited for The Secret Life of Pets 2 because we thought the first one was a lot of fun! And from the trailers, this one looked to be even cuter. Well, we were right! Since we missed seeing it in the theater, we were thrilled to get a copy of The Secret Life of Pets 2 for home release. We made a movie night of it, cuddled up with our pups, and had a blast!
New Voice for Max
I had kind of forgotten that the voice of Max was changed (for very valid reasons), but it was noticeable right away. Perhaps that was because we had just watched The Secret Life of Pets to refresh our memories. It was definitely strange at first, but within ten minutes we forgot all about it and it wasn't an issue.
My daughters didn't even say a word about it honestly, and I don't think it bothered them. They might not have even noticed — and I wasn't about to ask them. I love Patton Oswald and he did a fantastic job. I even liked his voice better as Max than Louis C.K..
Funnier Than The First?
The first The Secret Life of Pets was really cute. My whole family, including my mom that was visiting from Florida, went to see it. We laughed together and really enjoyed it. Since timing did not work out to watch it the second in theaters, we watched it at home.
Perhaps it was because we were at home, and not in the theater with it on the big screen, but the second one's jokes fell more flat for me. However, my daughters were laughing away. Do you know what I mean about watching something in a theater with a large audience? It always seems like there is more emotion, and you feed off each other at certain parts.
Overall Thoughts
Overall, this is a fun movie for the whole family. There are jokes that parents will laugh at, and of course kids will have a good time with it too. I really loved adding a child in to the mix because it is a big change for pets, I know!
Is this a movie I will watch again and again? Probably not. But my kids will. In fact, they have already watched it three times this week.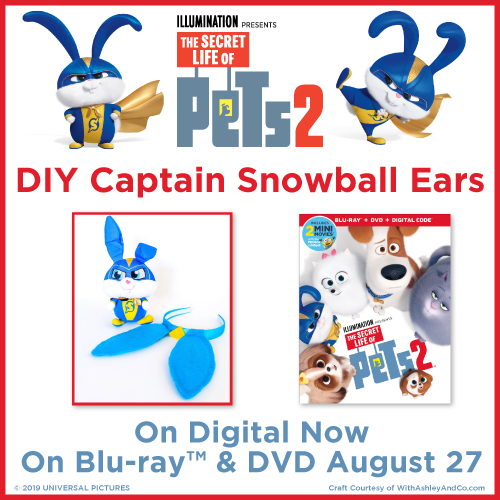 Bonus Features
Probably my favorite thing about a home release is the bonus features. I always love watching deleted scenes and deciding on if I think they should have been a part of the movie or not. But my favorite bonus feature for The Secret Life of Pets 2 was easily the 2 mini movies (and no I can't choose which is my favorite). They were adorable and I found myself laughing out loud!
Mini Movies

Minion Scouts
Super Gidget

The Making of the Mini Movies
Deleted Scenes

Wake Up – Max and Duke have a new morning routine with Liam.
Duke Explores the Farm – Duke has a funny interaction with a goat.
Snowball Karate – Snowball does his superhero warm up.
Secret Confessions – Dogs gather to talk about their deepest secrets

A Tapestry of a Tail: The Making Of
How to Draw – Hosted by Head of Story, Eric Favela, follow the step-by-step tutorial to learn to draw Max, Snowball and Chloe
Frame by Frame: How to Make a Flip Book
Character Pods – Get a closer look at your favorite characters of The Secret Life of Pets 2 with these delightful character pods that might just give away a few more pet secrets.
A Party Fit for a Pet – Using stop motion animation, this step-by-step guide teaches you everything you need to know to throw the very best party for your pet!
Pops' Puppy Training School with Kevin Hart
Pets Yule Log
Lyric Videos

'Panda' Lyric Video
'It's Gonna Be A Lovely Day (The Secret Life of Pets 2)' Lyric Video

The Further Adventures of Captain Snowball (Interactive)
My Buddy and Me – We interview the Illumination cast and crew talking about The Secret Life of Pets 2 while holding (or trying to hold) their pets.
Pets with Jobs: A Documentary
Relax the Cat: The Secret Life of Pets Massage
Production Pets
About The Secret Life of Pets 2
Max the terrier encounters canine-intolerant cows, hostile foxes and a scary turkey when he visits the countryside. Luckily for Max, he soon catches a break when he meets Rooster, a gruff farm dog who tries to cure the lovable pooch of his neuroses.
The Secret Life of Pets 2 is available to take home on digital, Blu-ray, & DVD now!
Facebook: https://www.facebook.com/TheSecretLifeOfPets/
Twitter: https://twitter.com/PetsMovie
Instagram: https://www.instagram.com/secretlifeofpets/
#TheSecretLifeofPets2