Thank you to Sony for sending along this amazing package! All opinions expressed are 100% my own.
I called Spider-Man: Into The Spider-Verse the best animated film of all time, and I stand by that. My family and I saw it in theaters opening weekend and we loved it. So much more so than we could have ever imagined. The animation style is like nothing that has ever been done before and I felt like I was inside of a comic book. Spider-Verse is finally coming home on March 19th, and I received a super awesome Spider-Man package from Sony to celebrate. The better news? You can win one for yourself!
Spider-Man T-Shirt Activity
My daughters love creating things. It is a passion of theirs. So they were over the moon to see this Spider-Man: Into the Spider-Verse package included some t-shirts for them to color with fabric markers. They wanted to start their shirts the second we opened up the package. I might be just a little biased when it comes to these girls, but their skills were impressive! You should have seen how hard they were concentrating to make their shirts perfect.
I think they turned out awesome, what do you think? After we finished up our shirts, we popped the movie in. I had actually forgotten how enjoyable it really is. What a great movie! Everything about it is fantastic. In fact, I think we all agree we enjoyed it more the second time around. My girls, who are little artists as you can see, were totally taken by the art of the film. They were so excited to flip through the Spider-Man: Into the Spider-Verse Art of the Movie book that we got. I actually collect art books, so this is a great addition to my coffee table collection.
About Spider-Man: Into the Spider-Verse
Bitten by a radioactive spider in the subway, Brooklyn teenager Miles Morales suddenly develops mysterious powers that transform him into the one and only Spider-Man. When he meets Peter Parker, he soon realizes that there are many others who share his special, high-flying talents. Miles must now use his newfound skills to battle the evil Kingpin, a hulking madman who can open portals to other universes and pull different versions of Spider-Man into our world.
Bonus Materials
My favorite part about an in home release is the bonus features. There are so many amazing ones on the Spider-Man: Into the Spider-Verse release but the one that really got me was the Tribute to Stan Lee and Steve Ditko. It wasn't super long but man, it took me several tries to get through it. If you are a Marvel fan, that should be the first one you watch.
Other features include:
We Are Spider-Man: Exploring and celebrating one of the key themes of the film, We Are Spider-Man takes a deep dive into the diversity of the characters and aspirational core that any person from any gender or cultural background can wear the mask.
Spider-Verse: A New Dimension: With a stunning visual style and state of the art animation designed to take the viewer into the pages of a comic, Spider-Man: Into The Spider-Verse is not only a love letter to comic books but a groundbreaking take on the super hero genre. Hear from the artists and filmmakers who pushed the boundaries of the artform as they discuss their journey.
The Ultimate Comics Cast: Enjoy this showcase of all of the fan favorite characters featured in the Spider-Verse and the spectacular cast who were chosen to bring them to life.
A Tribute to Stan Lee & Steve Ditko: Celebrate the amazing legacy and powerful spirit of the creators of Spider-Man.
The Spider-Verse Super-Fan Easter Egg Challenge: The Spider-Verse is loaded with Easter Eggs, from cameos to comics references. Fans are challenged to find them all!
Designing Cinematic Comics Characters: A breakdown of all aspects of the character design including costume, movement in animation, and distinct powers for each character.
Heroes & Hams: Meet the amazing Spider-people of the Spider-Verse.
Scorpions and Scoundrels: Explore the classic villains who wreak havoc on the Spider-Verse.
Alternate Universe Mode: In this all-new viewing experience, discover alternate scenes, plotlines, characters, and more with the filmmakers as your guide.
2 Lyric Videos

"Sunflower" by Post Malone and Swae Lee
"Familia" by Nicki Minaj & Anuel AA (feat. Bantu)

All-New Original Short "Spider-Ham: Caught In a Ham": It's another normal day for Peter Porker, a.k.a. the Spectacular Spider-Ham, fighting bad guys and loving hot dogs, until a mysterious portal starts messing with the very fabric of his cartoon reality.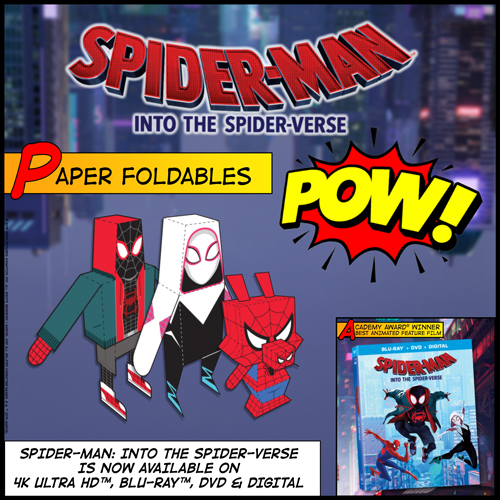 Enter to win a Spider-Man: Into the Spider-Verse prize pack using the Gleam form below. This package will include:
Spider-Man: Into the Spider-Verse Blu-ray combo pack
3 Miles Morales Baseball T-Shirts (1 small, 1 medium, 1 large)
Box of fabric markers
Spider-Man: Into The Spider-Verse Blind Bag
Spider-Verse CinchSack
Stickers
Be sure to check out my other giveaways while you are here and GOOD LUCK!