A huge thank you to Disney for providing this experience and Blu-ray. All opinions expressed are 100% my own.
Ralph Breaks The Internet may not have won best Animated Feature at the Oscars, but it was still nominated, which tells you how amazing it was. Well, now you can finally own it on Blu-ray, and my girls and I were thrilled! We even showed you how to celebrate with a comfy princess night and some Sugar Rush Popcorn Balls two weeks ago. This home release is packed with some incredible bonus features that you do not want to miss. Trust me!
Ralph Breaks The Internet is a truly heartwarming film that every friend needs to watch. Seriously. This movie teaches so much about friendship and how it is OK if you both want different things. It is possible to go your own separate ways, and still have that connection. It is a tough lesson to learn, and one I have been faced with many times. I highly recommend this film for, well, just about anyone!
Bid On A Super Rush Steering Wheel!
You can now bid on an IRL replica of the steering wheel has been donated by Walt Disney Animation Studios so that 100% of the proceeds from this auction item can be donated to Make-A-Wish® to help grant life-changing wishes to children with critical illnesses. If you remember the steering wheel is at the very core of Walt Disney Animation Studio's 'Ralph Breaks the Internet' as Ralph and best friend Vanellope von Schweetz attempt to save her game, Sugar Rush.
The steering wheel itself has been autographed by Sarah Silverman, Gal Gadot and Jane Lynch. Winning bidder will also receive a limited-edition autographed poster by cast and filmmakers including John C. Reilly, Sarah Silverman, Taraji P. Henson, Jack McBrayer, Phil Johnston, Rich Moore and Clark Spencer as well as a Blu-ray copy of the movie!
Auction Dates: February 26 @ 6am PST – March 5 @ 6am PST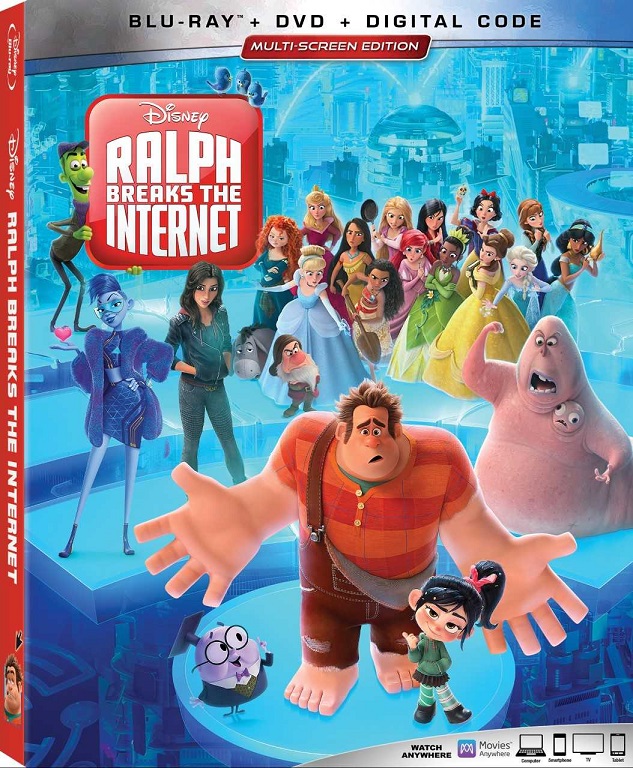 Bonus Features
My favorite thing ever on a home release is the bonus features. Seeing the deleted scenes really makes the movie come together more for me. Ralph Breaks The Internet has some of the best deleted scenes I have ever seen! Not to mention the cats. So many cats. Adorable cats. But I think my favorite bonus feature was surfing for Easter Eggs. You don't want to miss that one!
How We Broke the Internet – Go behind the scenes to get an in-depth look at how the filmmakers brought a world to life that billions of people visit every day but never actually see – the internet.
Surfing for Easter Eggs – Surf the web for the near-countless Easter Eggs, inside jokes, and references hidden throughout the movie.
The Music of Ralph Breaks the Internet
Deleted Scenes – Five deleted scenes with intros from directors Rich Moore and Phil Johnston. Scenes include Into the Internet, Opposites, Domestic Hell, Bubble of One & Recruiting "Grandma."
BuzzzTube Cats – Many videos were created by the animators to fill the screens of the Internet world…and lots of them are of cats! Check out the BuzzzTube to watch this hilarious cat compilation.
Music Videos – "Zero" by Imagine Dragons and "In This Place" by Julia Michaels.
Digital Exclusive: Baby Drivers – Slaughter Racing School – Take a spin behind the wheel with the artists behind Ralph Breaks the Internet as they go to race car driving school.
About Ralph Breaks The Internet
In "Ralph Breaks the Internet," video-game bad guy Ralph and best friend Vanellope von Schweetz leave the comforts of Litwak's arcade in an attempt to save her game, Sugar Rush. Their quest takes them to the vast, uncharted world of the internet where they rely on the citizens of the internet – the Netizens – to help navigate their way. Lending a virtual hand are Yesss, the head algorithm and the heart and soul of the trend-making site "BuzzzTube," and Shank, a tough-as-nails driver from a gritty online auto-racing game called Slaughter Race, a place Vanellope wholeheartedly embraces – so much so that Ralph worries he may lose the only friend he's ever had.
Ralph Breaks The Internet Comes Home on Blu-ray 2/26!
#RalphBreaksTheInternet
Like WRECK-IT RALPH on Facebook: https://www.facebook.com/WreckItRalph/
Follow WRECK-IT RALPH on Twitter: https://twitter.com/wreckitralph
Follow WRECK-IT RALPH on Instagram: https://www.instagram.com/wreckitralph/