Thank you to Disney for giving me this amazing experience! All opinions expressed are 100% my own.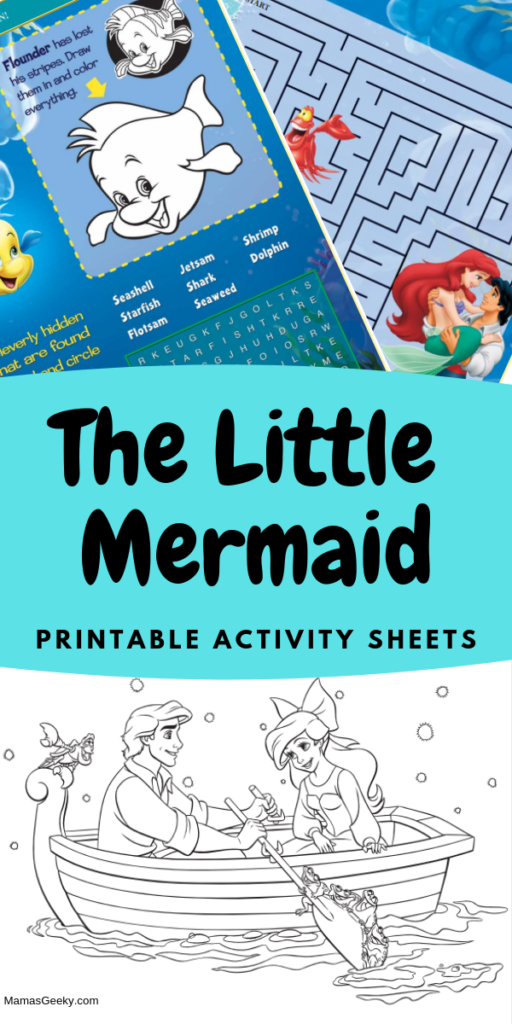 The Little Mermaid has always been one of my favorite animated Disney films. Something about Ariel gave her a place in my heart right away. Not to mention, Ursula is one of my favorite villains, and you know I love me some villains. My girls love this story too, so when The Little Mermaid was released with new bonus features for its 30th Anniversary (I feel so old), we were thrilled Disney sent us a copy!
Printable Activity Pages
My girls and I just had to watch it as soon as it came – you know we started with sing-along mode. We turned our day in to a full The Little Mermaid themed day! We ate goldfish for snacks, tuna fish sandwiches, and even took baths with our mermaid inspired bath bombs. My girls are little artists (not like their mother at all), so I printed some The Little Mermaid Activity Sheets out for them to enjoy as well. The coloring pages, mazes, and word finds kept them buys for hours!
Download these pages here —-> The Little Mermaid Activity Sheets
Bonus Features
My favorite thing about in home releases is the bonus features. They always give you a much better look at the film. From behind the scenes information, to scenes that were cut from the film, they always complete the story for me. All of the bonus features for this release of The Little Mermaid were fantastic, but my girls and I really enjoyed sing-along mode. You know we were singing at the tops of our lungs!
Sing-Along Mode
Alan Menken & the Leading Ladies Song
"What I Want From You…Is YOUR VOICE" – Enter the recording studio and get an inside look at the cast of "The Little Mermaid" in their original recording sessions.
Stories From Walt's Office – Gadgets & Gizmos
#TreasuresUntold – Join Ruby Rose Turner and Olivia Sanabia from the Disney Channel Original Series "Coop and Cami Ask the World" as they take a deep dive to explore some hidden treasures and fun facts about Disney's "The Little Mermaid."
DCapella "Part of Your World" Music Video
Classic Bonus Features – revisit four exciting bonus features from previous releases including:

Deleted Character: Harold The Merman
Under The Scene: The Art Of Live Action Reference
Howard's Lecture
Audio Commentary With Ron Clements, John Musker and Alan Menken

DIGITAL EXCLUSIVES:

"Part of Your World" – A 30-Year Retrospective
Classic Bonus Features – Over 3 additional hours of previously released classic bonus features including Deleted Scenes, Easter Eggs, Music Videos and more!
The Little Mermaid Anniversary Edition Comes to Digital on 2/16 & Blu-ray 2/26!