Trust me, I wish more than anything that I was going to be attending San Diego Comic-Con this year. Unfortunately it falls at the same time as a really important family event, so I am going to have to miss it. The only thing that makes this OK for me is that I know Marvel is not going to be doing any panels there. It kind of makes it an OK year for me, as a huge Marvel fan, to miss. Although I know there will be some pretty amazing announcements from DC, Warner Bros, and so much more. But just let me think I won't be missing anything. Please.
Comic-Con Survival Guide
Even though I won't be there, I know that many of you lucky people out there will be. And I want to help you. Team Click sent me this pretty amazing comic-con survival guide that I knew I had to pass along to my readers. It is 52 pages packed with information on upcoming TV shows and films, exclusive toys, geek trivia and fun facts, and a BINGO game! Pretty much everything you need to survive all the waiting you have coming up over the next few days.
Unlike traditional San Diego Comic-Con guides with schedules & maps, this guide was designed to help decipher the myriad of genre installations, panels, bus/train/pedicab/building wraps, street teams, wandering talent, food trucks, and everything else that might overwhelm you at the year's largest pop culture event! Download this to your phone or print it out, and you will be thankful you did! And even if you won't be making it to SDCC, this is still a super fun guide! Trust me, I have been reading it myself. And we already know I won't be there – don't remind me.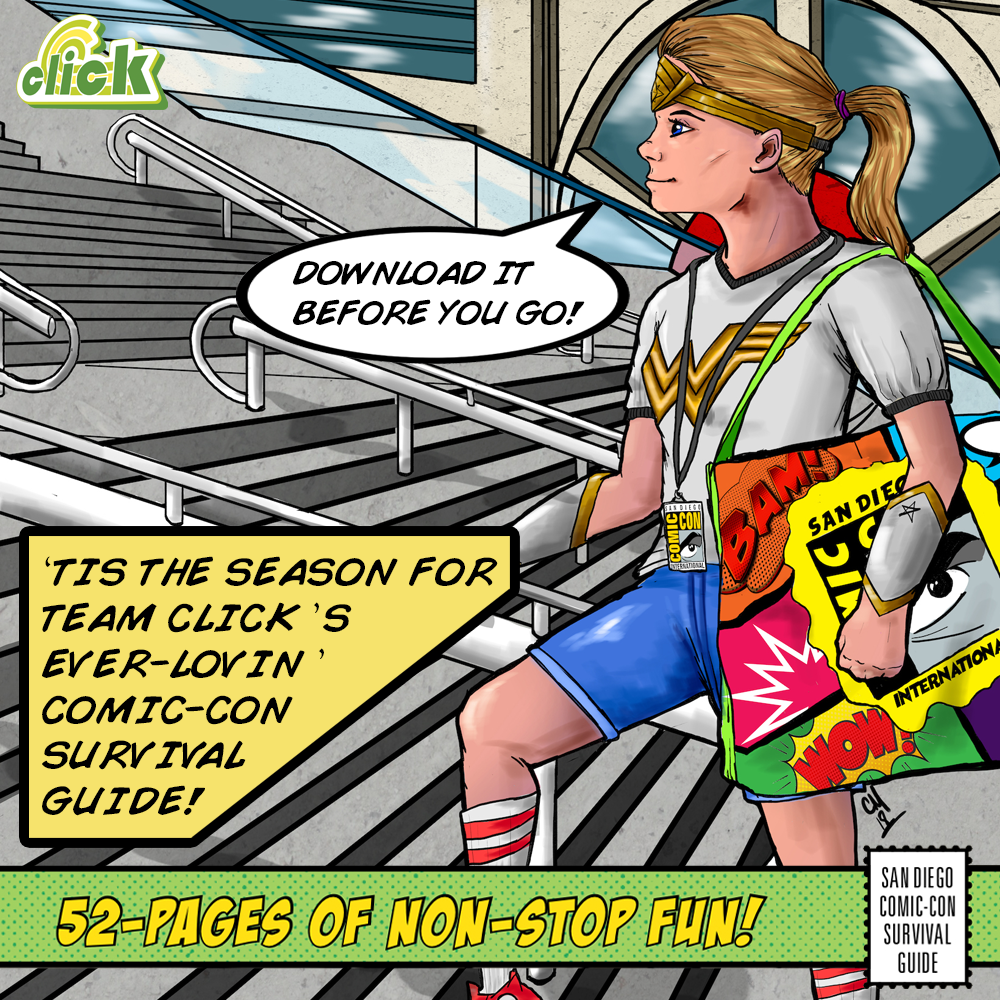 My Favorites
As we already established, I will not be at SDCC this year. But that doesn't mean I can't enjoy this guide. My favorite sections include how to speak geek, heroes of comic-con, and level up. If you play the included BINGO, you can win a Comic-Con Survival Kit from Team Click! It doesn't get any better than that! Simply share on social for your chance to win fun prizes.