I was in no way compensated for this article. All opinions expressed are 100% my own. This post contains affiliate links. 
As I am sure you know, my family and I are Disney Vacation Club Members. We went so often that we decided it would make financial sense to join. Our only regret? That we didn't join sooner. Because of this we tend to slow down a bit at the parks (however I honestly think we still move faster than the average Disney World goer). Some trips we tend to focus on the rides and the shows, and not as much on the meet and greets. That being said, there are a handful at each park that we try our hardest to make it to, no matter what our plans are.
Magic Kingdom
Mickey Mouse at Town Square: This is a MUST for Disney fans of all ages! This Mickey will talk with his visitors. YUP! He talks. If you do no other meet and greets in Walt Disney World (but don't do that to yourself), he is the one to meet!
Rapunzel: I adore Rapunzel! She is one of my favorite Princesses and is so sweet. She is my oldest daughter's favorite as well. The meetings with her are always so special. My daughter has sung with her, danced with her, and even gotten kisses from her.
Daisy Duck, Donald Duck, Goofy, and Minnie Mouse: One of my favorite locations at Magic Kingdom is Pete's Silly Sideshow. It's air conditioned, which is a nice break from the Florida heat, plus you get to meet four of the Fab Five! You can usually be in and out with all 4 met in 30 to 45 minutes or less.
Gaston: Gaston is an incredible meet and greet. He is fun, arrogant, and well, everything you would expect from Gaston. One of my oldest daughter's favorite things to do when she meets him is tell him that she loves to read – and his reaction is amazing!
Beast: There is only one place in all of Walt Disney World that you can currently meet the Beast. And that is when you book dinner at Be Our Guest. Disney Cast Members will tell you that it is not a guarantee and that this is not categorized as a character meal, however every time we have eaten there we have met him. He has danced with my daughters, and even bent down (and he is HUGE) so that my little one could kiss his nose once. This is a MUST – especially if you are a Beauty and the Beast fan.
Epcot
Anna & Elsa: When Anna and Elsa first came to Epcot, the wait was hours and hours. I have seemed to notice that as the day goes on, you can get away with seeing them after a 15 or 20 minute wait. The World Showcase, where they are located, does not open when Epcot does (usually 11am vs. 9am), however Arendelle does open. That means you can meet Anna and Elsa as well as go on their ride, Frozen Ever After.
Joy & Sadness: These guys are a fantastic meet and greet. We have always spent at least 5 minutes with them. My youngest loves Sadness and has ended up sitting on her lap, giving her kisses more times than I can count.
Baymax: Who doesn't want to fist bump Baymax? Well you can at Epcot! Be sure to give him a nice fluffy hug too!
Snow White: Snow White has become one of our favorite meet and greets because of her interaction with our family. My husband once told her not to take apples from strange old ladies anymore, and she giggled and talked about dreams coming true. My daughter told her that she liked oranges and Snow White asked her what those were, stating they didn't grow in her kingdom. And my other daughter let her know that when she met Grumpy he wasn't very social, she said that sure sounds like him. When we leave, she always tells us to come back and visit soon.
Hollywood Studios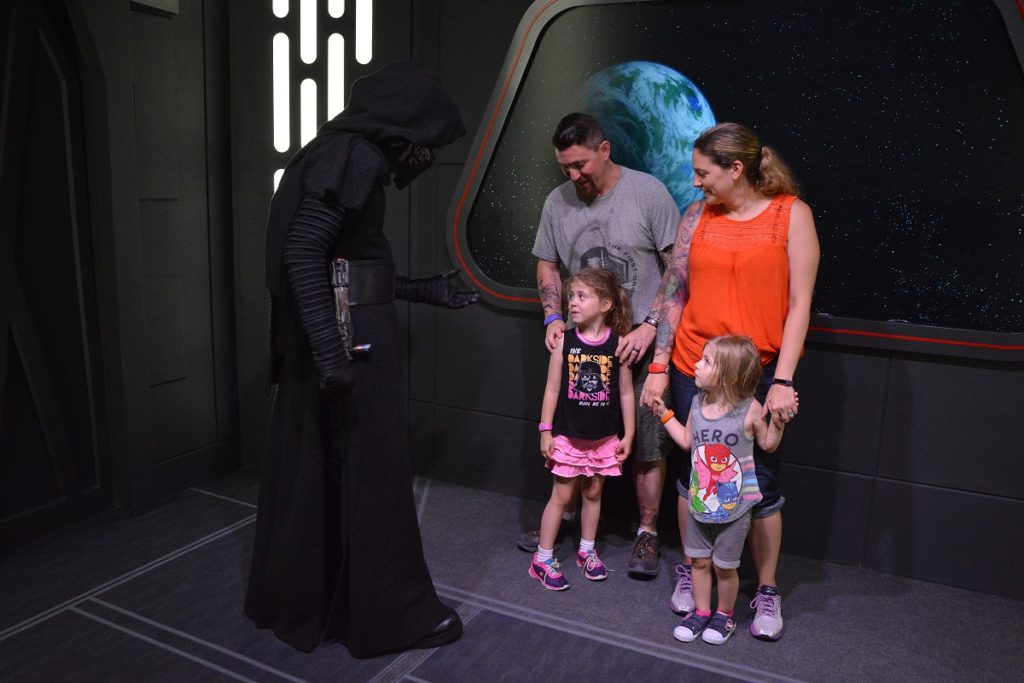 Kylo Ren: One of my absolute favorite meet and greets at Walt Disney World is Kylo Ren. He is intimidating, just as you would expect him to be. Don't hope for a hugging, loving experience with him. One year he told my youngest daughter that he would come for her when she was ready to join the darkside. Ever since, she is not a big fan of his – yet, she always asks to meet him when we are at Hollywood Studios.
Woody & Buzz Lightyear: Woody and Buzz are only going to get more popular as Toy Story 4 nears closer and closer. These guys are a really fun meet and greet! Although, I suggest going straight to them in the morning as the line can get pretty long.
Star-Lord and Baby Groot: Behind One Man's Dream, you can travel through space and meet with a couple of the Guardians of the Galaxy. These guys are fantastic and tend to spend a lot of time with each group, which does make the wait a bit long. Baby Groot was flirting with my youngest according to Star-Lord, and I think she wants to marry him now. I cannot say for certain that they are still available for meet and greets – but I go back soon and will let you know!
Animal Kingdom
Flik: One of my favorite movies is A Bug's Life, so getting to meet Flik was pretty cool! The first time, we just happened to see him standing there with a pretty short line. Now we seek him out. Once or twice I have seen Thumper come out in the same spot – so keep an eye out!
Baloo and King Louie: If you like The Jungle Book, than this is the meet and greet for you! Don't forget to get a big bear hug from Baloo!
Pocahontas: Pocahontas is just as beautiful as you would expect her to be. We love to meet her and chat about nature and Percy (since we have a pug too!).
What is your favorite Disney Meet and Greet?