This post contains affiliate links.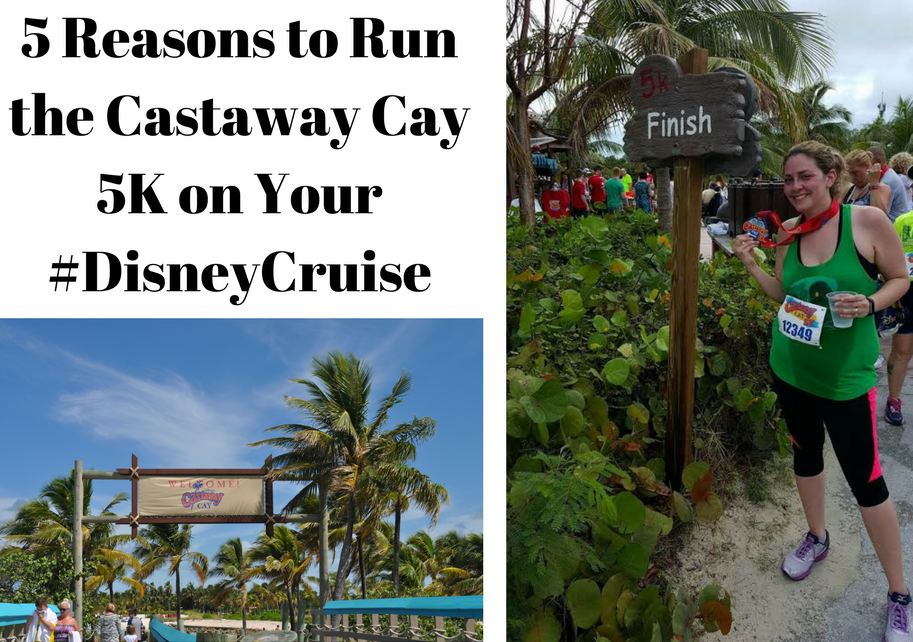 I have never run a race in my life. My husband was a runner in high school though, so he is no stranger to them. I have always wanted to do a 5K or 10K – especially with Disney – so I was thrilled to learn about the Castaway Cay 5K that I could run while on my Disney Cruise! As tough as it was, it was actually a blast – and I was so proud of myself after doing it. I finished in 36 minutes, which I think is pretty good considering I was eating cruise food and enjoying wine for 6 solid days before it! I enjoyed it so much that I think I caught the running bug! I am hoping to do a run at Disney World next – perhaps the Princess Run?!?
Here are the reasons that you should plan on doing the Castaway Cay 5K while you are on your Disney Cruise. Keep in mind, you don't sign up until you are on the boat, so head to the service desk and sign up when you get on board!
A Great Workout
Admit it, while on a cruise you don't exactly have healthy in mind. I sure didn't! I have been working hard in 2017 to lose weight and get in shape – but I sure wasn't going to deprive myself while on vacation. I mean, you cannot go wrong with Disney Cruise food! So on top of hitting the treadmill on the ship when I got a chance, I wanted to run the 5K on Castaway Cay! This was a great way to make sure I was staying active and getting in a good workout while on my trip. The running shoes you are wearing can make all the difference, read the full info here.
The Scenery
I will be the first to admit that I wasn't exactly taking in all the scenery of the island towards the end of my run. I was more like just focusing right ahead of me to push myself to the end. However, the first half of the race, I was looking around at everything. The 5k really lets you see the whole island as it takes you down by Serenity Bay, the adult only beach, and around the bike path. I had been to Castaway Cay previously, but saw some new things during this run that I had never noticed before.
It's Included in Your Cruise
All runs usually cost something to enter – even runDisney runs – but not the Castaway Cay 5k. That's right – it is included in your Disney Cruise! That alone is the perfect reason to do it. You can try it out – walk it even if you want – at no extra cost. We met at 9am to head out on to the island too, so it isn't even like you have to get up super early. If you have kids with you, no problem, they stop at Scuttle Cove (the on island kid's area) so you can drop them off on your way to the starting line. There is no excuse not to do it!
The Medal
I am officially addicted to Disney races because of the medals. It has happened. This medal is amazing and boy, it felt great to earn it! I am a collector by nature – I collect Disney pins, comic books, Funko Pops, and so much more – and now I plan to add runDisney medals to my list of collections! Of course, I also picked up a Castaway Cay 5K pin and T-shirt while on the island – I couldn't resist – and hey, I earned it!
The Accomplishment
I had never ever run a race in my life before. I am 32 years old and this was my first 5K. My husband was running (OK jogging for him) right along side me and motivating me the whole way. When I stopped to walk, he pushed me to job. I may have hated him in that moment, but I am so glad he kept me going. Finishing in 36 minutes was something I didn't think I would be able to do. I thought for sure I was going to be finishing at around an hour. When we turned that last corner and I saw 35 minutes up on the clock, I pushed as hard as I could. I was overcome not only with a runner's high, but with so much pride in myself. You will feel great when you finish!