This post contains affiliate links.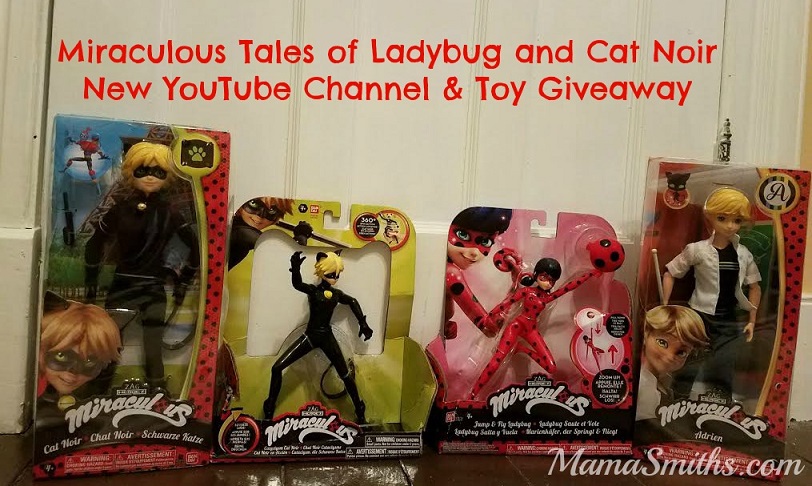 One of my favorite things to do with my girls is cuddle up with them and watch a good TV show. One of our favorites is Miraculous: Tales of Ladybug and Cat Noir. I am a huge fan of this show because it shows how strong and powerful women can be. Ladybug is a great role model for my two young girls, who are 3 and 5.
I was really excited when ZAG America LLC announced the launch of its Miraculous Ladybug YouTube Channel and webisode series (with 52 Episodes!). The channel and all its exclusive content revolves around its global hit animated series called Miraculous™: Tales of Ladybug & Cat Noir currently airing worldwide in over 80 countries on Disney Channel and on Saturday mornings (8:30am) on Nickelodeon in the United States. I am telling you, this show is incredible.
Zag's goal is to encourage the kids and active fan community, the "Miraculers", to visit often as content refreshes weekly. Count on new webisodes, Miraculous news including; exclusive reveals, Season 2 updates, fandom stuff, toy and merchandise insider info, doodle drawings, Marinette lifestyle with food, fashion, Paris and of course romance stories and so much more. ZAG will be offering two formats. The first 10 Miraculous webisodes will utilize the 3D animation imagery sharing the personal thoughts and secret diary entries of Marinette, narrated by Christina Vee, the authentic voice of Ladybug/Marinette in the TV series.
The second wave of Miraculous webisodes will reveal a new "fan-created" 2D stylized look that will greatly extend the Parisian story world. "We think our fans of all ages are going to love the super fun look and feel of the newly designed characters in the 2D web series." said Andre Lake Mayer, ZAG, President, Global Brand Strategy & Consumer Products. "The 2D format will let us explore new creative executions while staying true to the "Zag style" of inspirational storytelling, visually intriguing, fun, relevant and high quality content." Andre' added.
To help celebrate, I have teamed up with ZAG America LLC to give one lucky reader a Miraculous prize pack – including some brand new (and amazing) toys! These toys are fabulous guys – and my girls love them. There are even some Miraculous pajamas out there now! I was shocked to learn all that they have to offer. We will for sure be putting some of these under the Christmas tree this year!
Purchase at Target, Walmart, Toy R Us, Kmart, and Amazon!
Enter to win a Miraculous Toy & DVD set using the Gleam form below. Be sure to check out my other giveaways while you are here and GOOD LUCK!
Miraculous Tales of Ladybug and Cat Noir Toy & DVD Set