This post contains affiliate links.
I have a pug and she is truly a member of our family. He name is Khaleesi and she is certainly a Queen. We all love her more than anything. If you have a dog that you love more than anything as well, check out these 5 items that every dog owner needs!
Polar Pooch
Cool and comfy dogs everywhere love the Polar Pooch. Provides lasting, cooling comfort for up to 3 hours thanks to a revolutionary cooling gel that works the moment your dog lies down on it. No need to worry about batteries or cumbersome cords, Polar Pooch recharges in as little as 15 minutes as soon as your dog gets up. After that, it's ready to work again, making it the perfect relaxation spot after a rigorous game of fetch. Measuring at 22″ x 33″, the Polar Pooch accommodates dogs of nearly all sizes and provides soothing relief that penetrates deep – past even long fur – for a whole body cooling experience. Purchase here.
Woof Washer 360
Washing your dog doesn't have to be a chore! You'll love Woof Washer 360. Just connect it to your hose, add shampoo, slip the hoop over your dog and turn on. The soap and water instantly mix, creating a sudsy solution to scrub your pup clean, from head to tail. Your dog will be shampooed and rinsed in under one minute. The secret is in the 360 degree design that allows for a ring of water to jet gently around your dog for 360 degrees of clean. Easily control the water pressure to your dog's liking with the pressure control handle. Woof Washer 360 lets dogs of all sizes get 360 degrees of clean. Your dog will love bath time again with Woof Washer 360. Purchase here.
Checkup Kit: Home Wellness Kit
CheckUp is an at-home wellness test for cats and dogs. It's a simple, affordable way to monitor pets for common diseases in between routine vet visits. Also available for cats. Learn more here.
BobSweep
Cats and dogs can live together happily thanks to bObsweep PetHair, the friendly robotic vacuum who sweeps up your pets' discarded dander. He features the most spacious dustbin in the industry at a liter large and a mop that can clean laminates and tiles. When he finds a paw print that refuses to come off the floor, Bob increases his vacuum and brushing power until the spot is wiped clear off the map. He journeys across hardwood, tile, and carpet while eliminating bacteria with his trusty UV light to give your floors a clean smile. Purchase here.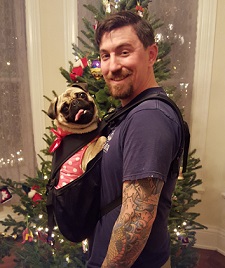 Ruffit Carrier
Leashes are appropriate but limiting in that they remove the use of one hand, are misplaced, and are unpredictable in the way which they will pull. The RUFFIT DOG CARRIER will allow you to have new adventures at eye level with your best friend. Meet the first and only hands free forward facing dog carrier. Whether you're into biking, hiking, jogging, running, trekking the mountains or the city streets, the RUFFIT DOG CARRIER allows you unmatched mobility with your pet. RUFFIT DOG CARRIERS are made from hardy durable materials and are designed for comfort and safety of both the wearer and pet. Our wide shoulder straps disperse weight evenly and our sternum straps ensure a snug fit for all frame types. The RUFFIT DOG CARRIER is made of tensile strength, scratch-resistant material which is an industry standard for heavy duty, all weather use. Simply put, our product is reliable, safe, built to last, can take a beating and a biting. Purchase here.
The opinions expressed here are that of Mama's Geeky only. While the products in this post were given complimentary (unless otherwise stated) for me to review, that does not alter my opinion of the product(s) mentioned. This post may contain sponsored links and affiliate links.